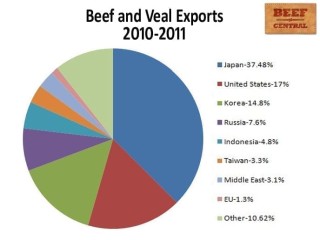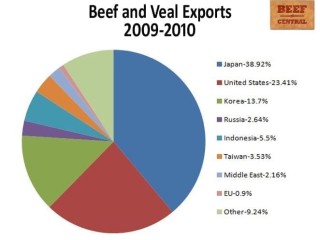 Growth in trade into emerging export beef markets has more than offset big declines into some of Australia's traditional beef markets like the US in the 2010-11 financial year just concluded.
A statistic that clearly captures this trend is the total of 286,000 tonnes of Australian beef that was exported to markets other than the 'big three' (Japan, US and Korea) for the 2010-11 financial year. That represents 31 percent of total exports, and is the biggest 'second-tier' export volume seen in 32 years.
Australian beef and veal exports for 2010-11 totalled 937,298t – an increase of 4pc on the previous 2009-10 fiscal year. Underpinning this growth were star-performers Russia, the Middle East, China and Singapore, all recording record trade volumes.
After a very difficult 2009-10 year when exports reached only 898,962t due to the lingering effects of drought and sluggish demand in the wake of the Global Financial Crisis, global beef demand accelerated during the second half of 2010 and early 2011.
Prices were accentuated by very tight global supplies, including from Australia. While the global beef market hit a flat spot during the final two months of the fiscal year, overall 2010-11 was a positive year for demand globally, following two tough years since 2008-09.
The rising A$ was the main impediment to trade throughout 2010-11 for Australian exporters, accentuated in the final few months of the year when markets slowed, especially Japan. The A$ averaged 13pc higher against the US$ in 2010-11, while it also increased 13pc against the Euro, 8pc against the Korean Won, 6pc against the Indonesian Rupiah and 2pc against the Japanese Yen.
On the supply front, Australian shipments for the past year were influenced by wet conditions across eastern and northern states which hampered cattle movements from November. While supplies were impacted throughout the year, as producers looked to rebuild drought-depleted herds on the back of the better season, extensive flooding throughout the summer disrupted transport and mustering. The most notable impact was in January, when flooding in South East Queensland saw monthly slaughter fall to its lowest level in 22 years.
Looking at individual markets, shipments to Japan for fiscal 2010-11 increased 0.4pc year-on-year, to 351,388t, despite the current tough conditions. Looking at the pie charts developed by Beef Central to accompany this article, it can be seen that exports to Japan made up 37.5pc of all Australia's beef exports, down from 38.92pc the previous year. While in percentage of overall beef trade terms the trend was slightly down, in volume terms, trade was slightly up.
However, year-on-year increases in shipments to Japan for 2010-11 were only registered in five out of the 12 months, with the largest volumes shipped in August, November and February.
According to MLA economist Tim McRae, the situation for Australian exporters in 2010-11 is probably best demonstrated by the fall in returns, with indicative monthly average prices for Australian beef into Japan falling 4-19pc between January and June 2011.
Contributing to the tougher conditions to Japan in 2010-11 has been a surge in product from the US, along with the depressed economic and consumer demand following the March earthquake and tidal wave disasters, he said. Japanese imports of US beef were up 39pc for the first 11 months of 2010-11 to 98,000t, with the weak US currency assisting the price competitiveness of US product.
Once Australia's largest market for beef, the US market contracted again in 2010-11, falling 24pc year-on-year, to 160,000t. That's the lowest fiscal year total since 1965-66, and is reflected in Beef Central's pie charts, as a decline from 23.4pc of total exports in 2009-10 to 17pc last year.
The decline in our exports to the US has been due to a combination of factors, including weak consumer demand, the high A$ and increased administrative and market access barriers. Competition for Australian manufacturing beef has also increased globally, most notably from Russia.
Australian beef and veal exports to Korea increased 12pc for 2010-11, to 139,200t, as demand for imported beef in Korea surged throughout the year. Korea's share of all Australian exports has risen from 13.7 to 14.8pc, Beef Central's pie charts show.
Strong Korean consumer demand, combined with reduced domestic production fuelled a surge in product from most suppliers, most notably the US.
Second-tier markets perform
The importance of beef export markets outside Japan, the US and Korea increased in 2010-11, with total exports to other markets reaching 286,700t. This was the highest volume since 1978-79 and the largest proportion of shipments since 1982-83. In contrast, exports to 'other' markets made up only 7.6pc of total exports in 2004-05, when Australia was dangerously reliant on a narrow basket of export customers, and averaged 16pc for the past decade.
Russia was the standout growth market in 2010-11, increasing 200pc year-on-year, reaching a fiscal year record of 71,418t. Increased exports to Russia were driven by reduced supplies from traditional South American suppliers including Brazil and Argentina, while consumer demand improved following subdued conditions the previous year. Beef Central's graphs show Russia's share of export volume growing from 2.64pc in 2009-10 to 7.6pc of total last year.
Record fiscal year shipments of Australian beef were also registered to the Middle East (29,000t), China (7169t, factored into the 'other' category in our pie charts) and Singapore (8257t) in 2010-11, increasing 50pc, 66pc and 16pc, respectively, on the previous year.
Increased exports for the past year were also recorded to the EU, jumping 52pc year-on-year, to 12,346t. That's the highest fiscal year volume since 1998-99, and an increase as a proportion of overall exports from 0.9pc to 1.3pc.
Along with the sharp contraction to the US, Australian exports also declined to minor markets Taiwan (down 1pc, to 31,491t), Canada (down 28pc, to 6928t) and Hong Kong (down 27pc to 5759t).
While exports to Indonesia fell 9pc for the year to 45,065t, it was still the second highest fiscal year volume on record, and 52pc above the five-year average. Beef Central's pie charts show the percentage of overall export trade easing from 5.5pc to 4.8pc, largely due to the limitation on import permits which started to impact on shipments from January, as part of the country's broader push for self-sufficiency in beef.
Click on the images here for a clearer view of export destination trends over the past two years