Some of the nation's most admired and heavily decorated beef brands flexed their muscles in the second annual branded beef taste test organised as part of the Australian Wagyu Association's annual conference on Geelong on the weekend.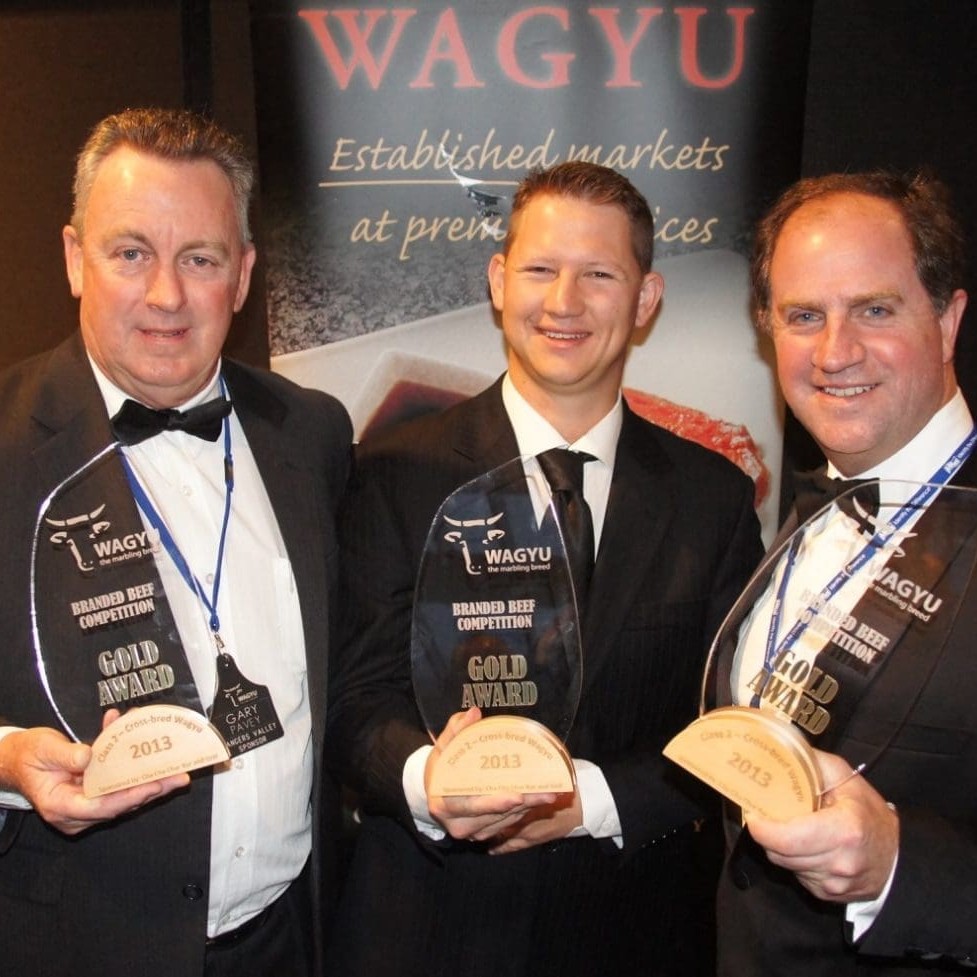 Fourteen entries were received from Tasmania, South Australia, Victoria, NSW and Queensland, competing in categories for grassfed, crossbred and Fullblood Wagyu entries.
Judges included an expert panel made up of chefs, restaurant owners, meat scientists and industry leaders. The medals were presented at the AWA's conference dinner on Saturday night.
A novel innovation was the posting of judges' comments during the awards ceremony. Judges praised one fullblood entry for having "top texture and very balanced flavour, with pleasant oil
residual and lasting beef flavour."
Another crossbred entry was described as having "great aroma, very juicy with a good mouth-feel – mature, livery, buttery, toasty, flavour with a lasting clean oil texture on the palate and a lasting grainy flavour."
Competition reached its zenith in the Fullblood Wagyu division, where consistency and quality among the marbling score 9+ entries was so high that judges awarded all four contestants with a gold medal –possibly the first time this has happened in any branded beef competition in Australia.
No outright winner was decided.
The four Fullblood gold medallists were:
Australian Agricultural Co's Master Kobe brand (Qld)
Andrews Meat's Shiro Kin brand (NSW)
De Bruin family's Mayura Station brand (SA)
Takao Suzuki's Belltrees Blue Mountain Wagyu brand (NSW).
It was the second year in a row that AA Co's Master Kobe beef has been awarded a gold medal at Australia's premier Wagyu beef awards.
The seven entries in the crossbred Wagyu division all scored either silver or gold medals, suggesting consistency and quality was not far behind that in the fullblood class.
Results included:
Australian Agricultural Co's Kobe Cuisine brand (gold)
Rangers Valley's Rangers Valley brand (gold)
Stockyard Beef's Stockyard Black brand (gold)
Jack's Creek Wagyu (Silver)
Irongate Premium Wagyu (Silver)
Darren Hamblin Wagyu (Silver)
Andrews Meat Industries (Silver).
Two entries competed in the grassfed Wagyu division, both earning a bronze medal. Tasmania's John and Keith Hammond were awarded for their Hammond Farms Robbins Island grassfed Wagyu, while the Trigg family, Trig Farm Wagyu also received a bronze medal.
Collectively, the group represent some of the most sought-after high-end food service beef brands in the world, servicing top restaurants and hotels in Australia, North America, North and South Asia, the Middle East and Europe.