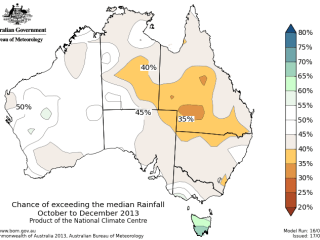 When it comes to long-term weather forecasting, a lot can change in two months.
In July, the Bureau of Meteorology's three-month-outlook for August to October pointed to wetter than average conditions for most of Australia.
By August, the three-month-outlook for September to November rated the chances of a wetter than average or drier than average season for most areas as roughly equal.
The record heat that accompanied the arrival of spring set the tone for the latest three-month-outlook for October to December released this morning.
It states that a drier than normal season is now considered more likely across southern Queensland, central parts of the Northern Territory and far northern New South Wales.
Put another way, the chance of exceeding the median rainfall during October to December for those areas is rated at less than 40pc.
The chances of a wetter or drier than normal season are considered roughly 50pc for Western Australia, South Australia, most of the NT, northern Queensland, most of NSW and Victoria.
Only Tasmania is expected to receive a wetter than normal season, with those odds rated at 60pc.
Driving the latest forecast has been a weakening negative Indian Ocean Dipole (IOD). IOD-neutral values have prevailed since August.
The majority of climate models indicate that the IOD will remain neutral through to the end of the year, suggesting that the 2013 negative IOD is most likely at an end, the Bureau said.
ENSO-neutral conditions which have prevailed since mid-2012 are also considered to remain in place for the remainder of 2013.
"This means there is no strong shift in the odds from the tropical Pacific, and is reflected to some degree in the rainfall outlook, with much of the country having odds close to 50pc.
"With the main climate influences forecast to remain neutral, secondary influences may have higher impact.
"Warmer than normal sea surface temperatures currently surround much of southern and western Australia, potentially adding more moisture to the atmosphere and hence partially explaining the higher chance of wetter weather over Tasmania.
"They may also influence some broad scale atmospheric circulation patterns. POAMA suggests below normal pressures over the southeastern parts of the continent, particularly during October.
"This may result in drier continental air flowing into Queensland from the west."
Meanwhile warmer days and nights are more likely over most of Australia with strongest odds over northwest WA and parts of southeast Australia and Tasmania.