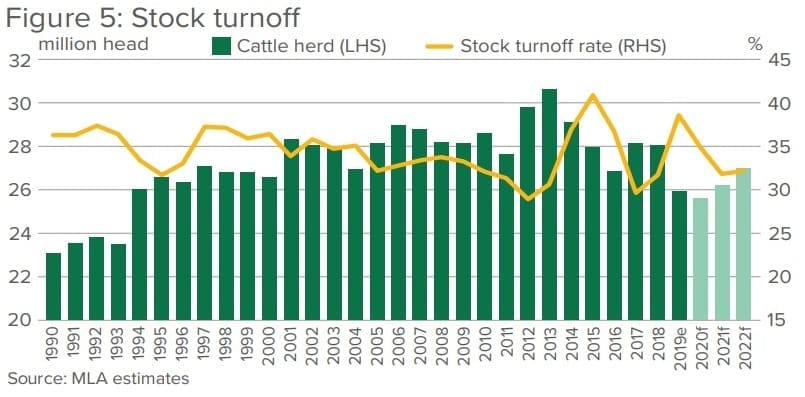 Key points:
Sustained high female slaughter prolongs herd liquidation
2019 beef exports on track to be third largest on record
China demand drives global cattle prices
WITH continued and widespread dry conditions through winter and into spring, female cattle slaughter has remained elevated, prolonging Australia's ongoing herd liquidation, according to Meat & Livestock Australia's October Cattle Industry Projections Update.
On a 12-month rolling basis, the female percentage of adult slaughter remains at 54 percent, keeping the national herd firmly locked in a contraction phase.
MLA senior market analyst, Adam Cheetham, said the excess turnoff of breeding stock and poor rainfall outlook has resulted in adult cattle slaughter for 2019 being revised higher to 8.4 million head, up 7pc on last year.
Reflecting these higher slaughter levels in the second half of 2019, the national herd forecast for the end of June 2020 has been adjusted lower to 25.5 million head, Mr Cheetham said.
A downward trend in adult carcase weights has offset some of the impacts of increased slaughter, despite the number of cattle on feed reaching a new record in the June 2019 quarter, at just below 1.15 million head.
MLA has adjusted its forecast beef production higher for the year to reflect the elevated turnoff and is expecting a total volume of 2.4 million tonnes carcase weight this year, up 4pc.
"With finished cattle supplies expected to tighten, and a reduction in the cattle herd and number of calves born from 2017-19, beef production is highly unlikely to exceed 2019 levels over the next two years," Mr Cheetham said
Prices stable through winter
Young cattle prices had largely remained stable through winter, although weather variability had created a disparity between northern and southern regions, with prices in the south considerably stronger.
"Looking ahead, the market is unlikely to see any significant price corrections without widespread rainfall. However, the modest improvement in conditions in the south provides an indication of potential upside, with southern regions currently supporting the north, where conditions are hampering restocker activity," Mr Cheetham said.
"On the upside, the demand for well-finished cattle is showing considerable strength in the market, with prices improving this year and likely to find continued support."
He said Australian beef exports had surged in 2019, driven by robust international demand, above average cattle turnoff and an Australian dollar that recently hit a 10-year low.
"In the first half of the year, Australia's total beef export value reached $6.8 billion, up 22pc for the same period in 2018. On the back of the forecast increase in production, 2019 exports have been revised upwards and are expected to hit 1.19 million tonnes," Mr Cheetham said.
"Reflective of the sustained impact of African Swine Fever, Australian beef exports to China for the year to September were at 200,000t, up 73pc on 2018. Much of this growth has come from a 91pc increase in the volume of manufacturing beef, closely followed by blade which has increased 81pc, with these cheaper cuts of frozen beef making for an affordable pork substitute.
"Overall, the general global demand outlook for beef remains quite positive, with broad demand factors in key export markets holding. However, there are growing areas of uncertainty, including the ongoing US-China trade tensions."
One of the major factors behind the strength in the current market, despite the ongoing drought, is the demand for well finished cattle. This is particularly relevant for feedlots, which have remained active in the store market, often at a premium to restockers and processors, in order to attain suitable feeder cattle for export programs. The heavy steer indicator traded at a 14pc premium to the EYCI in September, the largest spread since 2002, providing incentives for feedlots, despite elevated grain prices.
The medium cow indicator continued to strengthen into spring, averaging 437¢/kg cwt in October. This is in line with levels a year ago and the five-year average, a strong performance considering the high level of female slaughter.
Improving cow prices found support from record 90CL prices (see today's separate report), as demand for manufacturing beef has intensified.
Looking ahead, the market is poised to change markedly in the event of any widespread rainfall, MLA's projections update suggests.
However, the outlook until the end of the year indicates a limited chance of above average rainfall for the majority of Australia. As a result, substantial price movement is unlikely until at least the new year.
To read MLA's 2019 Cattle Industry Projections October Update, click here.