Dry-aging has played a key marketing role as a point of difference for a South Australian vertically integrated beef supply chain during the 2020 COVID era.
With consumers Australia wide showing a willingness to 'try new things' during the stay-at-home COVID cycle, Tim Burvill, managing director of the South Australian Cattle Co, told an MLA webinar yesterday that adapting to change was the secret to surviving the tough trading conditions seen since March.
Mr Burvill provided an outline yesterday of how his meat supply chain business coped with the COVID-driven challenges of 2020, as part of MLA's webinar series built around the concept of industry resilience.
South Australian Cattle Co is a vertically integrated beef business with grazing properties, restaurants, a retail butchery outlet, wholesale business and dry-aging and processing facilities.
The brand's signature product is sourced from British-bred cattle, raised on properties company properties near Greenways in the lower south-east of South Australia and Victoria, grain finished for 70+ days, and then dry-aged for 30-100 days to enhance the natural flavour, intensity and tenderness of the beef.
The business also operates two A Hereford Beefstouw steakhouse restaurants in Adelaide and Melbourne, using beef grown within the supply chain.
Mr Burvill's Danish business partner has a network of a dozen Hereford Beefstouw (Danish for Beef Steak) restaurants in Europe, founded in 1971.
"When we launched our first Australian restaurant in Adelaide in 2011, I had heard about dry-aged beef. We wanted to put it on our menu, but found it hard to get, so we decided to do it ourselves," he said
Dry-aged beef quickly became a 'hero' product in the restaurants, and the business decided to become more 'serious' about its production, building a large purpose-built dry aging facility in the Adelaide Hills, claimed to be the largest export-accredited dry aging room in Australia.
Capacity expanded significantly – partly to cater for inquiry from other restaurants and butchers looking for supply of dry-aged beef.
"What we soon discovered was that other restaurants understandably did not want to put our own restaurant label on their menu, so we came up with a brand name, 'Kings+Queens', in 2017, Mr Burvill said.
Dr aging takes place in whole primal form, on the bone, to enhance the natural flavour, intensity and tenderness of the beef. Popular cuts include bone-in sirloins (New York steaks), OP ribs (cut into bone-in rib-eye steaks), and rumps.
2020's COVID challenge
Mr Burvill said obviously 2020 had been challenging  for anyone in the food service industry, and his own business had faced the 'double whammy' of closures at both Hereford Beefstouw restaurants, as well as the wholesale meat business supplying not only the company restaurants, but others.
"Late March, when it all went down due to COVID restrictions, sales plummeted, with 80pc of sales gone overnight," he said. "It was a challenging time – not only were we closing restaurants and laying off staff, but we had a dry-aging facility full of meat."
Mr Burvill said under the circumstances, "doing nothing" wasn't an option.
Working collaboratively with MLA's co-marketing program, the business developed a multi-pronged plan, he told yesterday's webinar.
"It was probably the hardest I have ever worked in my life," Mr Burvill recalls.
"As the first part of our response, we built a fully-integrated website with transaction facility in record time – about a week – so our customers could buy dry-aged meat online, for home delivery consumption."
Both company restaurants in Adelaide and Melbourne were converted into temporary butcher shops, to prepare product for home delivery or non-contact pick-up.
"We did a fantastic social media campaign, and were lucky to already have a good database of customers through patronage to our restaurants. There are more than 35,000 people on our Adelaide restaurant facebook page, and around 15,000 on our Melbourne restaurant page, sl we had a great start."
The end result was an 'amazing success'.
"I was blown away. Some weeks we were selling $50,000 worth of beef online, and in a very short space of time, we sold through all the large stock of meat we had in our dry-aging facility, and had to start to produce more."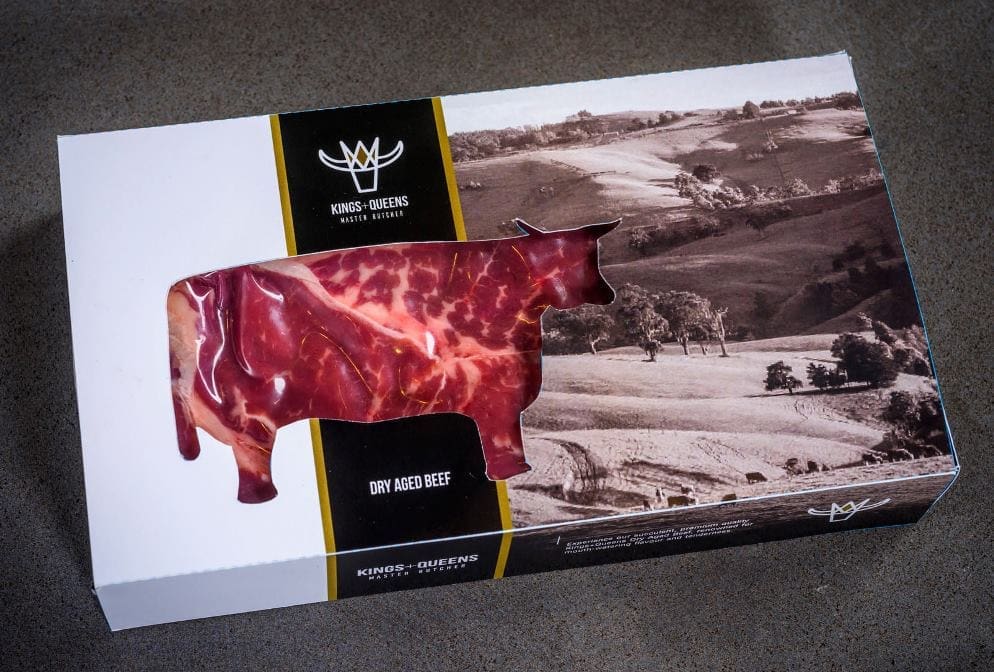 Another strategy during COVID was the establishment of a relationship with Drakes supermarkets, one of Australia's biggest independent supermarket chains, with a major foothold in South Australia and outlets in other states.
The company's Kings+Queens brand launched an attractively packaged single-cut dry-aged OP steak for sale through the Drakes supermarket chain.
"It's been a fantastic success," Mr Burvill said. "The first week after launch, we had customers lining up at the supermarkets before they opened, to come in and buy a pack."
He said the business was now in the fortunate position where its restaurants had come back on-line as COVID restrictions eased.
"Adelaide is busier than it ever has been, and Melbourne is just opening up now. But as a result of what's happened under COVID, we've built a few other revenue streams, in terms of home delivery sales and supermarket sales, with our retail dry-aged product – and we're feeling very positive about the future," he said.