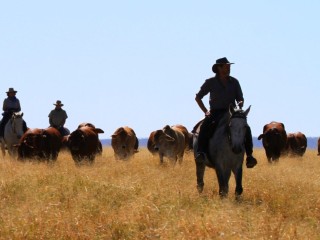 Former Aramac Shire mayor Gary Peoples is one of the few originals left from the first Harry Redford cattle drive that trekked its way along the dusty stock routes from Aramac to Roma during the official Year of the Outback in 2002.
The drove chairman and chief wagon driver has been a part of every annual drove since, and was there again when the 10th annual drove set off from Myross Station near Aramac two weeks ago.
Gary says he derives great pleasure from seeing the joy that city-based visitors express when they saddle up to experience the adventure and camaraderie of an outback cattle drive each year.
After 10 years he has never tired of the annual three-week experience, and says if anything this year's event is even better than previous years thanks to the spectacular seasonal conditions gracing inland Queensland at present.
"I've never seen a body of feed like we've got here today," he said by satellite phone from his wagon on Monday.
"It is just magic how much feed there is around.
"Some places here had around 60 inches of rainfall last year. We live in an 18 inch area, so that tells you what a year we've had."
The annual cattle drove was initiated as a local fund-raising event in 2002 by the then Aramac Shire Council (the shire was amalgamated into Barcaldine Regional Council in 2007) to allow tourists to follow in the footsteps of the historical figure Harry Redford, commonly referred to as "Captain Starlight".
Just over 141 years ago the expert bushman and drover carved his name into Australian bush folklore when he stole hundreds of cattle from Bowen Downs station near Aramac.
The story goes that Redford was working as a teamster transporting stores to isolated properties in Western Queensland when he hatched a plan to steal a large mob of cattle.
Waiting until the Bowen Downs mustering teams were working on the far side of the station, he and four others rode onto the property and walked off with somewhere between 600 to 1000 head.
The mob included a while bull owned by the Scottish Australian Company.
After a 1287km journey down the Cooper Creek, they sold two cows branded "LC" and the white bull to a store keeper for rations, and sold the rest of the cattle for £5000 to Blanchewater Station in South Australia.
Their movements had been carefully traced by stockman from Bowen Downs station and as a result of their efforts Harry Redford was arrested and put on trial in Roma on February 11, 1873.
The white bull was reportedly a "star attraction" at the trial. Despite this key piece of evidence, the jury found Redford "not guilty", prompting the judge to famously utter: "I thank God that the verdict is yours gentlemen, and not mine."
The 2002 outback drove held in Redford's honour proved such a hit that it has been held every year since, and 10 years later it is still in high demand from paying customers.
This week's group includes freshly minted drovers-in-training from Caloundra, Perth, Sydney and Auckland. One girl flew in from China to join the party, wanting to do something that was "very authentically Australian".
With a group of 15 volunteers they are walking 600 Red Brahman cross cattle owned by Chook and Anne Hay of Myross Station around the stock routes of the central west. Throughout the three-week drove more than 70 paying customers will participate.
Andrea Lingard of the Barcaldine Regional Council said the annual event gave people a genuine opportunity to experience what life was like when stock were droved through the west.
Poor network coverage means there is little to no mobile phone contact, the group sleeps out beneath the moon and stars, and the only means of daily bathing is via a small hand basin.
And they love it.
"We have lots of repeat people who want to get away from the city for one week a year, just to get away from it all and enjoy the company of others around the campfire at night and to work together as a team to move the stock," Ms Lingard said.
"I just had one lady who filled out our survey form and she was really teary, she was crying because of the company of others and the knowledge that she did something she would never have really dreamed of, It has an amazing effect on people."
One thing many miss long after the drove is finished is the food, Andrea says. Thanks to the campoven cooking techniques of master bush cook "Mad Dog" and his crew, the party has a choice of dines out on four types of roast every night.
The drove is covering about 10km per day. The cattle will be walked 190km in total as it loops from Aramac to Muttaburra and back again, and is due to finish back at Myross next weekend.