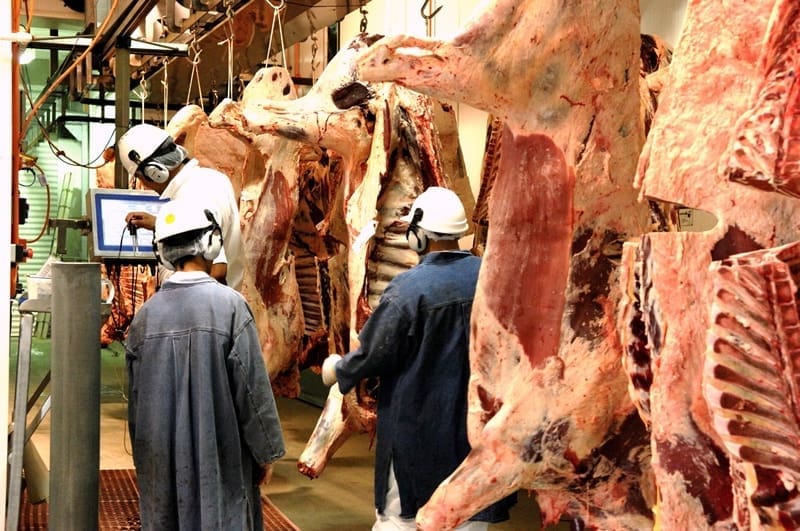 BEEF processors face a sharp decline in slaughter stock availability following the combination of extensive year-long drought across the eastern states and recent flooding across Queensland's northwest, a senate estimates session in Canberra was told last week.
Australian Meat Processor Corporation chief executive Peter Rizzo was giving evidence at the half-yearly Senate Estimates hearing into Rural and Regional Affairs and Transport.
In a wide ranging interrogation of meat processing activity, senators explored topics including the emphasis on animal welfare in processor R&D, meat inspection and associated costs-to-operate, broader industry research priorities and the impact of herd reduction through drought and flooding.
WA liberal senator Slade Brockman asked about the likely impacts on processing operations from this past year's drought and flood events.
Mr Rizzo said loss of livestock was the real impact of the Northwest Queensland floods, and prolonged drought, on the processing sector.
"The reports we have say that there has been about a two percent reduction in the total national beef herd, which is around the 26-27 million head mark. The two percent impact on the herd and the compounding impact from the drought will have a significant impact for processors," he said.
"In the processing sector the impact from the losses is not felt initially. It is obviously felt post-event when we don't get the livestock or the progeny that would have come from those animals that are now lost," Mr Rizzo said.
"You will have read stories from the AA Co, a publicly listed pastoral firm. Within their own operations they suggest losses in excess of 45,000 head. That would represent a good two weeks to three weeks of processing for our largest processor."
Mr Rizzo said the impact on herd numbers Australia-wide was 'a lot more' as a result of drought.
"We're estimating processing around 7.6 million cattle next year, and our budgeting for levies is the lowest since 2012," he said.
"The big impact for us, as the processing sector, is when the drought breaks, because, once there is rainfall and there is grass, then the restocker seeking to buy animals appears, and it creates a greater competitive tension, where animals are effectively bought-away from the export demand."
WA Labor senator Glenn Sterle asked whether alternatively, retention meant that cattle did not come to market in the first place.
"Correct," Mr Rizzo said. "So we (processors) don't get to see them, whereas at the moment, certainly where the drought is still in place, the livestock that are coming through to us are lighter, and the feedlots are full. The feedlots are carrying at capacity at the moment.
Sen Brockman asked in terms of geography, which processors would be impacted most by stock losses
Mr Rizzo said the significant (flood) impact was in Queensland's central west and northwest, and the border between Northern Territory and Queensland.
"That impact will also be on livestock that would have been live exported, particularly to a market like Indonesia. You appreciate that our concentrated larger plants are on the eastern seaboard," he said. "The impact will be twofold on that area. There's probably a benefit for some areas downstream that are all of a sudden getting water from those floodwaters as they move their way down south, but it's an issue that exacerbated the drought."
Mr Rizzo said geographically, he suspected processors at Townsville and Mackay were likely to be most affected by the February flood impact.
Sen Brockman asked whether levy streams collected from individual processors were yet reflecting the decline in slaughter numbers.
"AMPC budgeted, as an organisation, to get levies to the tune of $17.5 million this year. Because of the drought and the extra cattle that have already been killed – brought forward, albeit lighter in weight – our forecast is around $18.9 million, because we've killed more cattle now than we expected.
"We would have hoped that the drought and the impact of the drought were reduced—that we got rainfall rather than it carrying on the way it has. The large pastoral companies that we also talk to – our suppliers – have spent tremendous amounts of money on feed. I don't think it's sustainable on an ongoing basis in order to keep their animals, particularly their breeding stock, going."
Mr Rizzo said processors were 'very concerned about it'.
"We've done some research that has looked at the economic analysis of what happens to our industry once cattle supply falls. Typically, as cattle kills decline following drought, we see plants close.
"A large plant might process 250,000 beef animals a year. If you drop a million head as a result of drought, you're effectively removing five plants of 250,000 head capacity out of the industry, and it takes a very long time for us (to the tune of 18 months), to actually then get staff back and skilled appropriately to re-establish those processing plants, should they try to re-open."
Mr Rizzo said there were the 'skeletons' of old processing plants all over Australia that had lived and died on the vagaries of the supply metrics that the industry faced.
Tracking processor profitability
Sen Brockman said from his own West Australian perspective, he had seen a lot of variability in the profitability of meat processors over time.
"How much work do you do in tracking the profitability of meat processors through the cycle? Do you have research on that? What's their profitability in good times? What's their profitability in bad times?" he asked.
Mr Rizzo said AMPC had just released a piece of research that its internal economists had worked on, tracing profitability using a model since 2012.
"It's a really interesting piece of research that we've conducted in-house. It's impossible to do without the various assumptions that economists make to try to put together their ideal plant, the ideal processing facility, to try to get some metrics of what profitability looks like. That research says over the last 10 years, that a $25-a-head margin, just at the slaughter floor, is kind of the marginality of the business. But it's peaked dramatically at times where there's greater supply than, potentially, capacity.
Mr Rizzo said the results showed that meat processing was a 'boom-and-bust' business.
He said it had been that way since 'at least' the late 80s, when he first worked for Elders, which owned Australian Meat Holdings.
"It's an industry that, particularly when there is an oversupply—and that's sometimes the early stage of the impact of a drought—you know you're going to get more cattle without the competition for restock or demand because of circumstances like drought. But post-drought, it really bites.
"So it's a business that you need specific capital and significant amounts of it to be able to trade when the margins are negative, because there's a certain period of time where it's very clear the activities of the processor will go into deep negative margins and it's how long they can sustain those."
Mr Rizzo said the beef industry had seen plants close in recent history at Ipswich and Cootamundra, where they couldn't sustain and couldn't foresee future profitability margins.
"The plants themselves have very different business models. They range from small niche guys through to the big guys where we're talking about economies of scale – both of them are critical to our economy. The big guys put us on the map as far as our big international customers are concerned. So the fabric of the pair of them is very, very important for us as a country."
Mr Rizzo said a summary of the report had "actually been published in Beef Central a week ago (click here to view original story), so it is still fairly new."
"We've been working on it and trying to perfect it. Like all modelling, the art is in the interpretation, so there are assumptions. It is being tested with our friends at MLA and it's also being tested with some of the other industry commentators and economists. Former plant and process managers have been intrigued by it, and it seems to resonate with not only our membership but also older members of the industry. So we think it's important."
"We think the one thing that we really need in the red meat processing sector to do good research is better information and better data. The more we can measure the value and the impact, the better we can commission the research to find the outcomes."
Mr Rizzo said the base data in the analysis came from processors themselves, ABARES and published reports that had done studies into costs.
"We've also included MLA's data as they've looked at supply and regional supply areas. You can appreciate that it's a very difficult thing, but you can also appreciate that where a plant exists is static and it has a drawing arc for where cattle may come from. Those plants may also compete; those drawing arcs may cross over with another plant. So what we've been able to do with this information is build a model in such a way that we can look at the impact of supply over time, reflect that over margins over time and even identify which plants have closed over time."
"It's something that hasn't been available to the wider red meat industry, illustrating the effect of what supply has."
Asked whether the report went into costs within the industry, Mr Rizzo said it did.
"Ultimately it's talking about margins and trying to reflect meat prices as well. You can imagine that the variations are tremendous."
Sen Brockman asked what research existed on processing costs.
"It's limited," Mr Rizzo said. "Some of it's the research we just completed. We commissioned a report that we've nicknamed 'the cost to operate report'. The biggest cost on a per-carcase basis is labour and labour related costs, which can include inspections—that's after the cost of the animal, of course. Livestock purchase represents more than 70pc of the cost of the processing, as you'd appreciate."
Mr Rizzo said the report started off looking at the comparative regulatory burden on reed meat processing, and was then taken 'wider.'
"We started the conversation around our top 10 issues – the three main costs were labour, utility costs (including energy) and certification and audit costs. The cost of processing to post slaughter is pre-boning room activity, and it's about $360 a head in Australia, as an average. Comparatively, New Zealand was $305; the US was $290; Argentina was $205; and Brazil was $172."
"The labour component, on average in Australia, was $210, compared to NZ, which was the highest, at $164. So there's quite a significant labour difference in NZ. Per head, the US was $129, Argentina was $88 and Brazil was $75.
"The utility costs really surprised me. I've had a 30-year career in agriculture and one of the things that really surprised me in the utility cost was the energy costs. Our energy costs were higher than NZ, as a net importer, and Brazil, which historically produced sugar and sugar ethanol to supplement its petroleum. Our utility costs for water and energy were $21 a head when this was done. This data has now been considered and updated. New Zealand was $16, the US was $12, Argentina was $13 and Brazil $19.
'Boom and bust' cycles
Senate committee chair Glenn Sterle asked about the 'boom and bust' cycle, with 'massive profits' for the processing sector, and bust in difficult times.
"For the producer, might I say, they can't win. When they're forced to sell (by drought), they're selling into a downward-pressure market. And then, when they have to go and buy to restock breeders or retain them, they're at the other end," Sen Sterle said.
"I've seen people have the experience of selling females at 50c or 60c a kilogram and having to buy them back at $260c. So I'm interested in all these questions. I'm interested in what work has been done. There's a relationship between producer, processor and exporter—whatever it happens to be. They all share in the journey, the whole supply chain. So I'm interested whether anyone is doing any work in relation to that too, as you answer these questions."
Mr Rizzo said this topic "becomes a cornerstone piece of work", and there were a number of initiatives in the AMPC report that called for additional research, which he had committed AMPC's team to concentrating on.
"One of the pieces of work that we should look at is that, if we've got an international comparative cost, we should also have a comparison study of the international market access opportunities. Do we have preferential tariff agreements in some markets as opposed to others?"
"The idea should be: if you're spending $7 a carcase and it's generating money, that's terrific. But we've got to understand that. We know the concerns that a market like Brazil has had with meat quality issues.
"My sense is, at the commercial side, that the difference between red meat and sugar, grain and wool is that it has a much shorter shelf-life. The need of the farmer in some cases, when there is a drought, is that we have to be able to turn on extra shifts and extra processing capacity that may be latent and also find the markets, and it will quickly shift some products—the other staple proteins—out of the marketplace.
"The wonderful thing about our sector is that it very much has the elasticity of supply and demand as a result of cattle. What we're trying to demonstrate with this last piece of research is: What does the supply of cattle mean to margins, and therefore rural communities in keeping the doors open and employing people in these towns, because we're very concerned about that."
"Some of our members expressed that very strongly. But, from the days that I've been involved in the meat industry, going back to the late eighties, the industry is not like the US corn or wheat sector, where if farmers can't physically sell their commodity they can offset the price risk around the commitment of entertaining the activity of growing corn or sugar or wheat. Unfortunately for us, uniquely linked to the supply of the animal is the price on the day as an imperative, and the seasonality that comes with the ebb and flow of supplies and the function of the animals turning off and being fat for the marketplace."