Analyst Simon Quilty takes a look at the impact of record high temperatures and the extension of the drought into 2019, and its likely effect on slaughter activity and exports this year
IN the last two weeks there has been an unusually large increase in cattle sale yardings and slaughterings across eastern Australia, with total Australian kills 22 percent higher at the start of January compared to a year ago, and December kills 32pc higher, year-on-year.
The obvious key driver is the lack of water for pasture growth and stock use, and high temperatures.
This is almost a repeat of what happened in April 2018 when record temperatures put an abrupt end to the southern Australia autumn seasonal break. Now the same has happened in northern NSW and south east and central QLD, whereby the extreme temperatures have stopped the critical northern 'wet' growth period, putting the drought back on steroids.
What is unique about the 2018-19 drought is the extreme record heat in key growing months that has not occurred in previous droughts. In the last 12 months, April 2018 was a record hot month for Australia's eastern seaboard and now December 2018 and January 2019 are also seeing record temperatures. The previous droughts over 118 years of data have been dry, but without the extreme temperatures we are seeing today in critical growing periods.
The net effect is more liquidation of the herd.
On top of the lack of pastures, the lack of surface water on Australia's eastern seaboard is also a real concern with dams and creeks being low, forcing many cattle to market. In certain areas of southern Australia due to good December rains surface water is not so critical and the current lack of feed is not unusual for a southern summer.
Extreme high temperatures shorten growing seasons, increases the decomposition of soil organic matter and increases evaporation. Research has shown that total soil moisture is the single best measure of drought and grassland stress events in Australia's livestock growing systems. In the north of NSW and QLD, the critical soil moisture period is October to March, and in southern Australia it is the reverse – March to October/November. The extreme record hot temperature months are occurring in these critical growing months and 'robbing' soil moisture when it is needed most.
I think that pasture maps (see below) can be very misleading, as they give a snapshot that with hot weather can abruptly change. The available soil moisture maps, I believe, are a better indicator of the potential pasture growth over coming months.
Large kills continue
Key points to note in this report:
Large kills continue due to dry conditions but also extreme record breaking temperatures have disrupted traditional growing periods
Australia's female kill is back to 48.8pc due to seasonal turnoff reasons, but still remains critically high and exceeds the ratio of female kills in recent history droughts – meaning Australia's liquidation of the herd is very much still in progress
I have estimated that in 12 months, the herd has liquidated close to 1.2-1.6 million head which would put the herd size at 26.55 million head by June 30 this year – the lowest in 22 years.
Long-term rain trends after an extreme dry year like 2018 suggest years two and three are always wetter years. – this is based on 9 previous extreme dry events in 118 years of data. What history cannot tell us is what the long-term impact of the extreme record hot spells in key pasture growing periods is.
In the 2018 drought, total slaughterings increased by 10pc which has resulted in more production and 11pc greater global exports from Australia in 2018.
Asia continues to drive global demand in 2018, with China's beef exports up 48pc compared to 2017, Korea's exports up 15pc, Indonesia up 15pc and Japan up 8pc. Shipments to the US fell 1pc in the same period.
I am expecting an increase in exports to the US and certain other markets over the next 6-8 weeks as a flush of drought affected cattle come forward but this might be short-lived if a traditional southern winter should emerge, should the long term rainfall patterns eventuate (see below).
QLD kills in December and January have accelerated to 15pc and 12pc higher respectively compared to 12 months prior monthly kills, and look likely to continue for the next 6-8 weeks as the impact of thunderstorms is very localised and many areas have missed out. As the wet season draws to an end, Queensland looks less likely of receiving much rain at all. Record temperatures in December and January have only acerbated the problem, with less feed and lack of surface water forcing many livestock producers to exit cattle in the coming weeks.
Some areas of NSW got rain in October and November which took some pressure off and female kills fell to 44.8pc, but this looks to be short-lived with record high temperatures in December and January undoing much of this hard work – particularly in central and northern NSW. Again, the issue of lack of surface water is a real problem across many regions.
Good rain in December is some regions of Victoria alleviated the need for surface water, but in terms of pasture growth it has been 'too little, too late'. At the same time the December rain was very thunderstorm-like, which saw many VIC areas miss out, resulting in surface water shortages in those regions today. The long-term rainfall map (below) after an extreme dry year would imply a traditional wet winter in Victoria, which many would hope to be true. Given the extreme temperatures of late, this is still hard to imagine as a possibility for many.
Australia overview – Slaughterings and potential herd size due to liquidation
When assessing the current kill in Australia, it should be noted that the December kill was strong with a flush of cattle coming forward from QLD and VIC that has carried over into January with the first 2 weeks of the year at 22pc higher kill.
The Australian female kill figures still remain high for November at 48.8pc and when comparing this to other droughts it is still the highest female kill in recent drought history (last 20 years) which would imply herd liquidation is still very much in progress. It should be noted that female kills seasonally fall away in Oct to March period.
The other two drought periods of similar female percentage kill saw the herd size fall by 4.3pc (2003-2004) and 5.8pc (2014-2015), and it would not be unfair to surmise that 2018-2019 could see a similar herd fall in the same range, which would mean (based on a 2017/18 herd size of 28.15 million head) that 1.2-1.6m head could be liquidated, reducing the herd to potentially a range of 26.55m-26.95m head in 12 months. If the 26.55m head figure were to be true, this would be the lowest herd size in 22 years.
Rainfall and pasture status
When looking at historic rainfall patterns after an extreme dry event as 2018 (this has occurred 9 other times in 118 years of rainfall data – the graph below is an average of those other years) the second and third years have always seen more rain.
This analysis is based on the principle that history repeats itself and must be treated as history only without the technical analysis that weather experts do, but I think it can be a good guide to how a drought may break and what regions/states have broken first (see state by state analysis below).
Pastures in some areas looked to have improved dramatically in December, but this can be deceiving as much of NSW and QLD rain in December was coastal with many interior areas still remaining dry and receiving nothing. The available soil moisture chart reflects this, and as a result we have seen total kills and proportionately female kills in December for Australia remain very high, 32pc above last year's December kill. This seems to have continued into January, with kills for the first two weeks of the new year 22pc higher than last year's same period.

When talking with forecasters and weather experts, they agreed there are common characteristics that occur when a drought breaks up:
Successive rain events would need to occur over a 3-4 month period: In October last year BOM meteorologist Simon Grainger described rain of 200-300 mm (8-12 inches) over three months to be classified as drought-breaking.
One weather expert said that "a single tropical storm at the right place, at the right time and with the right amount of rain can break a drought but this is rare."
It is not unusual in the lead up to drought breaking rains for patchy thunderstorms to occur everywhere (often over 6 months), which leads to good and poor pasture areas, often not far apart – eventually a series of good rain events will result in consistent good rains across all areas and eventually good pastures.
A good indicator of successful drought-breaking rain is measuring soil moisture levels at different depths after the precipitation event – the deeper the infiltration depth of water the better the rain event.
In many Australian states these are measured to one metre below ground level at multiple locations. A good example is Victoria's sub-soil moisture last winter (north of the Divide) which was as low as 30-50cm and traditionally would have good moisture at 80cm depth. The net result was a poor spring. In a good wet year (drought breaking), Victoria's winter subsoil moisture should exceed 80 cm in pasture regions and 100 cm in cropping regions, which will lead to good growth of pastures and high yielding crops.
One concern is that heavy rain due to thunderstorms at the end of a drought can lead to significant soil erosion due to the lack of vegetation and runoff. Research has shown that 90pc of soil loss from runoff comes from 10pc of runoff events (such as severe thunderstorms) and is most likely to occur when ground cover is below 50pc (which is not uncommon in droughts).
Using Simon Grainger's (BOM) definition of drought breaking rain of 200-300 mm over 3 months, and if history was to repeat itself, it would imply that QLD could be out of drought in the next two months. Unfortunately I don't believe this – the issue I have is that much of this recent QLD rain has been coastal and thunderstorm related, meaning that it is very patchy on where it has fallen with some regions better than others – meaning it is far from drought breaking.
Australian 2018 beef shipments
As stated above, Australia's total beef exports were higher in 2018 by 11pc compared to the previous year, with growth in most markets except the US.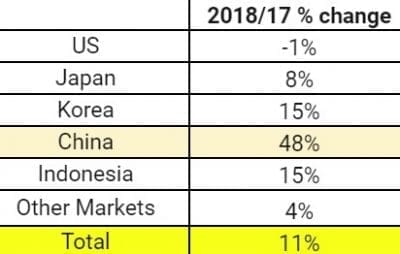 The increased tonnage is a direct result of increased total slaughterings of 10pc, due to the drought. The expectation is that the depletion of the herd will see this rate of slaughter slow down in 2019 –  with or without rain.
The start of January kill figures might indicate differently, with talk of heavy yardings in South East QLD likely for the next 6-8 weeks, but once this flush is over the numbers could tighten up.
Australia's January 2019 beef export shipments are likely to be 6pc lower than January 2018, even though kills are up by 22pc for the first two weeks. I think we have yet to see the full effects of the increased January kill to be reflected in Australian total shipment figures. China continues to be the standout destination in terms of growth since last year.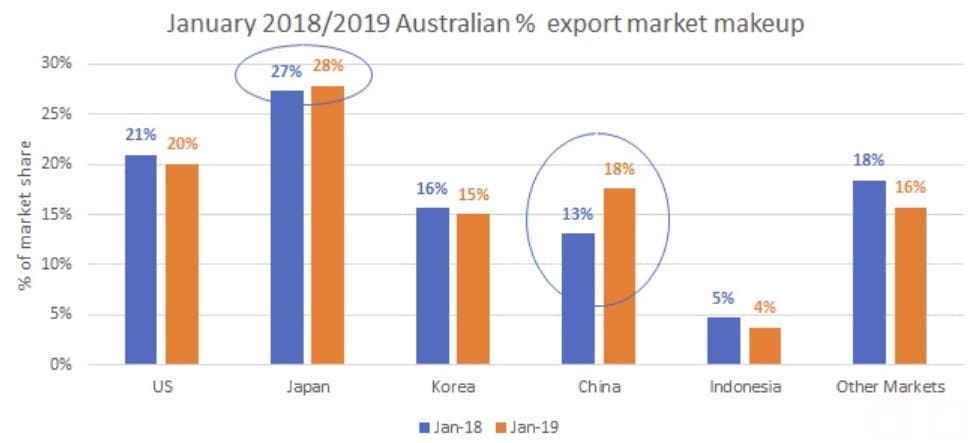 Summary on Australia's outlook
The rate of the total Australian cattle kill continues to be high, and if December's and early January's kills are any indication, we can expect potentially 6-8 weeks more of a heavy kill. As long as this kill remains high, global beef shipments will reflect this.
As the Chinese New Year approaches, the demand from China and other parts of Asia may fall away as many stop importing to either enjoy the holiday and/or gauge the level of demand during this period before reloading on inventory.
Last February saw Chinese New Year occur 11 days later than this year (Feb 16 last year, Feb 5 this year) and yet when looking at the ratio of shipments they do not change – remaining at 13pc of global exports and proportionately grow so that by December, China's market share was 18pc. The only country that fell away in March last year was Korea, which rebounded even stronger in April to make up for the quiet March period.
The other key is whether we see more rain in northern Australia over the next 6-8 weeks in the back half of the wet season. The indicators are showing that there is not much rain on the horizon and this might explain the heavy yardings in Roma this week, and why this will continue for 6-8 weeks.
Does this mean larger beef exports to the US this year? Yes I believe in the short term at least over the next 6-8 weeks there will be an increase in volume due to more cattle slaughtered and also the current US 17pc ratio of global Australian exports could rise to 20pc, as Korea traditionally has a brief respite on exports and China may quieten after Chinese New Year demand passes. But this could be short lived this extra volume should a traditional wet southern winter occur this year.
'Killing the future'
The current flush of cattle I believe for meat processors is being received with mixed feelings – increased numbers helps maintain throughput and plant capacity and is always welcome, but deep down we know we are 'killing the future' and that when rain eventually comes that rebuilding will commence in earnest and stock supply numbers will be extremely tight – the tightest I believe we will have seen in decades.
The supply challenges will not only be felt by meat processors but also lotfeeders and farmers wanting to restock. As stated in this report I am expecting the herd size to retract to 26.5 million head – which would be the lowest herd size in 22 years – and this in turn could see 2-3 years of herd rebuilding.
With low livestock numbers comes improved livestock prices and I see the beginning of improved livestock prices occurring when rain comes and the next stage of rebuilding commences. Should the long-term rainfall trends outlined in this report remain true, then VIC and southern NSW could see a traditional wet winter and northern NSW and QLD see a traditional 'wet' late this year. With that comes herd rebuilding and improved prices – here's hoping that history repeats itself.