He has spent much of the past two years in senate inquiries investigating what's wrong with the red meat industry, but Senator Barry O'Sullivan still sees enough right to be investing confidently in expanding his own cattle breeding and backgrounding operation. But he warns the industry can not achieve its potential until trust is rebuilt along the supply chain.
The red meat industry has become a magnet for inquiries and investigations in the past two years.
No less than three senate inquiries have focused on grassfed industry levies and structures, broader agricultural levies, and more recently competition issues in the red meat processing sector (the latter inquiry will continue in the next Parliament – more on this below).
Added to this is an Australian Competition and Consumer Commission investigation into cattle and beef market competition issues, due to report in November.
One of the few people involved in the Senate inquiry process with genuine cattle industry experience has been lifelong cattleman and former police detective Barry O'Sullivan, now a Federal Nationals senator for Queensland.
In his view, there is a problem when hundreds of producers speak out in senate inquiries of their concerns about competition and cattle pricing issues, while processors say they do not believe a problem exists.
"I am still not convinced the processing sector is listening, or has meaningfully engaged with us," he told Beef Central during a recent visit to his cattle operation near Toowoomba.
"We have had prime processor witnesses there who have declared that after 45 years in the industry they had never heard of collusion in the saleyards.
"All my life I have seen it, I heave heard it and I have tasted it."
The former police detective has spent his fair share of time in and around saleyards.
He bought his first cow and calf with "the first 10c I could rub together" as a boy growing up in Rockhampton and has bought and owned cattle ever since.
During his career as a police detective in Central and Southern Queensland, days off were routinely spent cutting timber or contract mustering, and pouring the proceeds into building his herd.
Over time his herd expanded, growing to 1700 head spread across paddocks owned or leased from Cooyar to Goondiwindi, and eventually requiring the employment of a full-time manager to oversee.
The cattle business took a back seat in the early 2000s as the demands of a civil construction and property development business established in Toowoomba began to take over. The business grew to well over 100 staff, and is now managed by Barry's son, Barry junior.
In recent years, including the last two as a Federal Senator, Barry has been rebuilding his cattle interests, enjoying the fact that his grand children are now seventh generation on the land – "an unbroken nexus" of O'Sullivans in the Queensland cattle industry.
Run on leased country near Kumbia and two smaller finishing blocks owned near Toowoomba, the herd now comprises 800 commercial Angus breeders, a small Charolais stud breeding bulls for the operation, and progeny. Barry is also developing an undercover silage feeding facility on the main Toowoomba block to feed around 500 weaned Angus and Angus/Charolais cross progeny a year through to feedlot entry weights.
While he has spent much of the past two years in senate inquiries investigating what's wrong with the red meat industry, he still sees enough right to be investing confidently in cattle breeding and backgrounding.
'I believe we are going into probably the most promising phase the beef industry is going to see for some time'
"I believe we are going into probably the most promising phase that the beef industry is going to see for some time," he said. "Look at the potential growth that is coming in the new market space."
He also acknowledges that producers who are currently benefitting from higher prices are doing well "because there are so many that aren't doing well", those forced to destock due to long-term drought, which in turn has created the supply shortage now fuelling higher prices.
Focusing life's experience on investigating red meat issues
Recent senate inquiries have enabled the cattleman, investigator and businessman to put his life's experience to work examining red meat industry issues.
He makes no secret that his primary focus is to find solutions that will keep family-sized cattle operations profitable and sustainable.
He supports large corporate-sized cattle producers, but says domination of the landscape by big company-owned operations with fly-in, fly-out workforces would ultimately spell the death of rural communities and, in turn, rural Australia.
He also doesn't hide the fact that his allegiances lie with protecting the interests of smaller producers, rather than larger multi-national processors.
"I am a free marketeer, where there is a free market," he says.
"If there isn't a free market, then I'm a protectionist, I'm a regulator.
"I will help my cattlemen before I will help the multinational, for certain."
Red meat inquiry will survive dissolution of parliament
In his view the inquiry into red meat processing consolidation and competition should be reaching, by now, a natural conclusion.
However, he believes a lack of meaningful engagement by processors means the industry still can't have an "adult conversation" about issues such as what happened at Barnawatha in February 2015, when nine usual processor buyers didn't buy during a dispute about pre-sale weighing, or the disparity in returns that can occur when a producer sends identical cattle to two different meatworks.
For this reason Senator O'Sullivan says he has been determined to see the current senate inquiry into red meat processing competition issues continue beyond the Federal Election on July 2.
All current senate inquiries are supposed to dissolve with both houses of Parliament at the election.
However Senator O'Sullivan said he has found a way to keep the Senate inquiry alive, and it will continue to sit regardless of the outcome of this election, the first time (we understand) this has happened.
'What we are trying to say to the industry is don't drive us into this space'
"What we are trying to say to the industry is don't drive us into this space, come out and say okay, we might not think there is a problem, but we accept that everyone else does, and then let's work together to prove there isn't a problem.
"I have offered them the opportunity to run blind trials with controlled scientific measurement of identical sides of beef so we can test if a problem exists.
"When I have a producer who tells me they had 30 head of cattle of identical bloodlines with the same sires and dams raised in identical circumstances and identical conditions, and they sent 15 to Fred's works and 15 to Betty's works, and the difference between the two was $300 a carcase, something is wrong."
Where does he see possible solutions?
A full national industry audit to comprehensively identify problem areas and answers is a necessary first step, he believes.
Senate inquiries involving "broken down detectives, ex-truckies and union bosses", despite their genuine attempts to find solutions, are not the best way to deal with these issues, he says.
"I think the white paper attempted to do this, but, as good as it was, I think we need a massive national audit," he said.
"I don't care what it costs us. Dealing with this through senate inquiries is very ineffectual."
'Dog eat dog' cycle must be fixed
What must be fixed, he believes, is the "dog-eat-dog, feast-to-famine" cycle in the industry.
At any given time there are enough margins in the industry for all sectors to make a profit, but instead the margin swings from one sector to the next as supply and demand factors dictate, with each sector going from diamonds to rocks in a relentless boom-bust cycle.
"It's not healthy for anyone."
He believes smaller family-sized operations must 'mutualise' or form small cooperatives to coordinate breeding programs and harness the benefits of economies of scale by working together.
"They need to cluster up, for example six to eight farms following their product off farm, and perhaps having their own cooperative feedlot.
"That is the way forward for both smaller producers and producers with scale who are exposed to most of the challenges in production, that is your broadacre beef producers in the more marginal country more prone to having longer dry periods.
"The challenge of course is getting cattlemen to agree."
He said producers who work together in a prudential, organised way to share costs, technology, equipment, labour and breed plans, will be able to defy market influences.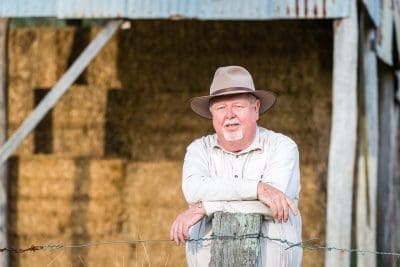 'We have to rebuild trust along the supply chain'
He said structural reform was also needed from on-farm through the supply chain.
"I have consistently said that it has always been my great hope that industry will self-regulate and address the structural issues in the supply chain, because the last thing anyone needs is more government regulation.
"I believe the conversation we are currently having through the ACCC and Senate Inquiries is the chance to bring about that change and make the supply chain more transparent, fair and equitable.
"If all participants in the supply chain don't act in good faith to make the necessary changes, then you will find government will do it for you.
"The processors can bury their heads in the sand if they want to, but at the end of the day someone is going to come along and grab you by the collar and force you to straighten up.
"The processors need to change how meat is graded to deliver a more consistent and transparent methodology.
"We need to tidy up issues such as agents being able to represent more than one client at a time at a saleyard and the situation where an agency both manages a saleyard and determines the conditions that other agencies can sell at that facility.
"These are issues that have been repeatedly raised to me and I do not believe we will realise the full potential of our industry until we rebuild trust along the supply chain.
"The most effective way to do this is to increase transparency. If no one is doing the wrong thing then no one should have anything to be concerned about."