While most of his address to the Rural Press Club of Queensland lunch in Brisbane on Thursday was focused on making a case for action on red meat industry reform, Don Mackay also ventured into some areas that audience members may not have been expecting.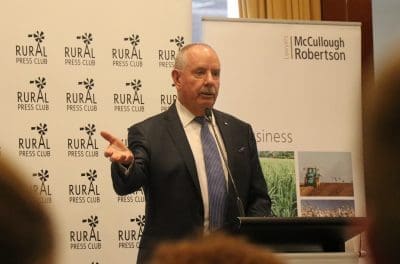 One in particular was when he paused to pose a question that went far beyond the restructure to the heart of the levy debate itself.
That is, does the red meat sector still need compulsory levies?
Are they an essential part of the red meat industry's future?
He noted that much of the political noise that dominates agripolitical activity is directly as a result of mandatory levies paid.
In the red meat sector alone 16 levies are paid to five key recipients – the Australian Meat Processor Corporation, Livecorp, Meat & Livestock Australia, Animal Health Australia and the National Residue Survey.
In addition, the Government stumps up co-investment to MLA each year for the use of MLA, AMPC and Livecorp.
In 2018-2019, Mr Mackay said, the total value of red meat levies was $132 million, with government co-investment totalling an additional $80 million or so.
A lot of money, but also a relatively small amount in the scheme of industry turning over $65 billion dollars in the same period.
The scale of levies paid per contributor varies considerably, from the the smallest hobby farmer paying a single $5 transaction levy to the biggest corporate agribusiness paying in excess of $1.5 million in mandatory levies in combined levy streams.
However no one can say exactly how much each levy payer pays, because the industry still does not know who pays the levies.
Legislation passed in 2018 means levy payer registers can now be developed for each sector if requested by the relevant Research Development Corporation, but the most recent advice from the Department of Agriculture is that that process is not yet underway for the grassfed sector because it has not received received a request from industry to create such a register.
Mr Mackay pointed out that businesses that pay levies rightly want input into, and ownership over, how mandatory levies are spent, while some businesses that are not directly engaged often also question the value of paying levies.
Some industries have no mandatory levy or industry service provider and manage innovation and marketing in-house.
While not pushing a particular position, Mr Mackay said the question of whether compulsory levies should be part of the industry's future was worthwhile asking.
"It begs the question: Does paying levies actually form an essential part of a better red meat future?
"Do we want to be paying levies in 2030?
"There is clear evidence of great things being achieved with levies in the past but is this the best plan for the future?
"There are some industry members who believe it should be actually be more.
"I am not advocating any particular position, but the question should be asked."
What do readers think? Should compulsory levies continue to be paid in the red meat sector? Add your thoughts in the comment box below.