Global beef prices could fall by as much as 17pc in 2019, followed by a second year of price falls of close to 11pc if impacts from a global glut in pork production and tariff wars between the US and major protein trading partners are not resolved, warns independent beef industry analyst Simon Quilty.
THIS week an important meeting takes place in Washington between President Donald Trump and Mexican President, Enrique Pena Nieta with trade being the focus of discussion – and in particular, the North American Free Trade Agreement and its viability as we know it.
The automotive industry is what continues to drive the Trump Administration and its trade policy, and an unfortunate casualty has been US pork exports to China and Mexico which due to hefty tariffs threaten, I believe, all major meats pricing including beef and lamb globally.
A critical part of the talks will be the removal of the 20 percent tariffs which impacts the US's largest pork export market, Mexico, which last year imported 820,000 tonnes of US pork.
Such is the fragile, balanced nature of global protein supply and demand that should there be no resolution from this week's meeting, the outcome for global pork and beef prices for the next two to three years could be very bleak. We have reached what many regard as a tipping-point in global pricing.
I am of the opinion that US pork supply and tariffs is at the heart of this problem. Up until now, strong global demand and US growth has kept prices firm, but the Trump Trade War may unravel all this hard work for the US and global meat industries.
In yesterday's Wall Street Journal, it was reported that US data this week is expected to show record levels of beef, pork, poultry and turkey being 'stockpiled in US facilities rising above 1.1 billion kg'. The article also highlighted the growing pressure that this oversupply is likely to create – quoting a Rabobank analyst, saying this situation could result in "one of the biggest corrections in the industry in several years."
The WSJ article highlighted the fundamental issue of oversupply due to large production and tariffs which restrict trade flows within the US and the potential slowdown to trade.
Australia has as much to lose as other key supply countries if the world becomes awash with pork for the next three years, and global beef prices are dragged down with it. Let's hope common sense prevails this week in Washington.
The politics so far
US analysts believe there is a real possibility that the Trump Administration will strike a separate deal with Mexico this week, and by doing so alienate Canada. In the last week, US President Trump tweeted about the Canada dairy tariffs on US milk, which are set at 270pc, and there is no doubt in President Trump's eyes, that Canada is on-the-nose.
In reality, the trade war has been always about the US automotive industry and the desire to bring jobs back to the US and to rebuild the automotive industry – yesterday at the G20 meeting in Argentina, financial leaders tried to persuade the US to drop tariffs and instead the opposite might occur, with many fearing that a fresh round of new levies will be placed on automobiles from Europe and Asia into the US.
As stated, US agriculture and the impact on pork and beef exports is a sideline casualty to the real driving issue of the US auto sector.
Summarising briefly key dates:
March 2, 2018 – US President announced a 25pc duty on steel imports and a 10pc duty on all aluminium product imports on all suppliers globally.
April 3, 2018 – China imposed tariffs on 128 US products of 25pc, including pork.
July 3, 2018 – China imposes second round of retaliatory tariffs on the US of 25pc and at the same time the US responds with a 25pc import tax applied to 818 products.
Last Sunday on Fox News, President Trump announced he was "not happy" with NAFTA, and he wants to make a future deal "more fair" to the US. He said in the same interview that he wants to "wait until after November's mid-term elections to make a move on NAFTA." He emphasised throughout the interview the focus on the US automotive industry, and his desire to tax cars coming from Mexico and Canada into the US.
In the same breath, there was a willingness by the Trump Administration to have a bilateral agreement with Mexico and deal with Canada later, post mid-year elections. Many believe this is what may be announced this week, meaning and hoping that the current 20pc duty imposed on US pork will be lifted.
Pork over-supply globally
Global pork production is forecast to be up by more than 2pc in 2018 to 113.5 million tonnes, with China leading this expansion, followed by the US and European Union.
Large investments in China are resulting in growing hog numbers and is likely to see a 2.5pc growth, according to USDA. But the anecdotal evidence points to a much larger growth since 2016 and many analysts regard China as the 'black box' of production and uncertainty.
Official Chinese statistics point to a contraction in the pig herd, but evidence points to expansion and as a result local pork prices have fallen 50pc in the last two years, with hog prices falling from RMB22/kg in June 2016 to RMB10-11/kg today. It is estimated that Chinese pork producers today are losing an estimated US$15/head.
The EU is the second largest pork producer globally, but is still only half of China's production and the US is half again. EU production is expected to be up almost 2pc, as hog producers have added sows in Poland, the Netherlands, and Spain – this was due to healthy hog prices in 2017 which encouraged more expansion.
The US and Brazilian pork production will partially negate each other, with Brazil's production expected to fall 1.3pc or 50,000t in 2018, whereas the US production is expected to increase by 4.5pc or 556,000t.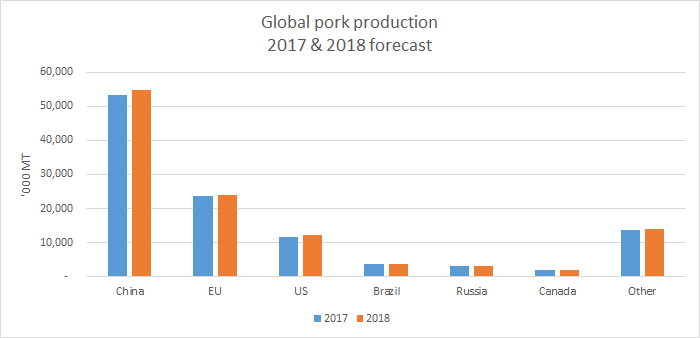 The challenge is trying to absorb the additional 2.5 million tonnes of pork globally as tariffs take a stranglehold of US key markets, which were being relied upon to help absorb the additional US production of 556,000t, but instead could take less than last year – thereby putting more pressure on US exporters to find new homes for its pork.
Last week's US pork exports stopped to China, as the impact of China 78.2pc tariffs took affect which last year took 238,000 tonnes, and estimates have been placed on the impact of Mexico's 20pc duty on the 985,000t (2018 original export forecast amount) could see close to 98,000t of pork displaced back onto the US domestic or needing to find a new export home.
The US excess pork of both displaced exports due to tariffs, and this year's increased production could see close to 900,000t (7.5pc of total US production) either being absorbed by the domestic US market or finding new export homes.
The problem with finding new export homes is that the extra 2 million tonnes of other countries' production is competing in the same export markets. I think the assumption is that the US domestic market will have to absorb this, unless Mexico resolves its differences later this week.
How quickly can the tap be turned off?
It's estimated that if US pork producers were to stop production and turn off the 'tap' it has a 10-month lag period before the effects would see production fall. But many believe there is likely to be no 'turning off the tap', for at least six months or longer, due to the addition of new capacity in the US pork processing industry, with industry participants believing that many pork processors will 'battle it out' and not slow down capacity, resulting in a delay of the tap being turned off.
This could well see no pork production slow-down until early 2020, which could see significant quantities of US pork remain in the pipeline between now and then.
What tariffs exist today?
At the moment China has imposed two separate 25pc duties on pork – the original 12pc duty is in place and an additional 16pc VAT tax which gives a total duty on US pork of 78.2pc. This has seen last week's US frozen pork exports to China fall to zero, and US cold stores starting to fill with pork that would have gone to export markets.
The situation in Mexico is that the original 10pc duty imposed on US pork in April was raised to 20pc on July 5. As a result, Canadian pork now enjoys a 20pc price advantage into Mexico, and has seen Canadian pork starting to move in volume into the Mexican market, which was once dominated by 90pc of US imports. The expectation is that within a short period Canada will have 15pc of the Mexican market.
The potential impact on beef and lamb – the worst case scenario
I have looked at a worst-case scenario of the US domestic market having to absorb the estimated additional 900,000t of extra pork production and displaced export volume due to tariffs.
The price relationship between pork and beef is always a difficult one to correlate, but it appears this is strongest within the US domestic market, rather than globally.
This means falling US pork and poultry prices will drag-down US domestic beef prices. Although it might be a 'clunky' process to get there, in the end cheap proteins impact one another.
With cheap US domestic pork, this means cheap US domestic beef, which in turn results in cheap global beef, which will impact Australian beef prices. Australia and the US overlap by 93pc in global beef markets.
When looking back at history and when the US produced an additional 7.5pc of total pork production and pork exports rose only 6pc or less, I can only find one period that corresponds to this. Between 2014 and 2015 expansion was 7.3pc, and exports responded by only an additional 6pc, which saw the US domestic market awash with pork. That year the pork cut-out fell close to 28.5pc to US79c/lb.
Given this year's pork cut-out value YTD is US77c/lb, this would imply a low of US54c/lb, which I think is too low, and have looked at a 15pc decline in US pork price in 2019 followed by a 3pc fall in 2020, should oversupply of pork occur.
It should be noted that December's US Hog Futures prices (see below) are trading at US47.2c/lb, a 40pc discount to today's hog cash markets, so my estimates of a 15pc and 3pc falls for 2019 and 2020 might seem to some observers to be too conservative, and understating what might be a more dramatic price fall.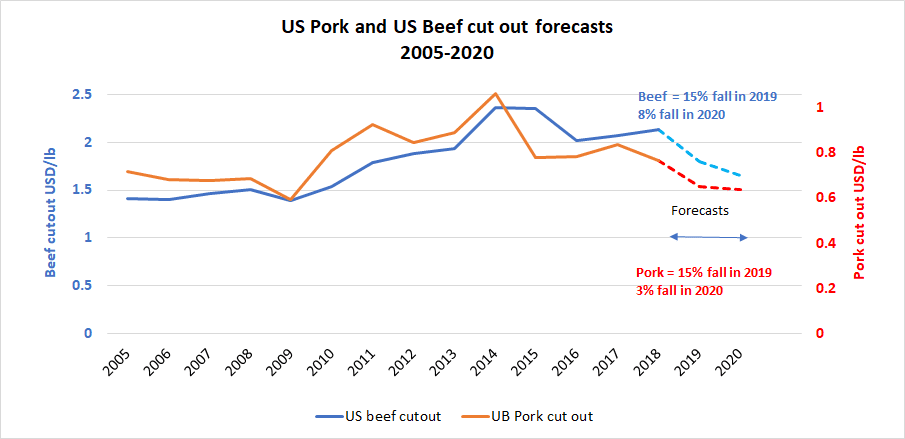 As stated this is a worst-case scenario. But a fall of this magnitude in the US pork cut-out I believe would translate into a fall in the US beef cut-out by 15pc in 2019 and 8pc in 2020, as the spread between pork and beef cut-out narrows in 2020. I have tried to use history as my best guide here.
All this would drag Australian beef and cattle prices lower in 2019 and 2020, and Australian and NZ lamb would be impacted in a similar way.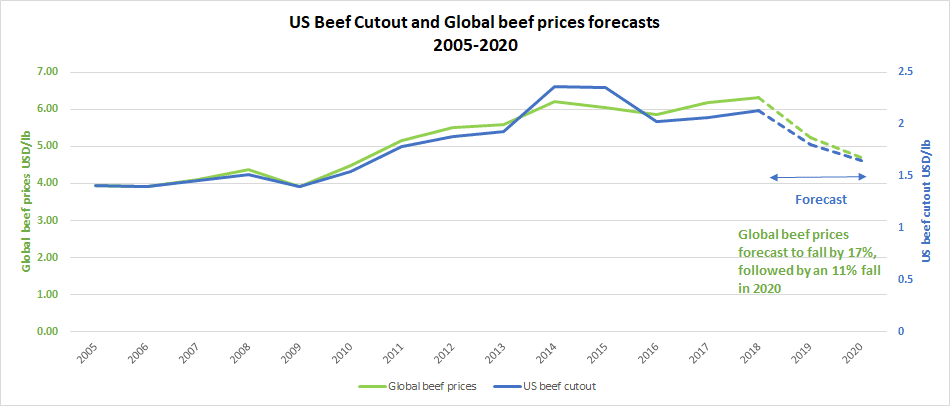 These global beef prices are based on a weighted price average of Australian and US export prices – in which we overlap in close to 93pc of all our markets (including US domestic market).
The Impact of currencies
Currencies are playing a crucial role for both pork buyers and sellers globally since April 3, when the first tariffs were introduced by China. Since then, currencies in key demand countries such as Japan and China are getting weaker, and currencies of key supply countries like the US and EU have increased in value, and are pushing their respective domestic prices lower. Brazil is the exception, and is likely to see cheap Brazilian pork sold globally.
All this points to the over-supply of pork being acerbated by these currency movements.

Currency movements in brief:
Brazil has had a 11.2pc fall in the Real which has played a significant role in Brazil pork being more competitive globally
Of equal concern is the weakening of the Chinese Yuan, which has seen US exports become non-competitive on top of the price prohibitive tariffs of 78.2pc – almost all imports of pork into China have become more expensive, the exception is Brazil's Real, whose rate of weakening is greater than the Yuan and therefore Brazils pork is cheaper than prior to April 3.
Europe's Euro has also strengthened and is therefore making EU pork less competitive globally which could see lower cheaper EU domestic pork prices
The Japanese Yen is also weaker which again weakens the demand for US pork.
Futures markets struggle
US CME Hog Futures have declined in the range of 15-22pc since April 3, depending on which month is used. December Hog Futures is one of the steepest declines of all the forward months, with the majority of the fall occurring in the last five weeks as the concerns of a long-term global trade war has intensified.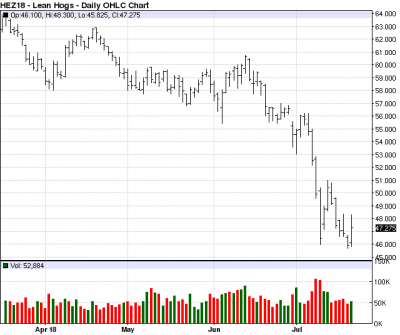 The following chart is the individual months' Hog futures values and it is clear that October-April period still remains the concerning months of no resolution, which has December priced at a 40pc discount to today's Hogs cash market.
As stated earlier in this report, should Mexican President Enrique Pena Nieta resolve any issues this Thursday with President Trump, this low could see a sharp rebound in forward prices.
There has been few forward shorts put on in the market. This could be explained in part by the ferocity of the fall in futures in recent weeks, and the inability of pork producers to get set in positive territory – very few would hedge themselves with a loss.
The state of uncertainty and enormous swings in volatility could be the other reason, as most US pork producers would hold out in hope of an upward swing to lock away some positive margin.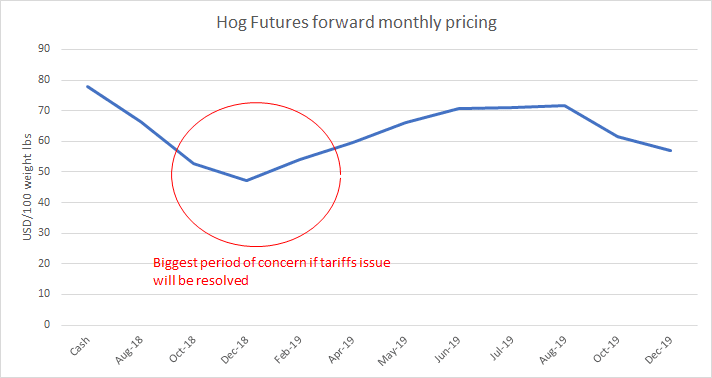 A fall of the US beef cut-out values of 15pc and 3pc respectively, as described above, I believe would translate into a fall in global beef prices of 17pc in 2019, followed by a second year of price falls of close to 11pc – dragging potentially Australian beef and cattle prices lower in 2019 and 2020 should the pork glut continue and the worst case scenario plays out.
Simon Quilty regularly speaks at beef industry stakeholder gatherings across Australia, and overseas