BEEF producers in Queensland and Western Australia have found that maintaining dingoes on their properties, rather than trying to eradicate them, has helped to boost their profits with few, if any, stock losses, according to new research.
The research paper – Can dingoes increase graziers' profits and help maintain Australia's rangelands? – was authored by three beef producers and has been published in the peer-reviewed Rangelands Journal, the official journal of the Australian Rangeland Society.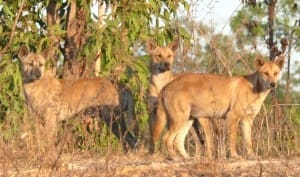 The study details the graziers' personal experiences in keeping dingo populations on working cattle properties. All of the authors – Queenslanders Gill Campbell and Angus Emmott and West Australian David Pollock –  saw their profits increase as dingoes eradicated feral goats and reduced over-abundant kangaroo populations, allowing pasture to rebound.
Gill Campbell of Claravale Station, near Mitchell in Queensland said: "Each of us had independently trialled not killing dingoes on our properties. We run different cattle operations in very different types of country, but we all found the same outcomes from not killing dingoes. Stable packs of dingo families established. Feral goats were completely eradicated. Populations of large kangaroos went right down. Foxes were virtually eradicated.
"We all found the business outcomes were outstanding. We all judge we have much more feed. And we can now move stock around and properly rest paddocks, allowing control of the total grazing pressure throughout our properties.  Previously paddocks without stock were just stripped of feed by 'roos and ferals," Mr Campbell said.
"Importantly, we found calf losses from dingoes were zero or minimal.  At my property after I stopped regular baiting and shooting dingoes in the '90s, damage to my stock from dingoes went down consistently. This fits with the findings from some research that baiting programs can actually increase predation.  This is probably because they knock out mature alpha dingoes leading to increases in young and inexperienced dingoes in the landscape trying to tackle cattle,' Mr Campbell said.
Angus Emmott, who worked on and owned Noonbah Station in Longreach, Queensland for more than 40 years said: "Uncontrolled grazing by feral animals and dense populations of large kangaroos is consistently judged to be a fundamental problem for maintaining healthy rangeland landscapes and profitable grazing enterprises. It's now highly apparent that overpopulation of kangaroos and feral goats is a huge productivity and environmental issue across millions of hectares of Australia. We found that simply allowing dingoes to survive unmolested on our stations dealt with this problem at minimal or no cost. In many ways we have been blessed here. Our top land predator is the 15kg dingo, not a Wolf or Lion, which are well designed to pull down adult cattle."
"We of course agree that sheep and domestic goats need protection from dingoes at the paddock level.  But as graziers we are concerned at the singular focus of Meat and Livestock Australia and Australian Wool Innovation on nationwide lethal control, including killing dingoes in regions far distant from sheep country. For sheep and goat producers, more support is needed for non-lethal methods such as using guard-dog breeds, which have been proven to work on a number of properties," Mr Emmott said.
David Pollock from Wooleen Station at Murchison in Western Australia said: "In addition to the business benefits, not disrupting dingo populations can have great benefits  for the overall health of the landscape.  At Wooleen Station we had significant regeneration of many types of trees and riverside vegetation only after 2004 when dingoes had returned and eradicated the feral goats and reduced numbers of kangaroos by about 90pc.
"The Australian pastoral industry as a whole, and the government departments that support it, need to reconsider a singular focus on killing dingoes. We need to properly assess and openly discuss the business and landscape benefits, as well as the hazards of maintaining dingoes in Australian landscapes," Mr Pollock said.
Source: Landholders for dingoes