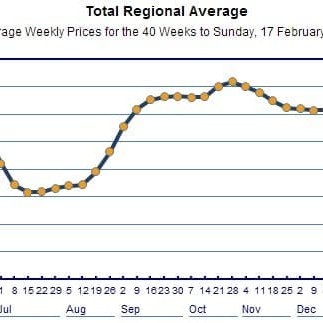 Diesel fuel prices in regional and rural areas of Australia are again on the march, lifting 2.2c/litre on average since this time a month ago, according to industry reports.
The shift follows a lengthy period of stability in pricing since November last year, when regional and rural diesel prices across the nation sat at around 152c. They rose to an average of 154c/l by last weekend.
As the graph here shows, weekly average diesel prices in most states and territories are now at their highest point since October last year, and close to the highest seen in the past ten months.
Further rises may again be on the horizon, however. Crude oil futures prices breached nine-month highs in early February as improved economic signals emerged from China and the US, robust financial market activity and colder temperatures in the Northern Hemisphere signalled a rise in fuel demand. Brent crude oil futures traded on Friday at $118.75/barrel, up 9 percent or $8/barrel on a month ago.
Geopolitical concerns centred on the Middle East oil producing region haven't helped.
The graph here is based on weekly price reporting information for the week ended February 17, drawn from regional areas across the country and released by the Australian Institute of Petroleum.
Prices last week were higher in country areas in all states and territories, with biggest rises seen in Victoria, Qld, WA and SA.
Regional non-metro diesel prices in the latest AIP report included:
Victoria 151.5c/l (up 2.1c/litre since mid-January)
NSW 153.3c (up 1.7c)
Queensland 153.6c (up 2.5c)
WA 157.5c (up 2.5c)
SA 153.9c (up 2.4c)
TAS 156.8c (up 0.9c), and
NT 168.8c (up 1.8c).
The prices are calculated as a weighted average of retail diesel fuel prices for country regions in each state/territory. All values include GST.
Variation in fuel oil prices can have a considerable impact of cost of production across the Australian beef industry, impacting on livestock transport, cost of shipping in live cattle and boxed beef exports, pumping stock water and providing station electricity in remote locations.
Crude oil, diesel and petrol prices are closely linked, as the price of crude oil accounts for the majority of the cost of producing a litre of petrol or diesel. Crude oil is purchased in US$, meaning that changes in the value of the A$ against the US have a direct impact on the relative price of crude oil in A$ terms.
Click on the image here for a largr view of recent regional Australian diesel price trends.