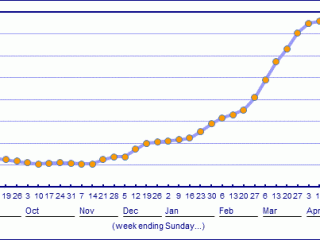 Diesel fuel prices in regional areas of Australia are showing signs of easing from recent highs, driven by the performance of the Australian dollar, softer international demand and other factors.
The Australian Institute of Petroleum report for the week ending Sunday, May 22, shows a national regional average retail diesel price of 154.6c/litre, down 1.5c on the week previous.
State regional price figures in the report ranged from 151.7c/l (Victoria), to 153.7c (Qld), 155.3c (NSW), 157.1c (WA) and 169.4c (NT).
As the accompanying graph shows, national prices reached a high point around 157c/l in early April, before beginning to ease three weeks ago as the A$ value softened.
The recent price rise started around the end of February, when diesel was still worth around 140c/l, or 10 percent below where it currently sits.
The AIP national regional average price is calculated as a weighted average of retail diesel fuel prices for non-metropolitan regions in each State/Territory, where the weighting is based on the number of vehicles using diesel fuel. All values are in cents per litre and are inclusive of GST.
In other fuel price news, the ABC reported on Tuesday that the cost of helicopter mustering for the 2011 season is shaping up as one of the most expensive years on record.
The fuel to run helicopters has jumped 20c/l in the last couple of months, an ABC report said. One contract helicopter musterer said with Avgas at $1.90 per litre, property operators would be forking out plenty for this year's mustering contracts.
Click on the image below for a better view of recent regional diesel price trends