The Eastern Young Cattle Indicator finished the week at 1014c/kg today, mounting an eye-catching recovery over the past three weeks from 886c at the end of July.
The indicator (see graph) is now back up again above where it was this time last year.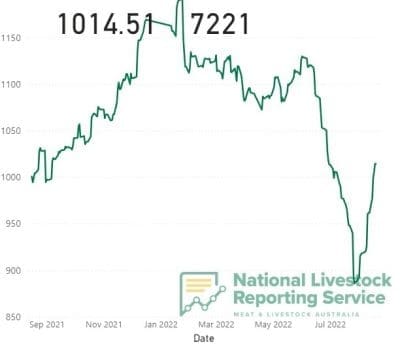 The most recent three-week, 129c/kg jump (worth about $257 on a typical 350kg steer, at a dressing percentage of 57pc) has now pegged-back almost 60 percent of the even-more-extreme collapse in EYCI value that took place between mid-June and the end of July.
Looking at the EYCI graph published above, it's evident that the past eight weeks has seen some of the biggest swings in young cattle values experienced in at least the past three years.
But what's less evident is the dramatic decline in the number of cattle being traded that collectively contribute to the EYCI indicator.
For the week ended today, just 7221 head of cattle were sold through the 23 eastern Australian saleyards contributing data to the indicator. At various times since the start of August the number has barely exceeded 6000 head. Contrast this with seven-day averages of almost 14,000 head last month.
Granted, late winter is traditionally a period of lower supply for young cattle, but this year the trend has been particularly acute, and is clearly a key contributor behind the current price surge. Fewer cattle means higher demand and relatively higher price, all other things being equal.
Using Queensland's weekly Roma sale as an illustration – easily the largest contributor to the EYCI's direction each week – sales have averaged 3800 head for the past month (all cattle, not just EYCI cattle), compared with +6700 for the four weeks prior to that.
Indeed as this graph shows, Roma throughput in EYCI cattle (2164 head this week) is currently at its lowest level since 2018, MLA market information manager Stephen Bignell said.
"It's definitely a significant part of the current price trend for young cattle," Mr Bignell said.
"But having said that, there are strong fundamentals also driving the young cattle market at present. Combine good weather and good prospects ahead, and the remaining restocking potential, particularly in Queensland, and it is supporting the trend, heading into spring."
"The restocking trend has definitely shifted north, as this year has unfolded."
"Vendors watched the market fall away since the start of July, and with plenty of green feed at home and the prospect of more ahead, some simply elected to withdraw from the market for the timebeing."
The trend was also clearly seen in AuctionsPlus cattle and sheep trading last week, which sunk to 27 month and 19-month lows for turnover respectively.
"There's obviously also a seasonality effect in play, but very low supply like this always pushes prices up," Mr Bignell said.
Restockers appear to be the buyer segment most responsible for pulling the price higher this month, as illustrated by the restocker segment at Wagga this week rising dramatically to average 1191c/kg.
That's on the back of more wet weather and forecasts of another wet spring, and abundant feed. Conversely, the feedlot buying component of EYCI activity has diminished recently, accounting for less than 43pc of trading in EYCI-eligible cattle over the past week (see pie chart).
Part of that has been explained by grainfed supply chain managers this week who point out that grainfed export plants typically close for an extended period over mid-December/January, meaning they do not want 100-day cattle falling due over that period. Project that closure 105 days forward, and it explains in part why feedlot buyer appetite for heavy export type feeders is reduced at present.
A similar story is seen in the south, where the past four Wagga sales have averaged 1420 head of cattle compared with around 2400 head the previous month.
See Wagga graph plotting throughput versus EYCI price.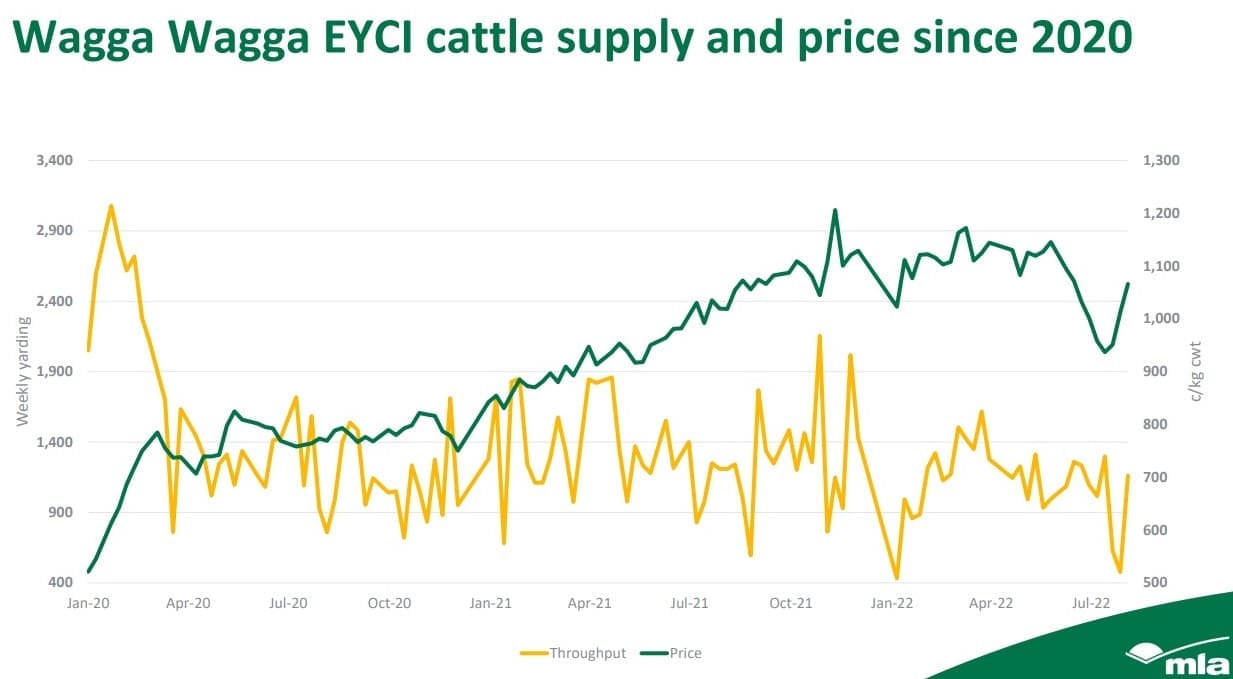 Feeder markets following similar trend
Feeder steer markets have mirrored the general trend seen in young cattle availability and price since the start of July – albeit not as extreme as the recent rally seen in the EYCI.
As can be seen in StoneX's northern feeder cattle index graph, based on Queensland saleyards signals for heavy feeders, the market fell sharply from late June at around 520c/kg to $450c/kg in late July, before mounting a recovery to 465c/kg yesterday.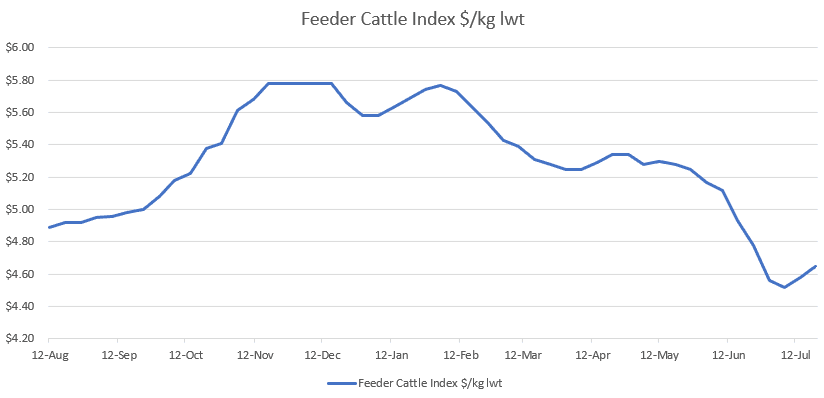 "As warmer conditions increased grass cover, feeder cattle supply decreased this month, and buyers crept back into the market as demand grows," StoneX commentary said yesterday.
Feedlot pricing and transactions (flatback heavy feeder ex Darling Downs) this week covered a spread from 430c-480c/kg, although most deals were between 450c and 480c, with outliers at the bottom struggling to attract sellers.
As discussed in this week's weekly kill report, southern processors continue to maintain a presence at both Dalby and Roma sales with competition remaining strong on quality lines.
"Favourable herd rebuilding conditions are making it easy for breeders to hang-on to cattle and await price rises, leading to limited supply of feeder cattle in the market," StoneX said yesterday.
Added to that, BOM has upgraded its La Nina watch for 2022-23 to an alert, increasing the probability of another wet spring/summer from 50pc to 70pc.
"Farmers have mixed responses, with some already struggling with wet soggy soils making it impossible to get gear on to fields and causing a lack in cattle performance, while others welcome the continued wet weather after years of drought," StoneX said.
In the finished cattle market a large Queensland dedicated grainfed processor has issued a January delivery forward contact price for 100 day grainfed flatback steers at 750c/kg, a decline from more than 800c/kg earlier, reflecting lower prices and demand for beef exports, as well as processor worker shortages cutting capacity to slaughter cattle.
"But the short supply of feeder cattle in the current market will make it hard for processors to pull prices back too aggressively," StoneX commentary suggested.
Angus feeder steer prices have firmed this week to around 575c/kg, with increased competition on available cattle and producers keeping cattle on grass awaiting price rises.