Sanitised foot mats for travellers entering Australia are now in place at all inbound airports receiving passengers from Indonesia, Department of Agriculture, Fisheries and Forestry officials confirmed at a Senate Inquiry hearing in Canberra yesterday.
Detector dogs are also now being used in all airports receiving passengers from Indonesia with the exception of Adelaide airport, which is expected to have a detector dog in place by the end of this month.
Providing an update on Australia's FMD preparedness during the first public hearing of the Senate Rural and Regional Affairs and Transport committee inquiry into the adequacy of Australia's biosecurity measures and response preparedness, DAFF secretary Andrew Metcalfe said Australia's biosecurity system is world class and had protected Australia from FMD for 150 years.
It has also been regularly reviewed and strengthened over that time following the 1996 Nairn report, 2008 Beale review, 2011 Matthews Review and 2017 Craik intergovernmental biosecurity review, in addition to the 2007 Royal Commission on Equine Influenza, and again more recently following incursions of FMD, lumpy skin disease and African Swine Fever in Indonesia.
The session was also told that of the three million doses of FMD vaccine Indonesia has ordered, one million have now been administered.
One million doses from Australia will arrive in Indonesia on August 22 in line with discussions between Australia and Indonesia on the best way to deliver the second tranche of vaccines to be rolled out, DAFF Exotic Animal Disease Preparedness Taskforce head Dr Chris Parker said.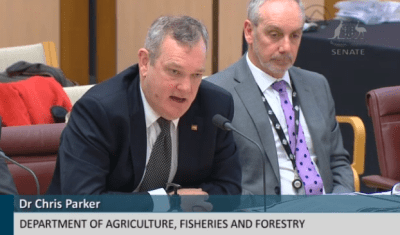 "We will continue to make vaccine commitments in line with Indonesian's response plan," Mr Parker said.
Inquiry chair Nationals Senator Matt Canavan asked DAFF to update the inquiry on when 18 new biosecurity officers to be based in airports and mail centres announced by the Government would be deployed.
Recruitment had begun with applications to close on August 22, and placements expected to occur by the end of September, the hearing was told.
In the meantime the Department had deployed 22 contractors at all airports receiving flights from Indonesia until the new officers are in place, Mr Metcalfe said.
Mr Metcalfe added that, in a precursor to news last week that Qantas management staff were being called on to fill operational roles, DAFF staff were "actually a week ahead of them" in actually doing "everything we can to ensure we have got as many staff at those key entry points, mail centres etc".
Risk assessment process in focus
The issue of how the Government determines the level of risk of FMD entering Australia also attracted of senator questions yesterday.
Before FMD arrived in Indonesia the level of risk of an FMD incursion into Australia in the next five years was rated by a panel of experts at 9 percent.
In June 2022, after FMD arrived in Indonesia, the expert panel raised the level of risk to 11.6pc.
However, when FMD then spread to the Australian tourist hotspot of Bali, the level of risk was not raised again, being held firm at 11.6pc.
Nationals Senator Susan McDonald noted that about 25 percent of Australian tourists in Bali stayed in private residences, often in close proximity to animals.
Why was the level of perceived risk not raised further when FMD arrived in Bali, she asked.
In response Deputy chief veterinary officer Dr Beth Cookson said the potential spread of FMD throughout all of Indonesia, including to Bali, was taken into account by the expert panel when the risk level was raised from 9pc to 11.6pc in June 2022.
She added that the structured expert judgement panel which delivered the percentage risk assessment was just "one tool" the Department used to characterise the changing threat profile, with other factors also taken into consideration.
Task Force head Chris Parker added that "the important component" is not the absolute figures themselves but the increase from 9pc to 11.6pc. He said the structured expert judgment was not modelling, was one tool that was used to assess risk, and was "not the only thing we consider".
"And if you look at what occurred when it was in Indonesia before it got to Bali there was a step up in border measures then," he said.
"Then when it got to Bali, recognising as you have quite rightly pointed out that there is a significant number of tourists going in and out of Bali particularly from Australia, the measures were stepped up again.
"And that is in response not just to the increasing structured expert judgment but the expert judgement of the department and officials who look at, what is the risk, what are the likely contributors to that risk, how might we mitigate that risk, and that is why you saws a step up in border measures at each of those occasions."
Why not simply ban all food into Australia?
Given the UK outbreak stemmed from contaminated airline food, and that imported food has been identified as the biggest risk of an incursion in Australia, why does Australia not take the simple step of banning the import of all food from overseas for personal use, as is the case in New Zealand, Senator McDonald asked?
Dr Robyn Martin, head of the biosecurity animal division, said all airline food arriving in Australia was disposed of quarantinable waste.
The only meat products permitted were "a few very highly processed meat products" such as canned, retorted products, which were processed to inactivate any viruses of concern, some meat flavours in which there was no discernible meat, and pork crackling and meat jerky from FMD-free countries.
Andrew Metcalfe added that the situation was constantly under review and actions had been taken to remove more permitted foods since FMD arrived in Indonesia. "The point you make is a good one and we are constantly reviewing  the risk factors associated with any food imports and making changes accordingly."
What would be the trade implications of an FMD outbreak?
ALP Senator for Victoria, Linda White, asked Government officials if an FMD outbreak would lead to the banning of Australian meat from all major markets.
Nicola Hinder, first assistant secretary of DAFF's exports and veterinary services division, characterised FMD as being "the big bang of animal diseases".
"It will have an immediate impact on our exports into a wide variety of markets."
"If FMD or LSD is detected in Australia, there would be a notification to the World Organisation for Animal Health, and that would then trigger a range of actions both within Australia and also by trading partners to suspend trade…
"LSD for instance we might be able to do pre-emptive negotiations with some trading partners.
"With FMD obviously the consequences on trade would be much more significant.
"We would need to be in a situation of having the disease under control in a defined area and then commence negotiations with trading partners in order fo exports to be able to recommence."
Beyond beef, lamb and goat meat, an FMD outbreak would also result in a cessation of Australian trade in rendered products, dairy products, hides and skins and wool.
"So the impact of FMD particularly on animal-based export products would be significant."
Ms Hinder said that for both FMD and LSD, DAFF has performed an in-depth review of all of the trade conditions Australia is required to provide certification to trading partners, to provide confidence on whether ability to trade may or may not be affected through a detection.
Importing rules not necessarily set in stone
She added that importing countries are able to change their own import requirements, as indeed Australia itself can, in response to disease notifications.
"Just because it is on the certification does not mean that a trading partner may or may nor change their import requirements depending on how and when Australia notifies a disease.
"A trading partner upon time of Australia notifying that we have a disease could impose a trade imposition, to be able to prevent the exports from that country…. that is in line with Australia's current biosecurity requirement as well where we also take notifications from the World Organisation for Animal Health to be able to determine whether or not it is satisfying out our own risks to be able to accept imports."
Do we have the resourcing to handle a major outbreak?
Inquiry chair, Senator Matt Canavan, noted that the Matthews Review in 2011 warned that the magnitude of an FMD outbreak could overwhelm state and national resources.
"Have we done an audit on have we got the people on the ground to take charge of the destruction, the restriction on movements necessary to control an outbreak?," he asked.
"I think we have clearly recognised that there is a range of services that are going to be required in an outbreak situation," Chris Parker said.
"The secretary appointed me to my role for exactly that reason, when it became increasingly obvious that there would be even more requirements.
"You raise a very good point and it is something that the Government through the minister is very focused on and it is something that we're very focused on recognising, we we can manage the biosecurity component, but a simple stock standstill, which would be the first thing that would occur, you would need significant resources from police and emergency services.
"It is definitely an issue and definitately somtheing we're focused on and definitely something the Government is focused on."
Mr Metcalfe said that in addition to work being done in Australia, there a lot was also being done to support Indonesia.
"We are very much focused on there being no ability for the virus to enter Australia through any of the pathways, through passengers, through cargo, through imports, through mail systems etc."
Would Australia vaccinate in the event of an FMD outbreak?
Asked if immediate vaccinations would be required if FMD entered Australia, Chris Parker said that was not necessarily the case.
"There is a range of strategies that may be used depending on the scenario.
"If we look back at what happened in the UK, in the UK situation particularly in 2007, they chose not to use vaccines.
"If you don't use vaccines you have a much better chance of getting back into markets quicker, so it is a decision based on expert advice, and there are structures in place for that expert advice to be provided, and that expert advice would guide the strategy that would be used depending on the scenario."
Under what scenarios would we use vaccines, One Nation senator Malcom Robert asked?
"A widespread outbreak in a number of different states could well necessitate use of vaccines," Dr Parker responded.
Modelling had also shown that in very intense agricultural areas, where a lot of cattle were together, vaccinations had been shown to be effective at getting an outbreak under control in a quicker period of time, versus more extensive situations where animals were more distributed, and where vaccinations were not so successful, Dr Robyn Martin added.
An important consideration, Dr Parker said, was that the use of FMD vaccines in Australia would change our trading status and that would significantly restrict Australia's ability to trade with a number of markets around the world.
He said Australia has a pre-positioned vaccine in a vaccine bank in the UK which would be could access within seven days if required.
Would the act of simply storing FMD vaccines in Australia also affect Australia's trade status, Matt Canavan asked? The DAFF officials took the question on notice, while LP Senator Richard Colbeck speculated that if the UK has an FMD vaccine storage but is now also FMD free, that the answer is likely to be that storing vaccines does not affect trade status.
On LSD, Dr Parker said he understood that LSD vaccines have begun arriving in Jakarta.
"I'm aware that Indonesia has appointed five different companies to be able to import vaccines into the country so I think it would be fair to say there is quite a bit of momentum in this space."