If you're a cattle producer or feedlot operator working in close proximity to a Coal Seam Gas field, consider the following scenario.
Untreated wastewater from a poorly-constructed CSG holding pond containing uranium, arsenic, lead and other naturally-occurring contaminants seeps into a freshwater aquifer below.
Water from the same aquifer is extracted just a few kilometres away for cattle, and, unbeknownst to their owner, they are exposed to the contaminated water in troughs.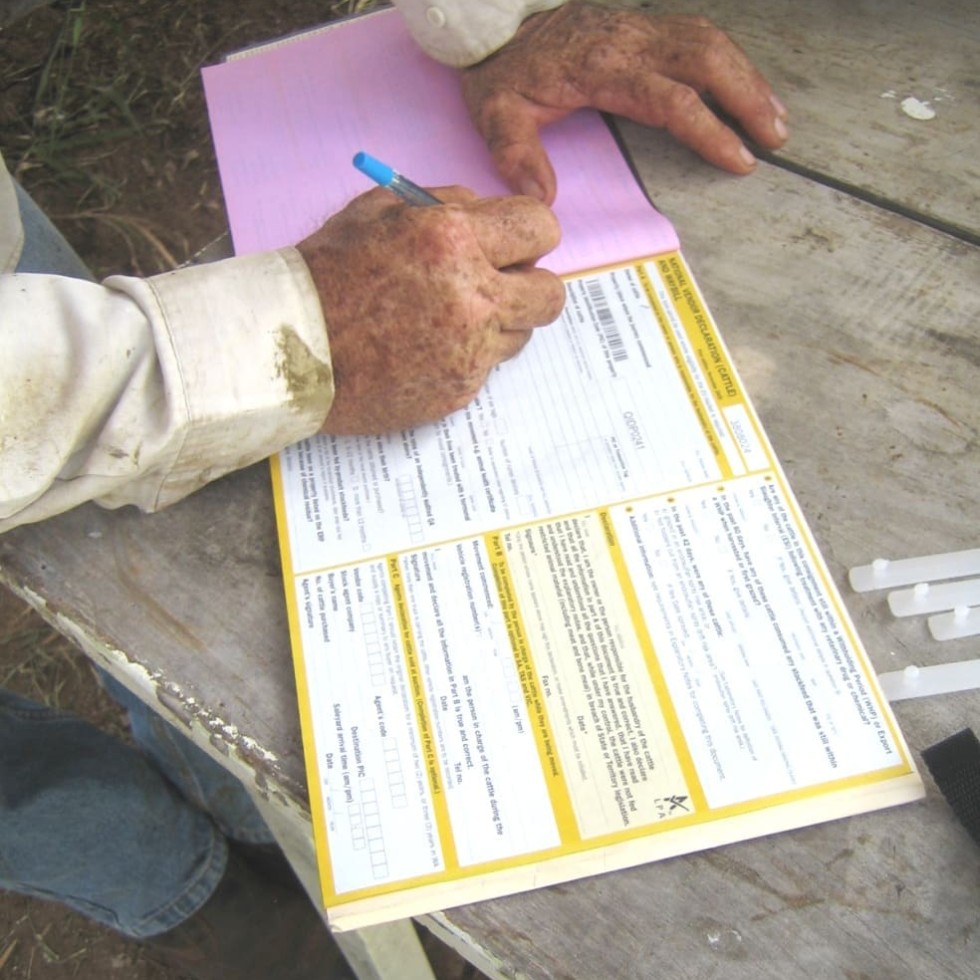 Now here's the key question: What are the legal implications for that cattle producer or feedlot operator when standard residue tests later detect contaminants in the beef from those cattle, for which the producer/lot feeder has signed National Vendor Declarations (NVDs) guaranteeing their food-safety status, or when a consumer gets sick from eating the same beef?
Finding answers to this very question was the focus of a Meat & Livestock Australia (MLA) funded project, initiated by the Cattle Council of Australia (CCA) and the Australian Lot Feeders Association (ALFA), which was completed in March last year.
Under the project MLA engaged a legal firm to provide advice on who would be liable for any CSG-industry related contamination of cattle, should it occur, and the obligations and liabilities producers face when completing an NVD.
At the time Queensland Gasfields Commission chairman John Cotter described the issue as being of serious concern to beef producers and said it was hoped the MLA project would provide a resolution.
However, although the project was completed more than 12 months ago, the advice it produced cannot be passed on to the producers who funded it and indeed who most need it.
That is because the legal firm contracted to do the work (which has not been publicly identified) advised MLA, CCA and ALFA when it completed the project that its final report "should not be released".
In response to Beef Central's questions as to whether further information was available to explain why the resulting advice could not be released to producers, a spokesperson for Cattle Council of Australia said the information in the report was legally sensitive and "due to the fact that it advises liability, the firm advised that the report itself shouldn't be released".
The Australian Lot Feeders Association told Beef Central it was disappointed in the project's outcome.
Chief executive officer Dougal Gordon said the firm which undertook the report was not prepared to release its contents "due to legal professional privilege".
"A summary that was to be provided to industry was so watered down that it unfortunately held little value," Mr Gordon said. "This was a disappointing outcome as we had hoped that its contents would provide some clarity regarding these issues to producers and lot feeders."
While the findings of the report itself have not been released to producers and remain unknown, another document released by Cattle Council of Australia following the project appears to suggest that producers may be liable for CSG related contamination of their cattle.
The communique (click here to view) offers advice to producers in CSG fields and points out that a major concern for cattle producers is the potential that exists for CSG operations to pollute groundwater, soil and pasture.
It advises that in land access negotiations with CSG companies, landowners should press for a contract which allocates responsibility for managing the risk and any adverse outcome onto the CSG operator.
"While a landowner may have some recourse against a CSG operator, the landowner may still have primary liability," the communiqué states.
The advice infers that the producer having signed the NVD could be liable for any CSG-industry related contamination of cattle, and that recourse for costs/damages would require the producer having proof that the CSG operator was responsible and then taking separate action in the court against the CSG operator.
Cattle Council of Australia told Beef Central that if a producer was concerned about residues in water from mining operations, they should contact their State mining regulator and ask for the water to be tested.
"If test results indicate a potential residue concern, the mine regulator will advise the State DPI who will advise the producer if anything needs to be declared on the NVD," the CCA said.
"It is an LPA requirement to actively manage risks of contamination on property, including exclusion of stock from the source of risk where necessary."
ALFA's Dougal Gordon said the question of liability was a complex area due to the differing requirements under common versus contract law (ie agreements between land owners and CSG operators) and state legislation surrounding environmental, planning and consumer matters.
"Due to these vagaries there is not a general recommendation that is applicable under all circumstances," he said.
"However, in saying this, ALFA would recommend that land owners monitor their bores over time and if they are concerned about potential water/ land contamination, they should seek legal advice that is specific to their individual circumstances."
See separate story which details SAFEMEAT's response to Beef Central's questions on legal implications for producers who sign NVDs and experience a CSG related contamination incident.
Some may question whether any risk of contamination from CSG activities exists at all, given the increased level of regulatory controls resource companies are now required to operate under.
However, at least one very recent scenario has underlined the potential that exists for such contamination to occur.
Earlier this year Santos was fined $1500 by the NSW Environmental Protection Authority after it was confirmed that wastewater in a poorly constructed holding pond (constructed by a previous owner of Santos' Pilliga gas project) leaked into an aquifer, about 4-5km away from a point where water was being extracted from the same aquifer for livestock.
In that incident there was no evidence or suggestion that livestock were actually contaminated as a result of drinking from the same aquifer. Both Santos and the NSW Environmental Protection Agency maintained that the water was so slow-moving in the aquifer that there was "almost no risk" that the livestock could have been exposed to the leaked contaminants.
The event has however underscored the potential that exists for livestock to be exposed to contaminating elements from coal seam water brought to the surface by CSG operations, particularly where high-density gas fields are now overlaid across large numbers of beef cattle grazing and feedlot operations.
Given this potential, it is critical that producers know where they stand legally in the event of a contamination incident. This knowledge should also be playing a role in the negotiation of land access agreements between CSG operators and landholders before projects proceed.
Indeed, in another CSG related report produced by MLA and Rural Industries Research and Development Corporation report last year, titled "principles for negotiating co-existence arrangements for landholders", landholders are advised to negotiate indemnity clauses in land access agreements.
A 'checklist for landholders accommodating new industries' included in the report advises: "Ensure that agreements provide effective indemnity for the new land use activities e.g. coverage for residues in beef as a result of chemicals used by the new land use operation on farm. Ensure indemnities are not with shelf companies."
RELATED ARTICLE: CSG and NVDs: SAFEMEAT perspective