CONSOLIDATED Pastoral Co overnight delivered a strong set of financials for its 2017-18 trading year ended 31 March.
Among the highlights:
Profit after tax reached $15.8 million (2017: $37.1m), while revenue of $140.9m was down 8.9pc on the previous year, reflecting lower average cattle values compared to 2017
Total asset value at year's-end reached $925.5m, up 5.1pc on the previous year, for the portfolio of 16 cattle stations across Queensland, the NT and WA, running about 400,000 cattle across 5.5 million hectares of country. The company also has an 80pc stake in Juang Jaya Abdi Alam, which owns and operates two feedlots in Indonesia.
Pre-tax earnings were $34.3m (2017: $49.7m), and benefited from positive impact from cattle revaluations
Cash generation of $12.1m (2017: $20.2m) reflecting herd rebuilding and increased capex
The strong result comes as a stark contrast with AA Co's result announced last week, which showed an after-tax loss of $102.6m, burdened by poor operating performance at the company's Livingstone beef abattoir near Darwin and other operational headwinds.
Among CPC's operational highlights last financial year, investments in property development continued, including $4.2m in capital expenditure towards waters and fencing infrastructure to improve productivity and increase carrying capacity (see more details below), which contributed $10.5m to the property valuation increase.
Good underlying cash generation was reported, partially offset by a 130pc increase in cattle trading with the company's JJAA Indonesian feedlot business, as good buying opportunities presented themselves during the year. CPC reported continued profitability within the JJAA Indonesia operations, which provide valuable vertical integration and direct access to attractive Asian markets.
During the year JJAA Lampung was awarded Meat & Livestock Australia's second annual Feedlot Steer Competition award for the feedlot's efficiency of operations and management of cattle, for the second consecutive year.
CPC's cattle brandings were up 10pc year-on-year, and as reported earlier on Beef Central, the company made property acquisitions including Emu's Nest station to expand its Allawah stud capacity, providing additional scale to the genetics capabilities within the business.
Chief executive Troy Setter said the company's earnings performance for FY18 reflected increased productivity, offset by a recent decline in cattle values from last year.
"As a leading integrated beef and cattle supplier to international markets, we are well positioned to continue to benefit from the strong global demand for beef," he said.
CPC's direct sales channels primarily involve selling cattle and beef to Asian consumer markets, domestic feedlots and processors, and exporting live cattle.
"Our JJAA joint venture in Indonesia continues to provide valuable direct access to the large and attractive Asian markets. We remain committed to our operations in Indonesia and this year we plan to increase our investment in the business," Mr Setter said.
"After another solid year of investing in our properties, our cattle and our team, CPC is well positioned for the future," he said.
Water improvements continue to drive scale, productivity
Investment in provision of additional waters and fencing to spread grazing pressure and utilise pasture regions previously beyond reach of cattle is one of the big productivity drivers for CPC.
Since 2009, the company has developed more than 500,000ha of land through the addition of new bores, poly pipe and closed water tanks to add watering points, increasing carrying capacity by about 38,000 head.
The 2018 financial year land development program will add a further 18,000 head carrying capacity across six stations.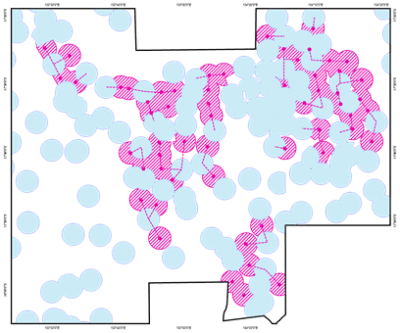 The map published here shows CPC's Newcastle Waters group of stations, in the Barkly region of the Northern Territory, covering some 1.3 million ha.
The areas coloured blue are the 3km grazing radius zones already developed; pink is 3km grazing radius being developed in the 2018 and 2019 financial years, and the remaining white areas  undeveloped.
The company sees significant further opportunity to improve productivity and increase carrying capacity with further investment in land development.
"There is a lot more potential for further investment and value accretion, as CPC stations still have considerable further development opportunity," Mr Setter said.
"It's a compelling return on investment. A typical investment of $1 million, for example, can drive value uplift of about $4 million after five years."
"We still see significant opportunity to improve our productivity and increase carrying capacity with further development of our stations, through development of watering points and fencing, as well as technology and genetics."
Investors scrutinise result
The financial result announced overnight will greatly encourage potential investors in CPC, following owner, Terra Firma's decision late last year to take the company to market (see earlier story).
First round offers for the business are expected to be completed shortly, with a number of bidding 'finalists' to be shortlisted and provided with additional information.
The sale process could take up to a year, the market has been told.