GLOBAL export forecasts made by the US Department of Agriculture's  Foreign Agricultural Service for red and white meat proteins have been downgraded, due to emerging threats from the spread of the COVID-19 virus.
Worldwide, economic growth forecasts have been cut for 2020 and the impact on consumers will dampen demand for animal protein, USDA's report issued this week says. Widespread closures of restaurants and food service outlets as well as a reduction in tourism and travel will shift demand for both beef and chicken, across a range of cuts.
Furthermore, shipping disruptions have already impacted global trade by clogging ports and reducing container availability, at least in the short-term, USDA's report said.
"Full impacts are likely still to develop, but the livestock and poultry sectors' response at all levels of the supply and distribution chain are likely to impact supplies in the future," it said.
Set out in more detail below, USDA's adjusted forecast has global beef trade for 2020 down 8pc from the previous forecast made in January, and overall global beef production slightly lower at 61.53 million tonnes.
Global chicken meat production is expected to fall 2pc to just over 100 million tonnes, while total exports could reach 11.7 million tonnes.
Balanced against the headwinds facing many economies, impacts from African Swine Fever in China and other countries remain a dominant factor in the market for pork, USDA says.
Export forecasts for pork have been raised, as sharply lower pork production in China is still expected to drive record trade. However COVID-19 has added significant uncertainty to the forecasts, and is expected to disrupt trade in 2020.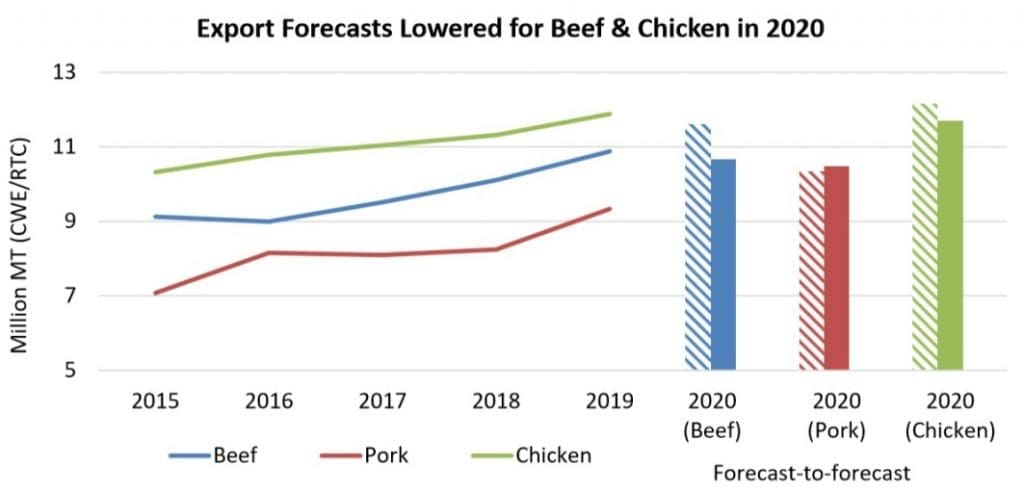 Here's USDA's breakdown on the three major proteins:
Beef
The global beef production forecast for 2020 is revised marginally lower from the prior forecast as world economic disruptions associated with COVID-19 suppress beef demand and lead producers to adjust their production plans. Global beef production in 2020 is expected to decline slightly year-over-year, with lower production caused by herd rebuilding in Australia mostly offset by growth in Brazil, China, and North America.
The global beef trade estimate was revised down 8pc from the prior forecast made in January, although about half of this change is due to recently revised conversion rates. Year-over-year, global beef trade is expected to decline 2pc as world economic growth is negatively impacted by COVID-19.
Less expensive proteins
This is expected to cause consumers to switch to less expensive protein sources and adjust dining patterns. Depressed restaurant traffic in many countries is expected to negatively impact beef demand because a large proportion of global consumption takes place in the HRI sector (hotels, restaurants, and institutions).
Both pork and chicken are significantly less impacted than beef in the USDA report. Compared to red meats, chicken demand is expected to be more resilient when faced with economic turmoil due to its position as a low-cost versatile animal protein culturally acceptable in virtually all markets.
Pork
Pork's global production forecast is lowered by 2pc to 94.3 million tonnes, on lowered expectations for China where the industry struggles to recover from African Swine Fever. Global pork production is forecast 7pc lower year-on-year, largely due to reduced output in China, Vietnam, and Philippines – all countries affected by ASF. Production growth in the US, Brazil, and to a lesser extent the EU offsets some of the declines in Asia, as recent strong export demand has encouraged producers to expand herds.
Chicken meat
USDA's forecast for global chicken meat production is revised 2pc lower to 100.5 million tonnes, as gains in China fail to offset lowered production forecasts for all major producers. However, world production in 2020 remains forecast higher (+1pc) versus last year, as gains in Brazil, China and the US more than offset declines in the EU, India, Thailand and Turkey.
US cattle industry losses estimated at US$13.6 billion
Meanwhile, a study released this week by the US National Cattlemens Beef Association estimates that US cattle industry losses as a result of the COVID-19 pandemic will reach $13.6 billion.
The study was conducted by a team of industry-leading agricultural economists to assist USDA in determining how best to allocate CARES Act relief funds to US cattle producers.
The study suggests that US cow-calf producers will see the largest impact, with COVID-19-related losses totalling an estimated US$3.7b, or US$112 per head for each mature breeding animal in the US. Without offsetting relief payments, those losses could increase by $135 per mature breeding animal, for an additional impact totalling $4.45b in the coming years.
Stocker/backgrounder segment losses were estimated at US$160 per head, for a total economic impact of $2.5b in 2020, while feeding sector losses were estimated at $3b or US$206 per head.
"This study confirms that cattle producers have suffered massive economic damage as a result of the COVID-19 outbreak and those losses will continue to mount for years to come, driving many producers to the brink of collapse and beyond, if relief funds aren't made available soon," said NCBA chief executive Colin Woodall.
"This study clearly illustrates the fact that while the relief funds provided by Congress were a good first step, there remains a massive need for more funding to be allocated as soon as members of Congress reconvene," he said.
Mr Woodall pointed out that relief funds that were meant to provide aid directly to US cattle producers were divided among multiple commodities, many of which already have government programs in place to support production. However, cattle producers have always maintained their independence from government programs, and most operate today without the safety net others enjoy.
"It's only because of the extraordinary circumstances we face today that cattle producers need relief. While we appreciate the many members of Congress who supported the cattle industry and ensured cattle producers were eligible for relief funds, we need these same members to do more to make certain every cattle producer who needs relief can access funding. That's why we're calling today for additional funds to be made available specifically for cattlemen and women," Mr Woodall said.
The US beef economic damage assessment was conducted by Derrell S. Peel, Oklahoma State University; Dustin Aherin, Rabobank; Randy Blach, CattleFax; Kenneth Burdine, University of Kentucky; Don Close, Rabobank; Amy Hagerman, Oklahoma State University; Josh Maples, Mississippi State University; James Robb, Livestock Marketing Information Center; and Glynn Tonsor, Kansas State University.