COVID-19 trade and operational impacts dominated questions from financial analysts and investors taking part in JBS's annual global conference call on Friday, following the release of record financial results for the company's 2019 trading year.
As reported on Friday, JBS logged an adjusted pre-tax full year profit of R$19.9 billion (equivalent to about A$6.76b). Net revenue was R$204 billion – the equivalent of about A$69.3b – up 12.6pc compared with 2018, while net income was R$6.1b, the highest in the company's history.
While the record results were described during the investor briefing as 'excellent', celebrating them in the current environment was difficult, JBS global chief executive Giberto Tomazoni said.
"We all are going through a very challenging period, and JBS, as a food company, is conscious of its obligation to help feed the world," Mr Tomazoni told analysts.
"We take our responsibility very seriously, and I am very proud of everything we are doing in each of our business units. Ensuring the supply chain of food is essential during this critical time, and JBS will continue to work hard to ensure our operations continue. We stand alongside our customers and business partners in seeking creative solutions for the challenges we all currently face," he said.
Mr Tomazoni and other senior JBS executives answered a series of questions from analysts – many of which reflected the trade impacts being seen from COVID-19. Note that the comments below were not specific to JBS operations Australia, but reflect the company's worldwide meat business across North and South America, Australia and parts of Europe.
In his opening remarks, Mr Tomazoni said despite COVID-19, global marketing conditions for meat protein had not changed.
"The enormous global gap in protein caused by African Swine Fever is still there, and good signs exist that China is recovering very fast," he said.
Rapid shift from food service to retail:
A Wells Fargo Securities analyst asked about the impact COVID-19 was having on the food service sector (restaurants, hotels, cafes, conference venues etc) around the world, and how fast JBS could alter its product mix, to switch from collapsing food service to retail sales, which had dramatically grown.
JBS head of US operations, Andre Nogueira said in JBS's case, the shift into retail was a simple one.
"Very few lines previously sold into food service cannot be immediately used for retail," he said. "In our case, with perhaps some changes to packaging, we can change 100 percent of our product for retail use. The change from food service to retail, itself, will not have any impact on margins – as long as total consumption does not change," he said.
Giberto Tomazoni said JBS had historically produced a lot of ground beef in Brazil, for use through many food service burger restaurant chains.
"But with the reduction in food service demand that's been seen, we can easily shift that into retail packs, as JBS had strong retail brands in Brazil through SEARA and Friboi. In reality, this change will not affect our margin or volume of sales. In fact this is to our advantage, through our different types of business platforms, shifting from one to the other."
How is COVID-19 affecting meat processing operations?
An analyst asked how COVID-19, and social distancing, was impacting JBS's meat workers, and what type of contingency plans the company had if somebody came to work sick.
Andre Nogueira said the company was doing everything within its power to ensure the health and safety of team members within its plants. Comprehensive management plans had been put in place, but the company had individual plants around the world that employed 2000 or 3000 people, he said.
"We are screening people as they come to the plants, in terms of their temperature, and we took the population of high-risk older workers out of the plants. We are hiring more people to ensure that in the event of increased absenteeism, we can continue to run the factories," he said. "We have taken a number of actions in the past three weeks to improve the conditions, including social distancing measures, increased and upgraded cleaning of common areas, and adjusting shifts to allow that to happen."
"But we are talking about a lot of people at each plant, and we need to balance that risk with our responsibility to produce food. We cannot stop, otherwise it creates a big issue for the entire population. But it is a challenge, and we will continue to face this challenge so long as COVID-19 is a threat."
Volume demands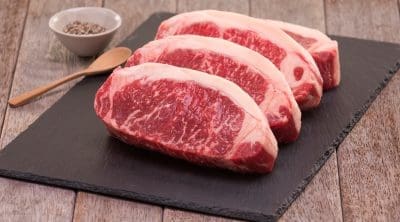 An analyst pointed to 'extraordinary' beef margins in the US in the past couple of weeks, asking what volume demands had been placed on JBS plants, given the shift to retail, and the potential outlook for Q1 profitability.
"When you see a big jump like that (caused by extraordinary circumstances like COVID-19) it does not represent the real margin. In a situation like what we saw in the last two weeks, that's not a good indicator of margin any more. We have been extremely responsible for our pricing, and believe processors should not be increase pricing (opportunistically) in a moment like that."
Mr Nogueira said JBS had dramatically increased its production of beef, pork and chicken in the past two weeks (in the US) to make sure it could continue to supply customers and their end-users.
"I expect that to come back to a more normal levels of production within a few weeks," he said.
COVID-19 impact on value-added
An analyst asked whether current trading conditions would change JBS's focus on value-added business development.
"We are not changing our plans so far, but are looking at the situation very carefully," Mr  Tomazoni said. "But nobody knows how long the crisis will persist, or how it will affect the market as a whole. But we are keeping to our value-added business plan, because the gap in the global protein market is still there."
Is it time for acquisitions?
An analyst suggested that back in 2008, during the Global Financial Crisis, JBS had undertaken a number of transformational mergers and acquisitions as opportunities arose. "Considering the current market situation, instead of a share buyback, should the company be considering acquisitions, as more companies get into financial difficulty?" he asked.
Mr Tomazoni said mergers and acquisitions were always a consideration to improve the company.
"At this moment, short-term, we are not focused on M&A. But in the medium term, I believe that we will have a good opportunity. Right now, the focus is on protecting our team, and keeping our plants operating," he said.
China outlook for meat protein
With the reduction in tariffs to China for US product, an analyst asked what JBS's outlook was for exports of beef, pork and chicken to the China market.
Mr Nogueira said all three proteins would benefit from the new level of tariffs on US product, and the flexibility of being able to export US proteins to China.
"I believe that China will become a top-three customer for US chicken – as recently as last year, they were irrelevant. I think that China will become the US's largest export market for pork. In beef, I don't think China will become a top-three export customer, but it will become more relevant for US exports. Today, they are not in the top 20," he said.
"In terms of volume, I think pork will be by far the biggest volume of the three, followed by chicken. Beef will be much less, mainly because of the availability of beef. And the US will continue to supply Japan and Korea with beef in a strong way. The US now has very favourable trade agreements with China, Japan and Korea."
Is chicken demand outflanking beef, as spooked consumers chase value?
An analyst asked whether relatively cheap chicken was being preferenced by consumers over more expensive beef, in the current unusual market condition since COVID-19.
"The whole new market dynamic is still very new, but what's clear in this first two weeks since the COVID-19 panic buying started is that both chicken and less expensive ground beef demand are very, very strong," Mr Nogueira said.
"In contrast, more expensive middle meats in beef, which are used much more in food service, has lost demand. But maybe that has to do with what consumers are more confident about cooking at home, instead of simply looking for cheaper items," he said. "But we have seen very, very strong demand for ground beef – we have been running our US ground beef operations seven days a week for the past fortnight."
Coping with weak food service demand
An analyst asked what strategic plans JBS was considering to cope with weak demand in the food service sector.
"In the short term, we are able to cope, because as we explained, our products are moving freely from the food service sector into retail. Nobody knows how long this will take to clear. In the US, trade is about 70pc food service. But very few beef lines cannot be adjusted from food service to retail, so there is only moderate impact. Globally, the impact is zero, even if recovery tales some time."
Logistics issues
During an earlier Portuguese language investor briefing, JBS identified potential logistics issues amid the coronavirus crisis, including container shortages and port disruptions.
JBS executives said its export operations had not been hit by any disruptions, such as those that have affected frozen container cargos arriving in China in recent weeks. They said the company was banking on its long-term relationships with shipping providers and key Chinese customers to keep exports flowing.