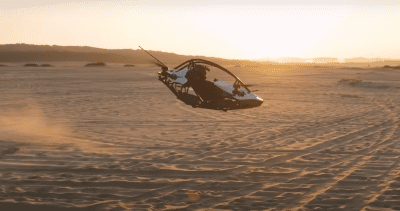 THE release of a new electric-powered hovering vehicle has brought Star Wars into real life, with the aircraft crossing helicopters and drones.
Swedish company Jetson last year launched the Jetson One, which has been making headlines across the world with many describing at as a "drone you can sit in" – and industries researching its applications.
With an ability to avoid radiator-piercing logs, rim-bending potholes and a bank-breaking fuel bill – could the Jetson One be the next bush vehicle?
Beef Central spoke about the pros and cons with Cloncurry-based Luke Chaplain, who is currently researching the application of drones on cattle stations through the Nuffield Scholar program.
Practicality a key feature
With the tyranny of distance being a common issue in the agricultural industry, Mr Chaplain said the ability to cut time and distance in the Jetson would be a major benefit.
"You can do anything that is normally done in a car, but a hell of a lot quicker," he said.
"A lot of asset surveillance can be done on a grazing property – checking waters, checking stock, checking fences all of those tasks would be quick and easy."

Mr Chaplain said along with the business advantages, the machines could be a benefit to the lifestyle of people living on remote properties.
"Pretty much everyone could have a helicopter, but it would be a lot more accessible. We've seen the positive impact helicopters have had on rural Australia – particularly in the wet," he said.
"I saw someone is doing a dual cab version of this as well, which would be great for taking your kid into footy training or other group social activities like that. That's something we never really had as a kid, because we were a bit too far from town."
it just looks like over-regulation to me
While there was plenty of theoretical benefits for rural Australia, regulations for new aircraft remains an issue.
Mr Chaplain said a lot would need to change to make the Jetson One a realistic prospect in the bush.
"Just looking at the promotional video they put out, it just looks like over-regulation to me," he said. "Adoption in Australia is going to prove difficult because regulations are not always very practical."
Safety was also an issue, and Mr Chaplain said he would like to know more about the trials the Jetson One had gone through before flying one himself.
"You see all the new sensors being developed and the work Elon Musk is doing with his autonomous vehicles, the technology is advancing," he said.
"It's hard to imagine people without pilot's license flying them, especially in the early days."
Despite the challenges, Mr Chaplain said people in rural Australia were interested in new technologies like Jetsons or drones.
"People are interested in it, but it has to be practical for people to adopt it," he said.
Jetson is taking orders for the Jetson One for 2023, with units selling for the equivalent of A$130,000 with an initial deposit of $30,000 – more details here.