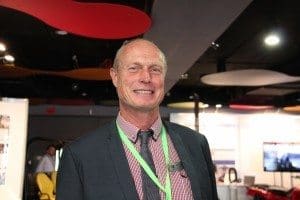 Derek Schoen will lead NSW Farmers Association for the next 12 months following his election today as president at the NSW Farmers' Annual conference at Luna Park, North Sydney.
Mr Schoen was the association's vice president in 2014-15 and is well known as its Cattle Committee Chair for the past three years.
He is a farmer with properties in Corowa and on the New England Tablelands where he runs  mixed cropping operations with his wife Leanne, son Merc, and partner.
Mr Schoen's operations consist of dry land winter cropping including wheat, barley, oats, canola and lupins as well as fat lambs, wool and beef cattle.
He succeeds Fiona Simson from the Liverpool Plains who stepped down today after completing a maximum four year term.
Mr Schoen is a former deputy mayor of Corowa Council and current president of the Redlands Bush Fire Brigade as well as a member of the Corowa and District Landcare and Riverine Plains Farmer Group.
Mr Schoen said:  "Agriculture has been good to me and now I have an opportunity to give something back."
"I don't subscribe to the adage that leadership is a lonely business – my presidency will be punctuated by a commitment to inclusiveness.
"We must work together to strengthen our voice, to advocate for the future of farming and we must work together to forge a future for agriculture that enlivens our history of hard work on the land."
Source: NSW Farmers