Despite big improvement in performance, there is still enormous scope to lift cost efficiencies in beef processing in Australia relative to international competitors, figures presented at a recent agribusiness gathering indicated.
JBS Australia chief executive officer Iain Mars was speaking at an Australian Agribusiness Association breakfast in Brisbane last week.
Mr Mars said while 70 percent of JBS's production costs were in livestock purchase, over which the company had little real influence, it was in the remaining 30pc of operating costs where there was scope for refinement. Government fees and charges was another area where Australian beef's international competitiveness was being seriously undermined.
Using table 1 published here (also accessible in larger format at bottom of page), based on Mr Mars comparison in grassfed cattle prices between Brazil and Australia, reflected in US$, it is evident that Brazilian beef processors are very competitive with Australia, despite paying more than US$4/kg carcase weight for cattle.
"While visiting Brazil a fortnight ago with a number of prominent Australian beef producers, they were struck by the high price of cattle in Brazil. I told them I would love to pay them $4/kg at home, but the problem was our operating costs and overheads," Mr Mars said.
While the specific production cost figures represented in the table could change $10-$15 under different circumstances, Mr Mars' point was that Brazil enjoyed less than half of the processing cost as that seen in Australia, on a per head basis.
"That is a big worry for us, but from the other side, high demand in Brazil means much of that meat actually stays within the Brazilian domestic market, and does not compete with Australia product internationally."
"Graziers here quite rightly want more money for their cattle, and we want to pay more for their cattle, but we are under cost constraints in our business that make it very difficult to do that," he said.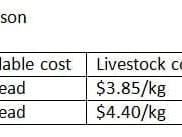 Looking at similar comparisons on grainfed beef between Australia and the US (see table 2), while there was an A$ currency appreciation effect, production cost differences still put Australia 'up against it' in grainfed markets.
"Again, we have to diversify, look for new markets and opportunities around the world – we just have to work a little harder to find them," Mr Mars said.
Focussing on the 30 percent of JBS's Australian processing costs other than livestock price, Mr Mars said 70pc of that component was labour, followed by 15pc packaging and consumables; repairs and maintenance 10pc; energy costs 4pc; and 1pc other.
"While there is little we can do about cattle price, we can do something about labour costs," he said.
"The cost of labour in Australia we found really quite daunting when we first started JBS in 2007. But it is really about managing those costs and working with unions and staff to reduce them as much as possible."
"Labour represents about 21pc of our total input cost. One of the big factors we noticed when JBS first came to Australia was the industrial relations focus. IR is more confrontational in its approach, and we have since tried to shift to a human resources focus, which comes from JBS's Brazilian operations, where there is a much more paternalistic culture between company and staff."
"We have tried hard to shift the Australian operations towards an HR focus in our business, spending a lot of time on areas like skills training."
Linking wages with productivity
Another change JBS has pushed strongly in its Australian operations is in linking wage demands with productivity increases.
"Looking at Australia's position in the global market, we cannot afford to have a continual increase in wages without corresponding productivity increases," Mr Mars said. "We have to be more competitive, driving greater productivity through our business."
"We've spent a lot of time talking with our unions here in Australia. Initially they threw their hands up, claiming the two could not be linked. But I have to say, they have been very good. Constantly talking to union people, trying to get them out of that IR/confrontational process and explaining why the business needs it, has left us pleasantly surprised with a lot of our union leaders who now realise where we are coming from," he said.
"That sort of change is going to be a big driver for our industry."
Export competitor countries like Brazil enjoyed a huge competitive advantage in wage costs, Mr Mars said. A typical skilled boner in JBS's Brazilian operations earned US$760/month, while in Australia the same employee earned $4250. A plant labourer in Brazil typically earned US$450/month, compared with $3200 in Australia.
"Having said that, because labour is cheap and available in Brazil, there is a tendency to over-staff our operations there. But they are on a greater productivity drive as well, and those cost savings will hit us here in Australia sooner or later."
Wage on-costs including leave, sick days, payroll tax and superannuation were roughly the same in both countries.
One of the biggest on-cost challenges JBS Australia faced was workers' compensation and the 'claim culture' that existed in Australia, which can cost 5-15pc of the total wage bill. In 2010, that bill for JBS Australia came to $16 million, Mr Mars said.
"We've spent a lot of time working with our people, trying to understand the workplace environment, and have had tremendous success over the past year – and again that has been down to the focus in our business away from IR towards HR," he said.
JBS Australia also estimates absenteeism and staff turnover costs the company as much as $35 million each year.
"We estimate it costs us $5000 to re-train somebody in our business. With 8500 staff Australia wide, and 60pc turnover in some positions, you can work out the figures yourself," Mr Mars said.
* See today's companion story on JBS's view on Government fees and charges