Emerging commercial beef brand, Condabri Beef was officially launched into the Sydney market last night as part of a trade gathering involving up to 200 independent butchers.
It's a good example of the further momentum being gained in MSA-backed brand programs occurring across Australia.
Condabri Beef is one of a suite of MSA-backed grassfed and grainfed brands designed to target different domestic and international market segments that have been developed by meat processor and exporter, Atron Enterprises.
Under the guidance of managing director David Larkin, who established Atron five years ago, the company's brands are being driven by a weekly kill of up to 1500 head at MSA-licensed Northern Cooperative Meat Co's Casino plant, and a further potential 500 head out of Caboolture, Queensland each week.
Atron has grown a suite of six commercial brands, both grass and grainfed, including five programs underpinned by MSA. Different boning group groupings are used to define each.
The company's two grassfed MSA brands are Spring Grove (boning groups 1-12) and The Station (12+). Similarly, Premi-Yum Black and White grainfed brands are divided by boning groups, providing different price-points for different customer requirements. This strategy is somewhat different from some other MSA brand programs, which concentrate exclusively on low boning group carcases.
As a mark of respect and admiration for the business, Atron named its 'flagship' exclusive grainfed brand Condabri, after the showcase feedlot of the same name operated near Chinchilla, Queensland, by Simon Drury and family. The feedlot takes its name from the nearby Condamine River, part of the Murray-Darling Basin.
Condabri is the major supplier of 100-day grainfed cattle for the program, although several other Darling Downs operators, including the Bridle family's Talbingo feedlot near Meandarra also make consignments. Some livestock suppliers are consistently getting all their carcases under MSA boning group 6.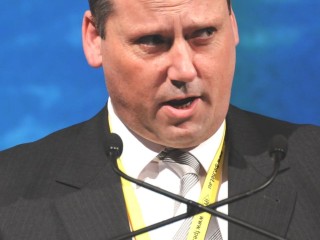 "Our relationship with Condabri started two and a half years ago, trading the odd load of cattle, to the point where we now take the majority of the feedlot's turnoff," Atron managing director David Larkin told last night's Sydney trade launch.
During gradual expansion over the past 12 months, the brand has found niches in both export and domestic market segments.
"We have been exporting Condabri for most of this year and have had some fantastic responses in new markets in Southeast Asia," Mr Larkin said.
In the export side of the program managed through Sanger Australia, volumes have grown from 20-30 head a month initially to 200-plus head a month today.
Much of this was going into modern western-style supermarkets in Southeast countries like Thailand where there was a growing middle class with disposable income, who were looking for a much better quality product than that found in the local wet-market.
Some of those retailers, like Carrefour, already had a clear recognition of what the MSA program could provide, Mr Larkin said.
However it has been on the domestic market where Condabri had gained strongest early momentum.
"It's reached the stage on the domestic market now where if a product isn't from an MSA program, it trades at a discount," Mr Larkin said.
"Clearly in both food service and retail segments, customers want us to use the MSA science and grading model, and then for the supply chain to apply the aging process so they have a guaranteed outcome, every time," he said.
"Provided the end-user applies the right cooking method, the MSA science virtually delivers a money back guarantee on consistency."
Atron divides its 100-day grainfed Condabri program into two separate sub-brands – Condabri Gold, supplied with carcases above 300kg, and Condabri Black, being the lighter end. Current throughput is around 200-250 bodies per week with further potential to grow as brand awareness took hold.
Wholesaler partner in the Condabri project, Coral Park, has a strong East Coast footprint, with a Melbourne/Tasmanian sales presence in addition to Sydney and Brisbane, which will be used to expand sales. Through Coral Park, Condabri has had a presence in the Sydney wholesale market for the past two months.
"The response from early users to its consistency and quality has been exceptionally good," Mr Larkin said. "In fact some early adopters have asked 'not be forgotten' after the program really takes off."
"We think the basic reason for that is the whole of supply chain approach that's been adopted in producing and marketing the product," he said. "We see it as a strong, quality retail brand that will support the independent retailer, but it will also find a strong place in food service."
"That's the reason we use all boning group cattle, because using the MSA science to its best purpose, it's possible to fit each product to each customer's requirements."
Mr Larkin said the difference in price between the two boning group categories was only modest, being only about 10pc on some cuts.
"The secret is in knowing the market, investing in customers and working with them to determine their different requirements and fitness for purpose."
Mr Larkin said the Condabri program was tending towards natural fall, whether it be with export or domestic customers.
"These days we're seeing the market develop where customers are looking to buy a wider range of cuts. And with access to virtually every export market in the world provided through Casino and Caboolture's licenses, it's about knowing where to place each item to best advantage."
Is there still room for more MSA brands?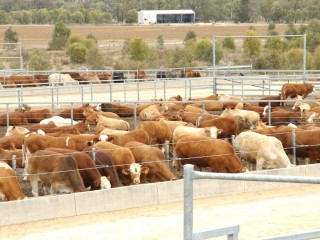 But given the overall growth in MSA brands in the domestic market over the past few years, are there still opportunities for newer market entrants like Condabri?
"Absolutely," Mr Larkin said. "The industry has changed dramatically over the past few years."
"Gone are the days of doing spot deals on buying cattle and selling meat on a spot basis. It's now all about a whole of supply chain approach to servicing the customer, and brand programs are perfectly equipped to deliver that. I can see a time not too far forward when there is very little commodity beef sold on the domestic market in Australia."
The domestic market had matured a lot in recent years, and there was now a large population of savvy, switched on customers who wanted to know more about the product they were buying.
Mr Larkin said as a newer market entrant, the Condabri program was not doing anything all that different from the MSA brand pioneers that had gone earlier.
"You have to take your hat off to people like Peter Greenham with what he has done with Greenham's Cape Grim program, and the Nolan family's Private Selection program," he said.
"We're not about doing anything completely original or finding the holy grail, but it's about focusing on marketing and recognising the value in MSA-backed brand performance."
What set Atron's brand program apart from some other premium MSA brands which only pack boning groups 1-6 on as narrow range of cuts, was that while it could also offer a product in that range, it also had customers that were looking for a branded item with good eating performance, but at a slightly sharper price point, offered through higher boning groups through the MSA science.
Politics had always been one of the big issues surrounding MSA's development, Mr Larkin said.
"I've always been a passionate supporter of the program, but I believe we need to fit the system to a market. However we still need to be careful about how we use product that does not grade MSA, or the products that we would not submit for MSA grading."
"The industry graded its one millionth MSA animal in a calendar year in 2009. But the Australian industry kills eight or nine million cattle a year, meaning there is still a lot of slaughter cattle not being graded."
"In a perfect world, there may be a time when we see another two or three million submitted for MSA grading each year, for which markets may be found. But that still leaves more than 50pc of the national kill that does not need to be graded," he said.
"We need to recognise that the industry has a world-class technology that we can use to position a broader range of Australian product, if we choose to. MSA allows us to match a customer – whether they be in Japan, Singapore of Melbourne – with a product, a cooking method and an aging method that consistently matches their requirements and expectations."
"And we should be able to command a premium for that."