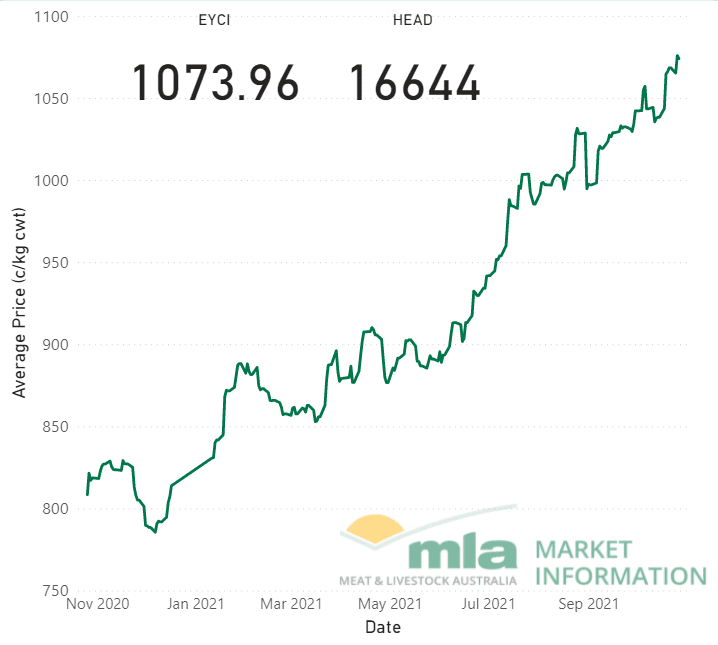 A SURGE in demand from both restockers and lotfeeders has been credited for the benchmark Eastern Young Cattle Indicator climbing to yet another record this week.
The EYCI 7-day rolling average reached 1,075.81c/kg carcase weight on Wednesday, before coming back slightly yesterday to finish at 1,073.96c. The indicator has increased 39c in four weeks and 256.86c in the past year.
Feeder cattle had the largest share of this week's sales, making up 54.61 percent of the yarding and restocking cattle making up 38.13pc.
Meat & Livestock Australia market information analyst Stuart Bull said numbers at the saleyards used to calculate the EYCI were the largest since February.
"Feedlots and restockers have been in competition since the drought broke and feedlots are still going hard to secure lines," Mr Bull said.
"If you look at the breakdown you still see more feedlots buying young cattle than restockers, which is interesting because for a long time it was restockers and feeders buying the same portion."
Restockers paying a premium
Despite feeder cattle dominating the numbers, recent research by Thomas Elder Markets has found restockers are still paying more.
TEM said historically restockers pay a 6pc premium over the EYCI, but the past month restockers have been 13.3pc more than the indicator.
Mr Bull said the weather was still playing a role in the recent price surge across the board, with scattered showers in Queensland and the Northern Territory and a positive wet season forecast.
"It would have been well needed where it was dry, which always adds a bit of fuel on the market and puts upward pressure," he said.
"I'm also wondering if the dip in live export numbers are a result of those cattle heading into southern markets, where they can put on a lot of weight in the warmer months."
Where will the EYCI peak?
With the consistent increases in the past year, the crystal-ball question many have been asking is when will the indicator peak?
Independent analyst Simon Quilty said he was expecting the peak to come in the next month, with 1100c/kg a possibility.
"That's where the optimists will say it might head and I wouldn't rule it out," he said.
"But eventually we think we will start to see bigger numbers come out of Victoria, with forecasts saying Melbourne Cup Day will be above 30 degrees across the state.
"People are holding onto these cattle for dear life because they are trying to put weight on. But once this hot weather starts, we expect them to come to market and alleviate some of those supply issues."
Mr Quilty said demand for feeders was likely to ease off soon, with many lotfeeders looking to stock, with a forecast surge in finished cattle prices in April next year.
"A peak in the market in November is likely, followed by another rise in April next year when feedlots turn off these cattle," he said.
"US production is expected to fall next year because they are liquidating their herd at the moment and it will be Australia more than any other country stepping up and fill that void.
"That will be in grain-fed markets, namely China, Japan and the US domestic market."
Understanding the EYCI
The Eastern Young Cattle Indicator, or EYCI, is a seven-day rolling average of young cattle (vealer and yearling weight steer and heifer categories) from 23 saleyards across Queensland, NSW and Victoria. It is expressed in c/kg, carcase weight equivalent.
The EYCI is designed to be applicable to a wide range of beef industry participants across the supply chain. It describes general movements in cattle market prices in much the same way that the All Ordinaries share index describes general price movements in the stock market. It is generally a good indicator of the physical market, with movements closely reflecting movements in other MLA cattle prices, including the National Vealer and Feeder Steer Indicators. Movements in the EYCI also closely reflects movements in young cattle prices in states outside the EYCI's (Queensland, NSW and Victoria). This is expected, as many major Australian and global factors that influence beef demand and supply have an impact across all states. Price movements in WA, SA and Tasmania follow the general trends of the EYCI due to the influences described above. However, these states show evidence of other price trends related to distance from major markets, focus on other trades such as live export and local factors such as meatworks closures or openings and regional weather influences.