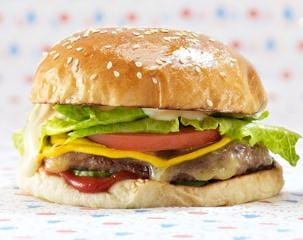 IN THE United States – the country that made the hamburger a global fast-food icon – beef is about to fall another spot on the meat scale.
For the past two decades, chicken has outranked beef as the most-produced meat, and now pork is about to surpass it as well, news agency Bloomberg reports.
The US pork industry has rebounded from a deadly virus last year, while record-high meat prices and cheaper feed led to breeding of more sows and bigger pigs.
As US pork output in 2015 jumps 4.6 percent to a record, cattle ranchers have yet to recover from a 2012 drought, and beef production is headed for a 22-year low, the US Department of Agriculture estimates.
When porcine epidemic diarrhoea virus killed millions of piglets across the US in 2014, prices for bacon and pork chops surged to all-time highs as supplies tightened.
With more pigs arriving in recent months and demand increasing, costs are dropping for food service and processed food users like Domino's Pizza and Hormel Foods, the maker of Spam luncheon meat. Pork costs have come down "dramatically" at Domino's, chief financial officer Michael Lawton said.
"That's got a big impact on us because it goes into our pepperoni, ham and sausage toppings," he said.
The drop in prices is because the US breeding-sow herd, during the three months ended December 1, posted the biggest increase since 1998 and reached the largest in five years, the government reported. The total hog population jumped 2 per cent from a year earlier to 66.05 million, the most in five quarters.
Bigger pigs
After two years of bumper US corn and soybean crops, feed is cheap and that means pigs are getting bigger. On average, pigs for slaughter weighed 98kg last year, touching a record 101kg in May, compared with 94kg in 2013.
US pork production will climb this year to a record 10.9 million tonnes, as per-capita consumption reaches the highest in five years, the USDA said last month. Domestic beef output will drop 1.7pc to 10.8 mt while chicken jumps to an all-time high of 17.8 mt, government data shows.
The pickup in supply sent pork prices on the Chicago Mercantile Exchange tumbling 11pc in January, the biggest drop for the month since at least 1986.
Remaining risk
With wholesale pork already down more than 40pc from a record in July, prices for the meat on average will be down "significantly" this year, said Jim Robb, director of the Livestock Marketing Information Centre in Denver.
The slump may not last if hog production slows or demand accelerates further. Disease still poses a risk to pork supply, said Paul Sundberg, vice president of science and technology for the National Pork Board in Des Moines.
"While immunity and prevention have improved, I don't think anybody wants to say, 'Boy, we dodged a bullet', just yet," he said.
Heavier pigs also may not be sustainable. Bigger herds mean more crowded pens, so farmers may not be able to keep the animals as long as before.
Slaughter weights are going to be slightly lower, said Altin Kalo, a livestock analyst at Steiner Consulting Group in New Hampshire.
Rising demand
Demand for pork also is improving, especially with record-high US beef prices forcing some consumers to seek cheaper meats.
"There's a good chance more and more consumers will go the way of pork and chicken," research analyst Will Sawyer said.
For now, US pork producers still have an incentive to expand, with growers remaining optimistic about profitability -even after the plunge in cash prices.
Beef spread over chicken, pork reaches "epic proportions"
Meanwhile, Daily Livestock Report publishers, Len Steiner and Steve Meyer earlier this week offered some interesting comment on current record US beef prices, and their relativity to chicken and pork prices.
"At what point must relative meat and poultry prices return to some semblance of 'normal'?" DLR asked on Tuesday.
"Friday's (USDA) Cattle report suggests that they will eventually get closer to past relationships, but how long will the process take?  We suspect it will take a while given the time needed to get heifers bred and calved, and calves to market weight – but the incentives to get that done are getting remarkably large," Mr Steiner said.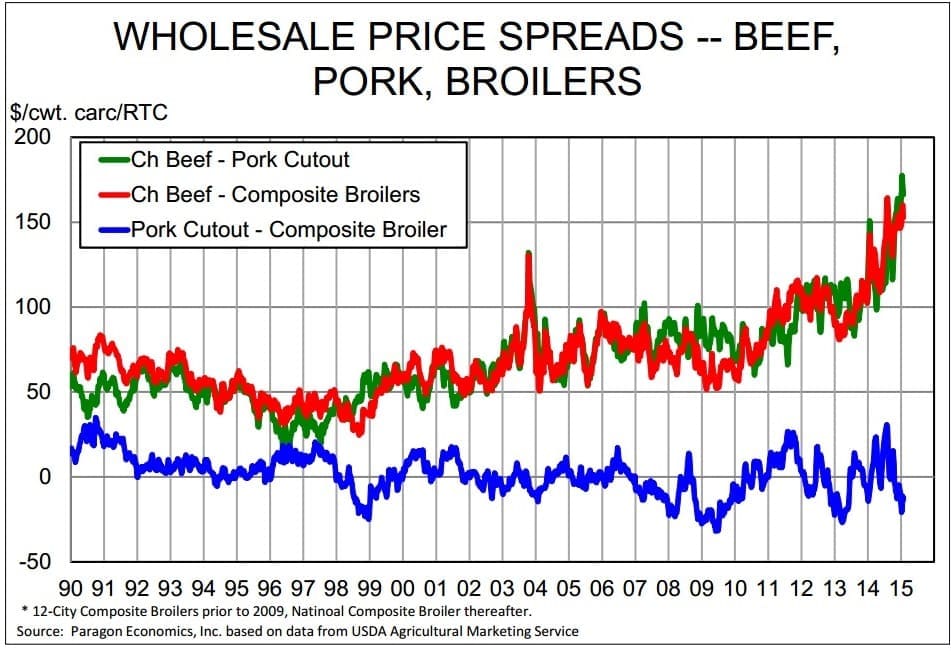 DLR's chart reproduced here shows the ratios of weekly wholesale prices for beef, pork and chicken since 1990.
"It is clear that these relationships are fluid, but that they usually stay within ranges and tend to return to those ranges whenever they stray," Mr Steiner said.
"That appears to have been truer prior to the US grain price and feed cost disruptions of the mid‐2000s, and that makes sense — all three of the sectors have had to discover new price relationships relative to one-another and to costs."
The pork‐chicken relationship was remarkably stable from 2000 onward, until expansion in 2008 (largely due to circorvirus vaccines) and 2009's swine flu challenge drove pork prices well below their normal relative value to chicken. The relationship has been more volatile since then, but remains centred on par (equal value for both species).
The recent selloff in pork cut values has given pork a short‐run advantage.
But Mr Steiner says the real question is whether US beef can maintain the current record‐high premiums relative to both other species.
"It appears that a new 'normal' range may have been established from 2011 through 2013, but the past 13 months – and especially the past six – have seen the spread reach epic proportions," he said.
"But we doubt severely that such spreads can be maintained for very long."