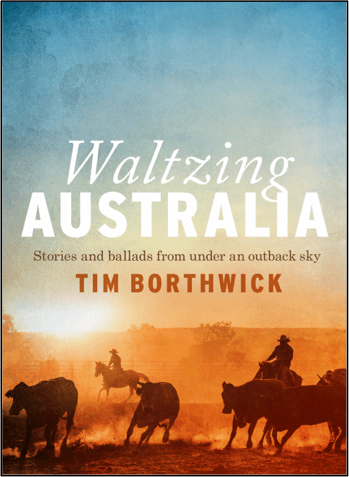 Waltzing Australia is a celebration of the Australian bush and the people who live there, written by gifted storyteller Tim Borthwick, who has spent much of his life working on the land (see our earlier story below).
Waltzing Australia hit the shelves of bookstores around Australia this week, and an audio version narrated by renowned Australian actor Jack Thomson has also been released.
To mark the launch, Beef Central has some free copies of Waltzing Australia to give away courtesy of Harper Collins and ABC Books – an ideal gift for Father's Day on September 3!
For your chance to win a copy, send an email with your name and address and "Waltzing Australia" in the subject line to feedback@beefcentral.com
Stories and ballads from under an outback sky
Amid the swirling dust and discordant bellows of a slow moving mob of cows and calves, a stockman sits on an idling ag bike, Akubra bowed down, pen scribbling away furiously in a notebook.
This is how many of Tim Borthwick's unique outback poems have come to life, capturing on the run the words that communicate the feel, the essence and the reality of life and work in the bush.
Eromanga west of Quilpie in far south west Queensland has the distinction of being one of the furthest towns in Australia from any sea.
Ironically the small township, population roughly 30, stands on the edge of what was once an inland sea.
Had Eromanga been around in the Early Cretacious, it might have been a prime tourist location, a place of gently rolling waves and cooling sea breezes.
Today there is no shortage of sand and sun, but the sea is one of vast plains, interspersed with stands of gidgea and rocky ridges, sometimes flanked by waves of grass, other times bare expanses of red dirt and stones.
On nearby Whynot Station Tim and his family ran sheep and cattle, an enterprise dating back several generations, and it was here Tim's appreciation of bush poetry was born.
As a child Tim was intrigued by the way the greats of the genre – Banjo Paterson, Henry Lawson and William Ogilvie – were able to capture stories and conjure stirring emotions through words and rhyme.
Their work inspired him to start recording his own life experiences and the stories of others who have lived and worked in outback Australia.
His poetry has earned him one of the nation's premier bush poetry awards, the Bronze Swagman.
These days he lives in Toowoomba where he runs the "Timbuktours" tour company, but his passion for telling the stories of rural Australia – both present and past – continues.
Like the rousing symphony of drought-breaking rain on a corrugated iron roof; the soul-searching loneliness of a campfire at night; the tragic true story of a little girl's lonely, heart-breaking death in the outback; a young stockman's marathon rain-drenched overnight gallop to try, in vain, to save Brisbane from a devastating flood in 1893; a packhorse mailman's brave sacrifice to deliver a letter seeking urgent medical attention for a critically ill station manager's wife; and funny tales including a mail collecting kangaroo and the goose-stepping talents of a wily old feral goat.
There's a 90 year old bushman who gives guitar concerts to his nursing home colleagues; a small cattle sale that still runs every fortnight on the tick line of the Great Dividing Range with a character all of its own; the late gun shearer Steve Handley, the 'Chinchilla Killer', in full flight, and celebrations of the lives of some of the biggest names of the bush, including Slim Dusty, Stan Coster and Jeannie Gunn.
The rhythmic cadence of Tim's bush poems in equal parts soothes and stirs, and in an instant transports readers from an open book to a distant muster or the fading light in a camp hundreds of miles from anywhere.
Tim's penchant for writing poetry has now been recognised by publisher Harper Collins and ABC books.
Due for release next month, Waltzing Australia, is a collection of 50 of Tim's poems, and the stories that inspired them.
Tim says he enjoys the freedom that poetry brings, where a simple short verse can say as much as endless pages of text.
He also feels it is extremely important to preserve the past.
"There is a wealth of untapped knowledge and experience out there in our older generations," he explains.
"There is a very great chance that many of their terrific stories and yarns will go to the grave, unless a conscious effort is made to record not only historical facts and points of interest, but little tales and anecdotes that may seem insignificant to them, but which provide a fascinating insight into a period of time that we will never see again."