WITH drought increasing its grip on rural and regional Australia, The Salvation Army is encouraging Australians living in cities or rural communities not affected by drought to make an investment towards the 'Salvos Rural Appeal' to help The Salvation Army continue to support farmers through good times and bad.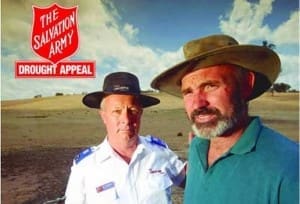 "Having supported farmers for more than 100 years, we know that rural communities go through times of plenty, and times of need," says Pam Wilkes from The Salvation Army's Rural Support Services. "Our network of rural support personnel provide assistance for people living and working in rural areas well beyond times of crisis, and the needs are increasing.
"If Australians living in cities or rural communities who are flourishing can get behind our rural appeal, they will be enabling us to maintain and grow our much-needed support services for regional communities, ensuring that The Salvation Army will be there for them, and others, when times are tough."
The Salvation Army's rural chaplains (currently 15 nationwide), rural and regional centres and outback flying service in the Northern Territory and Queensland provide long-term practical, emotional and social support to thousands of Australians. The rural chaplains across Australia are reporting that the need for assistance in managing depression and financial problems is increasing, exacerbated by isolation and the reluctance of many to seek help.
"If times are tough, farmers have less income to employ farm-hands, leaving them too busy (and stressed) to seek assistance in times of need," says Ms Wilkes. "That's why The Salvation Army's Rural Support Services are crucial. Our rural support staff drive and fly hundreds of thousands of kilometres every year to visit isolated properties, letting farmers know that they're not forgotten and that there is help available."
Support vital
Marie Turnbull, a retired farmer from Mayfield near Quambone in western NSW, has lived through many tough times over the years, including droughts, floods and terrible loss. Salvation Army rural chaplains have been a constant in her life, and that of her family.
"We have been in a very low place and the lovely Salvation Army chaplains were the ones that always supported us, always got us up, when nobody else did," she said.
"I can't thank The Salvation Army enough."
Third-generation cattle, sheep and goat farmers Phil and Barb Hodges live alone on their 800ha farm at Barraba in northern NSW. They describe The Salvation Army's Farmstay Program – where chaplains and other volunteers look after properties to give farmers a holiday – as a "godsend".
"Their help by minding our farm on occasions, for us has been the difference between having a break from the pressures of drought and finances and having to force ourselves to soldier on under very difficult circumstances and maybe eventually breaking down," says Phil.
The National Farmers Federation endorses the appeal and has thanked The Salvation Army for its work in support of rural communities.
NFF president Brent Finlay said that farmers understood the importance of giving and  receiving help when it is needed.
"Strong, tough and hardy people need help from time to time. We all do. It's part of being human," he said.
"Farmers care about their fellow Australians, and we're grateful to know that they care about us, too."
The Salvation Army's Rural Support Services relies on corporate and individual donations, as well as the organisation's own funds to deliver its life-saving services throughout Australia. Donations to the Salvos Rural Appeal will enable The Salvation Army to provide increased levels of practical and social support to rural and remote communities in need.
"It's Australians supporting each other, standing shoulder-to-shoulder. And it's powerful because it's so close to home. Donating to the Salvos Rural Appeal is an investment for tough times ahead," Ms Wilkes said.
Click here

to make a donation or to find out morel or call 13 72 58.
If you need help or someone to talk to, call Salvo Care Line on 1300 36 36 22.