WHILE we grown-ups will be familiar with books on the life of Sir Sidney Kidman, including Ion Idriess's definitive The Cattle King, a new children's picture book is about to hit the bookshop shelves which for the first time chronicles his life for younger readers.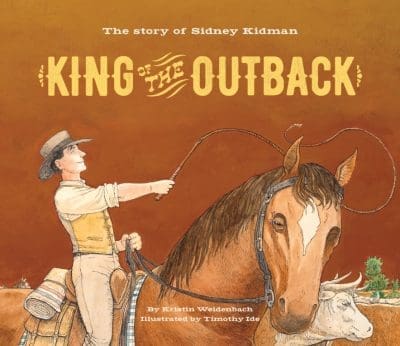 King of the Outback tells the rags-to-riches story of Sir Sidney, from a 13-year-old running away from his Adelaide home on a one-eyed horse, through his outback apprenticeship in Broken Hill, to his achievements as owner of almost four percent of the entire country and supplier of cattle and horses to the world.
This is the second picture book by creative team Kristin Weidenbach and Timothy Ide. Their earlier collaboration, Tom the Outback Mailman, the story of iconic Birdsville Track mailman Tom Kruse, won the Children's Book Council of Australia's Eve Pownall award in 2013.
Kristen's words and Timothy's illustrations vividly bring the outback to life with mobs of cattle, hobbled horses and stockmen with swags and saddlebags. The story culminates in Kidman's famous 75th birthday rodeo in Adelaide attended by 50,000 people, making it the largest public birthday party ever put on in Australia to honour a private citizen.
Facts and figures at the back of the book inform young readers of some of Kidman's other achievements, such as his establishment of the biggest horse sales in the southern hemisphere and a knighthood for his donation of horses, money, beef and wool during World War I. Listing Kidman's many accomplishments reinforces for children that the book is a true story of an Australian pioneer.
King of the Outback will be in stores in April.
http://www.midnightsunpublishing.com/
RRP $26.99. Distributed by NewSouth Books. ISBN: 9781925227246.