One of the biggest hurdles standing in the way of farmers taking a much needed break, especially during the hardship of drought, is finding reliable caretakers to run their property while they are away. FarmSitters Australia was developed by Kim and Phillip Kelly in 2004 to match up farmers needing a break with experienced and carefully vetted farm sitters. They have since helped thousands of farmers to take a well-earned rest in the past 14 years. 
WHEN friends needed someone to look after their farm so they could take a family holiday before their children went back to boarding school, Kim and Phillip Kelly helped out by putting them in touch with Phillip's recently retired farming parents.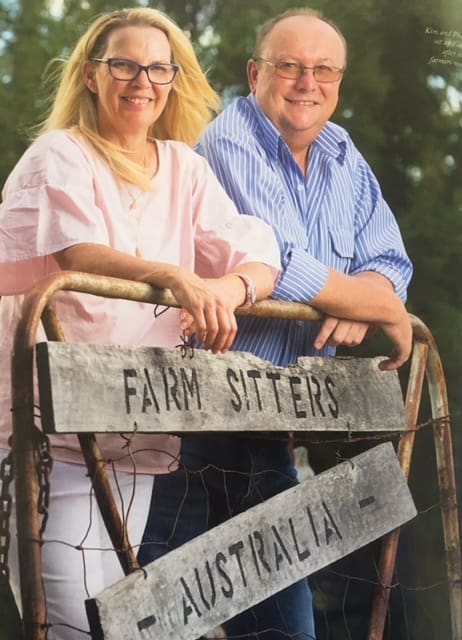 Kim, a veterinarian, and Phillip, an agribusiness professional, soon realised they knew of many others in similar situations.
This included not only other property owners needing reliable people to caretake their property so they could take a much needed break, but also many former farm owners or rural workers who would welcome the chance to return to the bush to become short term 'farm sitters'.
The couple began more actively encouraging farmers and farm sitters to connect and as word spread they soon became the "go to" people for matching up farmers seeking a break with short-term farm caretakers.
As interest grew Kim and Phillip realised a professional service was needed so they established a business to properly service the demand – "Farm Sitters – Australia" – working up the concept and business plan during their own break on a trip to the beach in 2004.
Some 14 years later Farm Sitters – Australia has helped thousands of farmers all over Australia to take a break, secure in their knowledge their farm was in good hands and well looked after by carefully matched farm sitters.
The service has also given thousands of farm sitters, often retired farmers or rural workers, a welcome opportunity to get back on farm.
"We have experienced situations where farmers have not been able to leave the farm for many years, become members and are now taking regular breaks," Kim explained.
'In many cases the same farm sitter keeps coming back and strong friendships are built'
"In many cases the same farm sitter keeps coming back and strong friendships are built."
The business has also been able to help farming families with multiple properties who can no longer source suitable station-hands or managers by having farm sitters take up two to three-month farm sits.
"We have clients who have a regular turnover of farm sitters on multiple properties with the farm sitter enjoying the benefits of a place to stay for a while and property owner knowing that they have someone reliable in place," Kim said.
"We have seen retired farmers get back on the farm to help others and the benefits that has for all parties."
Some farm sitters are on permanent travel and will go from farm sit to farm sit as a means of experiencing different localities, communities and farm systems.
There are also many pre-retirement farmers who take up the challenge of farm sitting as they leave their 'heirs' in charge of home base.
So how does it work?
The business is based on a membership system, through which farm owners or managers and people wishing to become farm sitters, become members of Farm Sitters – Australia (More information on membership details and fees can be found on the Farm Sitters – Australia website)
Participation is contingent on meeting terms and conditions which are designed to meet the specific requirements of rural property owners and to provide full transparency for both property owners and farm sitters.
Kim said a key focus when they established the business was to provide a managed service that ensured security and peace-of-mind for the property owner/manager.
This was based upon Kim and Phillip's personal knowledge and understanding of owning and operating rural property, with both having family backgrounds on the land.
To become a member, prospective farm sitters provide an expression of interest through the application process, supported by three references. Kim and Phillip check all references against the known requirements to be a successful farm sitter, and personally speak with each applicant and their referees, and communicate directly with each property owner.
Once an applicant, either a farm sitter or property owner, becomes a member they have access to the Members Database.
The database provides property owner members with the ability to provide details of their farm sitter requirements, and to search for suitable farm sitters.
A farm sitter also has the ability to promote themselves and search for positions available.
Once a position or suitable farm sitter is identified the members can make direct contact and discuss requirements and assess their suitability.
They can then agree to negotiate the terms and conditions of the arrangement.
Generally, Kim said, a farm sitter will visit the property and meet with the owner the day prior to commencing, at which time all details are confirmed including what is to be done and what is not to be done in the owners/managers' absence.
Payment or other rewards and conditions are negotiated between the two parties. Kim said Farm Sitters – Australia is able to provide guidance to members on this process.
The Farm Sitters – Australia website was recently updated to give members greater access and flexibility in updating details, disclosing when they are available or when positions have been filled, and the ability to add more promotional information, such as farm photos.
The business has now helped several thousand members in its 14 years of operation.
A helping hand in drought
While the business is available to members at any time, the opportunity it provides for farmers to take a relieving break from the stresses of drought is also significant.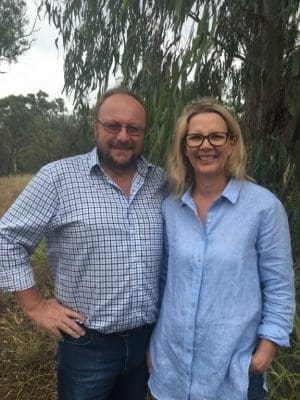 "We have been very mindful of the impact of the ongoing drought conditions and having spent several years in the central west of Queensland where we have many members, we have provided ongoing support when required," Kim said.
"We are able, through our database, to promote any urgent requirements for property owners and in most cases are able to source assistance in short time.
"Just recently we promoted through the membership an urgent call out for help for a non-member property owner who we know personally and they received several enquiries within a matter of hours."
The ability for farmers and farm sitters to be matched up in a structured and professional way is also playing an important role amidst the many offers of support being made to farmers during the current drought.
"While the demand for support through this drought with assistance with feeding and other general farm management needs is recognised our members are cautious to the overwhelming offer of free and uninvited assistance," she explained.
"The show of support is acknowledged and valued however in some cases people are just turning up on farms, with good intentions, however placing even greater pressure on the farmers.
"This is why any on farm support needs to be structured to suit all parties.
"It is important that the farmer knows that they can leave the farm and their animals and other assets in secure, safe and reliable hands.
"Many who are enduring ongoing drought conditions would benefit from getting off farm even if it is just for a few days.
"This is where Farm Sitters – Australia is able to assist. Of course a critical time for those seriously impacted will be post-drought and this will be where the assistance will be greatly valued."
To find out more about Farm Sitters – Australia visit its website here