IT IS 20 years since the Tungali Feedlot at Sedan in South Australia was established.
But Mark Irrgang, the man who helped build the facility and ultimately rose to become its manager under current owner, S. Kidman & Co, will never see Tungali enter its third decade.
Two years ago tomorrow, on the morning of April 3, 2013, Mark Irrgang took his own life, leaving behind his wife Jenny, two teenage daughters and a legacy of running the 5000-head capacity feedlot with pride, dedication and ingenuity.
Following his tragic death and the grieving that has ensued, Jenny and Mark's mother Dot have decided to share the story of their loss, in the hope it will help prevent further suicides in their local rural community and beyond.
"If by sharing our experiences we prevent just one suicide, it will be worth it," Jenny said.
Mark, who was born on July 30, 1965, grew up on his family's Eden Valley dairy farm and was schooled at nearby Angaston and Nuriootpa.
His sweetheart Jenny was from Tanunda and was one year ahead of Mark at Nuriootpa High. They married in 1988 at St Johns Lutheran Church in Tanunda and lived in the main street of Eden Valley for many years before moving to Sedan.
Prior to taking up the position at the feedlot, Mark worked at Gerard Industries' grazing property at nearby Williamstown.
The Irrgangs moved into the transportable residence at Tungali in December 1994 and Mark looked after the day-to-day management of the feedlot from the time construction commenced. Mark and Jenny established gardens around the house and made it their home for the next 18 years.
Once settled at Sedan, the family quickly became actively involved in close-knit community. Mark served as a member of the local Country Fire Service and also served as chairman of the Sedan School Council.
As Mark went about building the feedlot yards, assisted by his father Dennis, he earned a reputation as a hard-working and resourceful man.
"Mark took so much pride in his work and everyone associated the feedlot with our family. Of course we never owned it, but it was our home," Jenny said.
"He had such attention to detail and was very meticulous when it came to getting a job right."
Mark often joked that he could always remember the month and year he started working at Tungali because it coincided with the birth of his eldest daughter Stacey. The truth however was that it was his starting date at the feedlot which helped him remember Stacey's birthday.
"When Stacey turned 18 we held at party for her at our house at Tungali. Mark gave an amazing speech and everyone cried," Jenny said.
"The realisation that our younger daughter Courtney will never get to have that experience is very hard to accept."
Jenny says her already close relationship with Mark's mother Dorothy has grown even stronger and helped both women to cope.
"Both of my parents died before the girls were born, so I've always felt very close to Dot," Jenny said.
"Our family relationships really haven't changed since Mark died. I know tragedy can tear some families apart, but we've all stayed very close."
Dot confirms the strength of her relationship with her daughter-in-law.
"We still have a lot of laughs, just like we did before Mark died. He had a unique sense of humour, just like his father Dennis," she said.
Mark and Dennis shared a love of farming, motorbikes and mechanics, and according to Dot, they were "great mates" who both loved telling bad jokes.
"Mark's death really hit Dennis and it still does. They used to do some much together," Dot said.
WHEN the police arrived at Jenny's workplace at 10am on April 3 2013, she could never have known the awful news they were about to deliver.
"At first I assumed they had the wrong person because the suggestion that Mark would commit suicide was impossible for me to believe."
But before long, the horrific reality started to set in.
"I just collapsed in a heap. Then the police drove me to Nuri High where I had to tell Courtney what had happened," Jenny said.
"I had to ring Dot and Dennis and they were just about to leave their home to attend a funeral. That was the hardest phone call I've ever had to make."
The call left a similar mark on Dot.
"It was the worst phone conversation I've ever had in my life," she said.
The trauma of the week following Mark's death is still painfully fresh in Jenny's mind.
"The days leading up to the funeral were horrendous. Everyone was so stunned – not just our family, but the whole community and the company (S Kidman & Co) too," she said.
"I felt angry in the beginning but throughout our relationship I could never stay angry at Mark. I know he had no malice towards us, it was obviously just a very dark place he found himself in."
"It's hard when you've been with someone for 30 years and then they're just gone with no warning. I think that's the thing with suicide because they're there one minute and gone the next. You don't get to say all the things you'd like to say to them and you can't help but feel guilty because you couldn't stop it from happening."
The funeral was held at Eden Valley's St Petri Lutheran Church and attracted 400 of Mark's family, friends and associates.
Mark's beloved Honda XR 650 dirt bike was on show at the front of the church, adorned with his jacket and helmet. Members of the Kyneton and Morgan motorcycle clubs lined their bikes up outside the church, while local CFS volunteers formed a guard of honour to acknowledge their fallen comrade.
"Stacey and Courtney put together a slideshow with Mark's favourite music and it was absolutely brilliant. It showed how warm Mark was as a person and how laid back he was," Jenny said.
"As sad as the occasion was, we were still able to have a bit of a laugh at the funeral. What happened was a tragedy, but we wanted to remember and celebrate the man for who he was."
The family was initially unsure about how to address the nature of Mark's death during the funeral service. With the encouragement of local pastor Erik Braunack-Mayer, the Irrgangs determined it was important to talk about Mark's suicide.
"The pastor made the point throughout the funeral that people, and especially men, have to speak to one another," Dot said.
For Jenny, the feedback from those who had attended was validation of their decision.
"So many people came up to me after that service and said it had changed the way they viewed suicide. It really was an amazing service in that respect because for most people there it was the first time they'd be confronted in that way about suicide."
AT THE funeral, Jenny made a point of thanking Mark's employer, S Kidman & Co.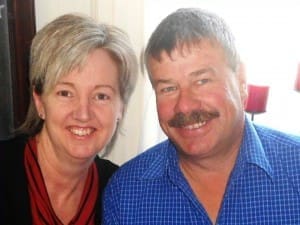 "All the Kidman representatives were there at the funeral and I know it was very hard for them as well. In my speech I reiterated how grateful we were for the way the company had always treated our family with a lot of respect and how supportive they'd been since Mark's death," Jenny said.
"Kidmans were wonderful from the outset and assured me there was no pressure to move out of the house at Tungali."
The company also paid for significant renovations to the cottage in the Sedan township that Mark and Jenny had purchased years earlier. Jenny has called the renovated cottage home since June 2013, when she moved out of Tungali of her own volition.
"They finished off the house out of their own pocket. It was an amazing gesture," Jenny said.
"Kidmans also organised a removalist to help us move, enabling us to do it in one day. Saying goodbye to Tungali was very hard but I knew it was best in the long run."
S Kidman & Co chief executive officer Greg Campbell oversaw his company's assistance of the Irrgangs and remains in contact with Jenny.
"When a tragedy strikes and leaves the family of an employee lost in chaos, it is not what's written in company policies and procedures which makes a difference.  It's the things that people, including workmates, can do for each other, often small things, which make a difference," Mr Campbell said.
"No employer or workmate is ever sure if what they do under such circumstances is right or helpful to an affected family.  But so long as people keep talking to each other, one step at a time, those matters which can be resolved eventually are."
Mr Campbell said the entire company was rocked by Mark's death.
"Mark's tragedy hit us all like a lightning strike. From an always friendly and immensely practical man, it was such a shock for us all to realise, sadly too late, that he must have been suffering the insidious creep of anxiety and depression," Greg said.
"Immediately upon Mark's suicide, and since, we've all asked ourselves a thousand silent questions about our individual relationships with him over the years, and found no answers. It was one of those rare experiences in life that you just seem unable to reason with or understand."
Mr Campbell said Tungali stood as a lasting tribute to what Mark contributed to S Kidman & Co.
"Mark's legacy is that he built from a bare hillside, a fully functioning 5,000 head feedlot.  Mark, with limited labour assistance, was the one blasting the holes in the limestone, concreting in the posts, welding the rails, pouring concrete slabs, trenching for power and water and all the rest of the hard, but at times skilled work needed," he said.
"As Mark's skills and understanding of running a feedlot grew, so did his responsibilities.  Upon the Kidman purchase of Tungali in 2006, Mark was promoted to manager.  The job of managing a feedlot is a constant one.  Cattle in yards must be fed and watered day in and day out and you need a small team of capable people to assist in their care.
"Mark developed that dedicated team of local farm staff, and following his tragic loss they stood tall, demonstrating one of the greatest legacies any boss can leave, trained committed people in your wake.  They are all still there today."
ON JANUARY 2 this year, Jenny took to the skies above Langhorne Creek for a special sky-diving mission in which she spread Mark's ashes. Stacey and Courtney joined their mother for the jump.
"It was fitting because Mark was such an adrenaline junky. I felt that was an important part of moving into the next part of my life, moving on from the grieving period," Jenny said.
For Jenny, much of the first 18 months after losing Mark were a blur and the experience has left a lasting impact on her health.
"I have struggled with severe anxiety and sometimes I've just completely frozen. I remember going to the supermarket and I'd pulled up in the car park but couldn't take my hands off the steering wheel. I was having a panic attack," Jenny said.
"I've had counsellors ring me wanting to come and sit down to talk about what happened but I just haven't felt as though I could do that.
"I want to help other people who unfortunately have to deal with the aftermath of suicide too. Sharing my story now is a big step for me to see how ready I am to talk about it."
Mark's death in 2013 was one of four suicides in the Sedan community in just two years, understandably shaking the small town's population of just 150 to its core.
Going on the most recent official data compiled by the Australian Bureau of Statistics, from the day Mark took his own life through to the second anniversary of his death on April 3 this year, some 5000 people – ordinary people just like Mark Irrgang – will have suicided. This number is nearly twice as many fatalities as road related transport deaths in the same period and equate to almost seven deaths by suicide in Australia each day.
The overall suicide rate is 11 per 100,000 and all research suggests that suicide rates in regional Australia are appreciably higher than metropolitan areas.
Experts do not yet fully understand why suicide rates are higher in regional areas and why rural males like Mark are at extra risk.
While research continues on a national level, there is momentum at a local level for proactive grassroots measures to minimise the risk of further suicides at Sedan.
Mardi Jennings, who is Deputy Mayor of the Mid Murray Council and chairs the Sedan Progress Association, saw a need in the community for a suicide prevention strategy and sought involvement from the council.
Such measures are playing a vital role in regional communities because, quite simply, small rural towns like Sedan just can't afford to lose vibrant community members like Mark Irrgang.
"Mark was an amazing man and a wonderful father. His death is such a waste of a good man and I just wish things could be different," Jenny said.
"I'm so lucky that I've got two beautiful daughters to hang to. I just look at Stacey and Courtney and I see Mark in them every day. There's so much of Mark in their values, courage and strength. Mark would be so proud of them."
Ultimately, Jenny hopes that by talking about Mark's suicide others in her community will be more comfortable to talk about their own difficulties and, with any luck, further suicides might be prevented.
"No matter how much we all wonder what we could have done to prevent Mark's death, we can't change what happened. As I say to my girls, we can either let this define us for the rest of our lives, or we can live a good life just like Mark would've wanted."
* Tom Dawkins interviewed Mark Irrgang 20 days before his death for a profile on the Tungali Feedlot.
If you are concerned about yourself or someone else, ring Lifeline, 24 hours a day, on 13 11 14.