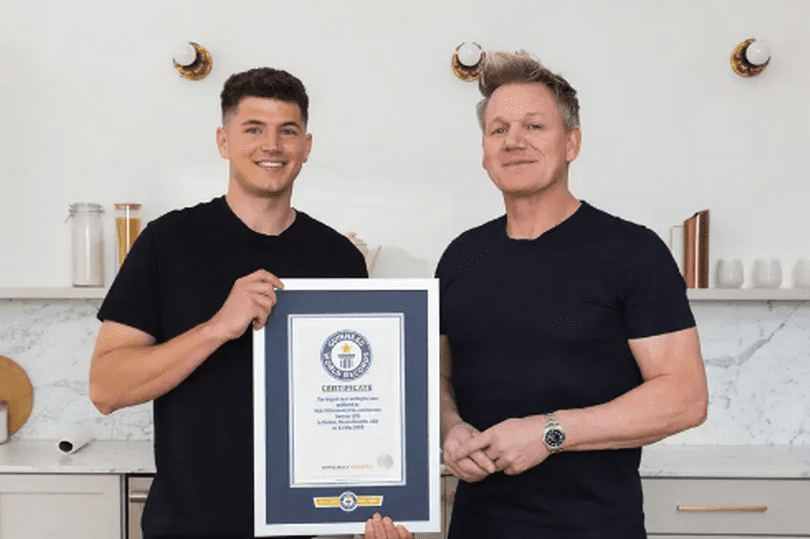 World records involving beef are as many and varied as the meals it is famous for, with Guinness Book of Records entries ranging from most barbecued beef served in 8 hours (52,300 servings) and largest hamburger patty (2.7 tonnes) to first food smuggled into space (corned beef sandwiches).
Now two celebrity chefs have teamed up to successfully etch a new beef entry into Guinness world record pre-eminence.
American chef Nick DiGiovanni and UK chef Gordon Ramsay made a beef wellington weighing in at 25.76 kg (56.79 lb).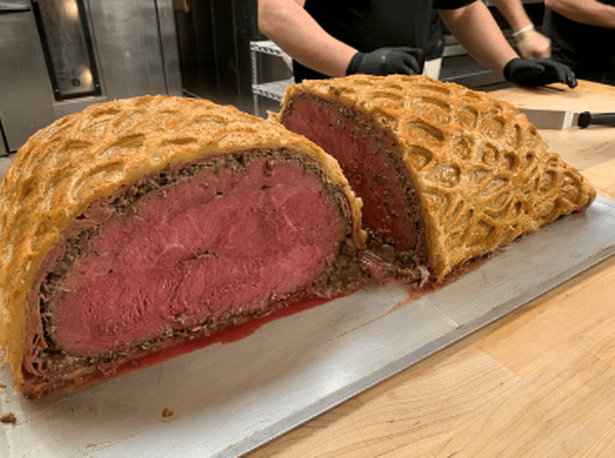 Using Gordon Ramsay's recipe for a traditional 1.5kg beef wellington, the meat was bound together using meat glue and cooked sous vide to a perfect medium rare before being wrapped in all the other ingredients and placed inside a huge walk-in oven.
Asked by Nick at the start of the cook for any advice on how to proceed, Gordon Ramsay replied with a colourfully blunt: "Don't #$@&%*! it up".
This video shows how they did it:

Guinness World Records Adjudicator Andrew Glass confirmed the creation exceeded the minimum weight required, and declared the beef wellington an official world record.
We broke a Guinness World Record! @GordonRamsay pic.twitter.com/vYwxuJMT07

— Nick DiGiovanni (@NickDiGiovanni) June 10, 2023
A few more random Guinness Beef World Records:
Largest simultaneous roast dinner 
The largest simultaneous roast dinner was achieved by 1,632 participants in an event organised by East of England Agricultural Society in East of England Showground, Peterborough, UK, on 22 February 2009. Roast beef 280 kg (617.3 lbs)
Most expensive meat pie
The most expensive pie cost customers to the Fence Gate Inn, Lancashire, UK £8,195 (then US$14,260) or £1,024 (then US$1,781) per slice when ordered by eight guests on 14 November 2005. The pie's ingredients includes £500 ($870) worth of Japanese wagyu beef fillet (from cattle who treated so well they are even massaged!), Chinese matsutake mushrooms (£500 per 1kg; $870 per 2 lb 3 oz) – so precious, they are harvested under guard, Winter Black truffles, French Bluefoot mushrooms at £200 per 1 kg ($348 per 2 lb 3 oz), gravy made from made two bottles of vintage 1982 Chateau Mouton Rothschild wine at £1,000 ($1,740) each and finally the pastry topped with edible gold leaf costing £100 ($174) per sheet.
Largest serving of barbecued beef
The largest serving of barbecued beef is 13,713 kilos (30,231.99 lbs) of raw beef that converted into 9,132 kilos (20,132.61 lbs) of cooked beef and was achieved by Frigorífico General Pico and Municipalidad de General Pico at Predio Sociedad Rural de General Pico, in General Pico, La Pampa, Argentina, on 20 March 2011. The 13,713 kilos of beef was donated by the Frigorífico Pico to celebrate their 30th birthday. It was consumed by 20,000 guests invited to the event. All invitees paid a small entrance fee of which a proportion was donated to a local charity.
First food smuggled into space
Gemini III was an orbital mission with a duration of 4 hr 52 min on 23 March 1965, crewed by US astronauts Gus Grissom and John Young. During the mission Young was authorized to eat pre-approved space food, while Grissom was not scheduled to eat at all during the flight. Aware of his commander's love of corned beef sandwiches, John Young was able to smuggle one onboard. Young and Grissom were disciplined by NASA for this act.
Largest meat stew
The largest meat stew weighed 4,778 kg (10,533.69 lb), and was achieved by Associação Brasileira dos Criadores de Zebu – ABCZ (Brazil) at Parque Fernando Costa, in Uberaba, Minas Gerais, Brazil, on 5 May 2019. The purpose of their event was to promote the cattle species Zebu. ABCZ was also raising money to donate to institutions that treats cancer by selling meat stew portions on the record attempt day. In addition to the portions distributed on the record attempt day, 34 institutions also received the food donation.
Largest hamburger patty
Loran Green and Friends of Hi Line Promotions made a burger of pure Montana beef weighing 2.74 tonnes (6,040 lb) at the Sleeping Buffalo Resort at Saco, Montana on 5 September 1999.Advertisements. The hamburger measured 7.32 m (24 ft) in diameter. A crowd of more than 3,500 people gathered to watch the burger cook for about two hours on a specially made 576-square-foot grill. The burger would have cost more than US$7,000 if sold commercially.
Source: Guinness World Records