A committee of five people has been named by Minister for Drought David Littleproud to help deliver $100 million in drought resilience and preparedness programs to communities every year through the Future Drought Fund.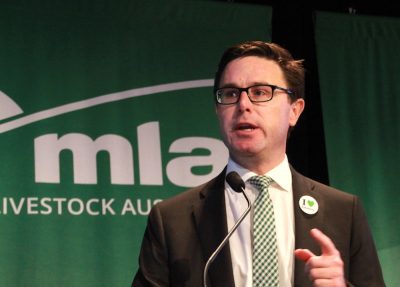 The Future Drought Fund Consultative Committee will be responsible for developing the Drought Resilience Funding Plan for the Fund, which begins with a $3.9 billion credit that will grow to $5 billion.
Minister Littleproud said the Future Drought Fund was established to give drought-prone Australians the best tools to plan and prepare for drought and sustain their livelihoods and communities.
"To ensure best use of the Future Drought Fund, the Consultative Committee will seek input directly from drought-vulnerable communities for the Drought Resilience Funding Plan.
"This committee is made up of people with track records of success in agricultural economics, managing climate risk, rural and regional development and natural resource management.
"What's more – they come from rural and regional communities across Australia and the committee is 80 percent women."
Chair Brent Finlay, and committee members Dr Kate Andrews, Dr Wendy Craik AM, Dr Elizabeth Peterson and Caroline Welsh will begin their work in Canberra later this month.
The Fund provides $100 million every year from 1 July 2020, for new investment in drought resilience and preparedness.
It is designed to support a range of drought resilience measures including:
research and innovation
new technology
better environmental and natural resource management
infrastructure
community initiatives
Committee members:
Mr Brent Finlay has over 40 years' experience in agriculture with a strong record of representing myriad interests across the agricultural sector as well as developing drought resilience measures. In addition to running a manufacturing, importing and retailing business; he has led AgForce, the National Farmers Federation and Traprock Wool Association.
Dr Wendy Craik AM is a leading independent policy advisor renowned for her contributions to natural resource management and water reform. She is currently Chair of the Climate Change Authority and has roles with the Reserve Bank of Australia, the Australian Farm Institute, and the NSW Maine Estate Management Authority among others.
Dr Kate Andrews has an excellent reputation for her collaborations across communities, government organisations and research institutions – applying science to advance agriculture and natural resource management. She is the director of Agrifutures and previously led Australia's only community designed and run cross-border NRM organisation, the Lake Eyre Basin Coordinating Group.
Dr Elizabeth Peterson specialises in agricultural, environmental and fisheries economics where she applies a range of analytical tools to produce valuable research. She is an adjunct senior lecturer at the School of Agriculture at the University of Western Australia.
Ms Caroline Welsh has extensive experience successfully applying science-based research to broadacre farming and irrigated horticulture – including roles with GWMWater, Lodden Mallee Regional Development Australia Committee, Department of Primary Industries and Birchip Cropping Group.
Source: Minister for Drought David Littleproud