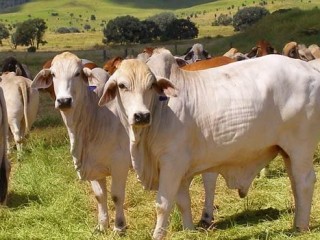 Consolidated Pastoral Company has outlaid a figure believed to be close to the $35 million asking price for a Bauhinia district aggregation widely regarded as one of the best large-scale cattle finishing properties in Central Queensland.
Totalling 23,159ha, the Comely/Mapala aggregation is a large area of choice, well developed buffel grass country in the centre of one of Queensland's dress-circle grass finishing districts.
CPC managing director Ken Warriner confirmed this afternoon that contacts had been exchanged for the unconditional purchase, but said the sale price would remain undisclosed under an agreement with the vendor.
Mr Warriner said Comely/Mapala would help 'balance up' CPC's exposure to the currently troubled live export market, however he stressed that the company had no intention of selling any of its northern assets to offset the purchase.
CPC has bought several grazing blocks in central and western Queensland recently to open-up more backgrounding and finishing country, in order to address a land portfolio imbalance which is currently more heavily weighted on live export.
Purchases in this vein over the past 12 months have included Cooinda, a block next to Mimong near Winton, and Gowan Hills, outside Blackall.
"We've done it in the past, and we'd like to get back to a situation where 50 percent of our turnoff comes back into slaughter channels in Queensland, and the remainder through live export out of Darwin," Mr Warriner said.
"Having said that, we don't mean to signal a lack of confidence in the long term future of live export. We're nervous about the situation at present, as everybody is, but I'd say there is a better than even money chance that it will come back on-stream, again, in a significant way."
Mr Warriner said because the Comely aggregation had been bought bare, there were a number of options available to CPC to utilise the big body of dry feed present. One might be to bring weaners down from the company's Wrotham Park calf-factory near Chillagoe in the lower Peninsula. Another was trucking cattle from the Barkly or far western CPC properties that under other circumstances would have headed north on live export boats this year.
"We have about 15,000 young cattle in the north that have not yet been positioned, due to the live export developments, but we would hope they would be live-exported by Christmas," he said. "If they can't go on boats, then they will have to come back east into Queensland, and Comely might well be a destination."
Comely vendors Bill and Anne Reid earlier listed the aggregation for $35 million, and the agreed price is understood to have gone reasonably close to their expectations. A sale at that level would value the property at $1511/ha, or $611/ac. It would also rate as the highest price for a cattle property in northern Australia this year, and one of the highest since the downturn in property fortunes in 2008.
An experienced Central Queensland property valuer said country in the Moura/Bauhinia area had averaged $3000 to $4000/Adult Equivalent over the past 18 months, after realising $5000 to $6000/AE at the height of the market around 2007-08.
A price close to the suggested $35m for Comely/Mapala would place it at the upper-end of current values, at around $3800/AE including improvements.
The Reid family bought the property in 2009 for $32m from Georgina Pastoral Co during the disbanding of Peter Hughes and George Scott's partnership. Georgina in turn acquired Comely as part of its 2006 play for Colonial's Agricultural Fund portfolio, bought for $330m. Colonial purchased the property from Heytesbury Pastoral Co in the early 1990s, at the time Heytesbury was exiting its Queensland land assets to concentrate on live export out of northern regions of WA.
Comely and Mapala are predominately undulating softwood scrub country with areas of brigalow, belah and bottletree country, plus small areas of open ironbark and spotted gum forest on the higher slopes of Mapala. All the softwood scrub has been fully developed to buffel, green panic and Rhodes grass, providing some of the heaviest weightgain and carrying capacity country in Queensland.
The aggregation can comfortably carry 9000 steers finished to Jap ox weights or 12,000 backgrounders.
Water is a major feature, with four flowing and three equipped bores, six equipped dams and 37 open dams. A considerable amount of money has been spent by the Reids during their period of ownership over the last two years on further water infrastructure. The bores, dams and piped water network is complemented by numerous semi-permanent holes in Comely Creek.
One of the key points raised during the property marketing campaign was the attraction of having such a large-scale cattle enterprise within easy three-hour reach of slaughter markets.
Marketing agents stressed the opportunities provided in comparatively low fuel and transport costs involved in operating in the area.