Coles has picked up beef market share against major retail rivals, Woolworths and independent butchers over the past two months, according to retail purchasing data released this week.
The Roy Morgan monthly national retail survey commissioned by Meat & Livestock Australia shows that for the rolling three months ended November 30, Coles' beef share rose to 20.2 percent, up about 2pc from this time last year, and 2.7pc from the October reporting period.
Woolworths' share remained the same as the previous cycle (28.7pc) in the reporting period to end of November. The comparisons are based on rolling three-month average figures, which statisticians say are more reliable than single-month numbers.
Independent butchers lost share in November, according to the survey, slipping from 28.8pc in October to 28.2pc a month later. That tightening trend was confirmed in anecdotal accounts from butchers, however many reported a strong run through December into Christmas, which should be reflected in the next round of data issued in late February.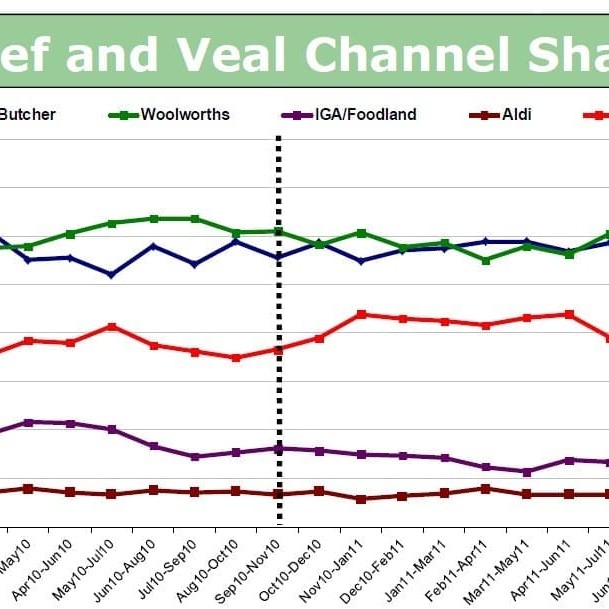 Also losing share in November was the independent IGA/Foodland supermarket group, which fell from 7.3pc to 6pc, while the Aldi network continued a sustained rise that started in July. Aldi finished November with 5.6pc beef market share, up from 3.4pc this time a year ago.
The market/deli/other category lost a little ground, easing from 8pc in October to 7.7pc a month later.
Overall fresh meat sales (beef, lamb, chicken and pork) were weaker across Australia in November than in preceding months, the Roy Morgan survey suggested. The only fresh meat that managed to grow volume serves and share was beef, which moved to 36.2pc of total fresh meat in November, but still behind this time last year.
The November share increase mostly came at the expense of lamb and pork, despite retail pork prices falling to the lowest level in four years during the third quarter last year.
Lamb prices also came back slightly but remain nearly 10pc up in the year, and lamb remains the highest priced protein ($15.64/kg average retail price), just ahead of beef ($15.54/kg). Beef prices remained below that of 12 months ago due to high export demand late in the year and competitive pricing from Australian retailers, while chicken prices remained flat.
Double-digit growth in sales
Commenting on the improved result, Coles' general manager meat, Allister Watson, said his company had recorded double-digit growth in beef sales over the past 12 months.
"The no added hormones campaign has certainly lifted the awareness of what consumers are looking for in beef products. By taking out the HGP, it has lifted our overall beef quality," he said.
Coles' HGP campaign appears to have been reinvigorated over the past month or two, widely interpreted as in response to Woolworths' launch of its Meat Standards Australia-backed beef program in early January.
Mr Watson said the Coles no HGP platform worked because it resonated with customers.
"They like it; they understand the message; they trust it and they buy into the category," he said.
Beef Central's interpretation of that comment is that Mr Watson was implying that consumers might not clearly understand 'the MSA message' carried by its retail rival.
On top of the recent price discounting occurring across a wide range of staple items including beef in Coles and Woolworths stores, both major retailers have recently engaged in a customer loyalty battle on another front.
Firstly Coles, through a newspaper coupon campaign, offered shoppers $5 off a $100 shop, $10 off a $150 shop, and $15 off a $200 shop. Woolworths struck back, with newspaper advertisements telling customers it would honour the Coles vouchers. Woolworths then upped the ante, offering its own deal where customers spending $200 would get $25 off the bill, for a short period.
Asked to comment on the recent actions, Mr Watson said it was more important to his company to offer good everyday prices than having higher or lower prices week-to-week.
"We've permanently dropped the price of items bought regularly by customers. They want good value everyday, on staple items like mince, sausages, rump steak and rib fillet – key lines that customers buy in an everyday basket. By maintaining that consistently of price, customers' trust grows, and they buy-into the whole category," he said.
"Rather than knocking-off a percentage of the price for a big spend, we think we're better off with consistent everyday prices on key items."
'Grill' range takes off
Some of Coles' new fresh meat introductions had gone particularly well, Mr Watson said. The company's 'Grill' range, including beef, lamb, pork, chicken and salmon items – last week recorded the best sales ever since their launch last October, in tandem with new store layouts.
"The 'Grill' concept is really about 'inspirational' barbecue items – people want good quality barbecue items – not just old, tired stock that has been marinated to give it a second life, and they want others to do that work for them."
"We have seen a big uplift in what we call the inspirational barbecue category, and we will continue to explore opportunities in value-added items like this. It just makes sense from a convenience and a service viewpoint."
"Coles is always looking for different products for different occasions. There's still a lot of opportunity in beef to add value, whether that be a summer or winter range, and we will continue to look for new lines," Mr Watson said.
"Once customers trust the category, they trust you to do things like value adding with marinades, seasonings, rolled items or skewers for them, because they know it is good quality."
In other retailing strategy news this week, Coles yesterday launched a cheeky campaign aimed to steal some of the ownership of the word, "Fresh", from Woolworths, which this year celebrates 25 years of use of the term, "The Fresh Food People."
Coles has launched a new discounting war in the fruit and vegetable section under the title, "There's no freshness like Coles freshness." Weekly specials will extend from five to 12 items, while an advertising campaign was launched yesterday boasting about the savings.
The "Fresh Food People" are expected to counter-punch. Woolies froze the prices of several popular fresh staples last July as part of the grocery stoush that has now spread from beef to milk, bread and other basics.
Coles' latest bid to eat-away more market share from rivals comes as shoppers cash-in on bumper fruit and vegetable crops and dropping prices amid bountiful supply following earlier drought. "The winner is the consumer, however many producers and wholesalers are struggling to get returns,'' a wholesale supplier said.
Coles spokesman Jon Church said that by agreeing to sell much greater volumes of produce they had been able to negotiate a great price for customers with suppliers and at the same time help growers sell more of their crops for a fair price.
Woolworths released is second quarter (and first half) trading results yesterday (see separate story this morning) and Coles is expected to do the same before week's end.