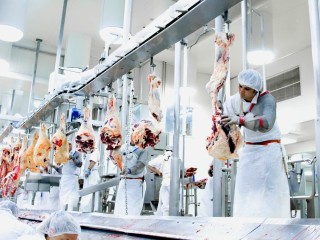 Weather disruptions, public holidays and meatworks operators adjusting kills in some States all had an influence on erratic processing rates across Eastern Australia last week.
While tallies in some states were well up, others were down, meaning the net impact from the national kill of 130,173 for the week ended Friday was a 2 percent decline in numbers seen over the previous seven-day cycle.
Once again, higher direct consignment livestock rates appeared to have little real impact on slaughter cattle flow.
Queensland, responsible for around half the national kill, delivered a surprising 8 percent rise in slaughter last week, jumping to 73,537 head, according to NLRS figures released yesterday.
That can be explained by a number of factors.
Dedicated grainfed export plant Warwick Bacon came back on-line after a fortnight break for maintenance, adding another 480 Jap ox a day, or 2400/week to numbers. Warwick will continue with its Christmas/New Year closure as normal.
Other Queensland plants also lifted tallies, and/or returned to five-day kills last week.
Last Monday week, Nippon Oakey missed a day due to a combination of industrial action/company decision over renewal of the plant's Enterprise Bargaining Agreement. Another contributing factor was a day lost last Friday week at Teys Australia's Lakes Creek yesterday due to equipment failure.
JBS Dinmore also returned had a full kill last week, after a light tally the week previous due to cattle shortage, adding further momentum to last week's strong Queensland result.
The current seven-day Queensland kill is likely to be similar to last week. Far western and northwestern cattle continue to provide the mainstay of export kills across the state at present, with some good cattle flows out of the Central Queensland region from Blackall to Roma.
There has been no significant change in direct consignment rates in southern Queensland plants over the past seven days, breaking a five-week sequence of incremental gains as processors pushed money out in front of the market in an effort to lure more killable cattle.
The current SEQ grids (best grassfed 0-2 tooth bullocks around 365c/kg, best cow 345c, 365c grassfed trade steer) appear to have found a level where they may sit for some time, barring extreme currency movements, one large-scale trader said.
With the A$ still moving in a relatively narrow range from US95-97c over the past week – up to US12c below where it sat a month ago – there is still little sign of reinvigorated trade interest out of Japan, Korea or the US for beef.
As discussed in last week's Beef Central slaughter report, a major processor yesterday again said "the moment an importer sees the Aussie dollar drop 2pc, they want 2pc off the price. Exporters have to be in a position to hold-out on volume, otherwise they have to fold."
"But if we now see a run of weeks where the Queensland weekly kill sits at 74,000 or above, it becomes harder to do that, " Beef Central's contact said.
A second market source suggested the larger flow of cattle into Queensland plants last week may be linked to producers watching the A$ movement, and deciding that the cycle may have bottomed and now be on the rise again.
"They appear to have decided that the grid prices are unlikely to rise further, and in fact could ease again if the dollar should push back closer to parity," he said.
Another Queensland processor yesterday said his business was "as comfortable in terms of cattle supply as we have been for quite a while."
In southern Australia, the biggest impact on declines in kill in all states was last week's Labour Day Monday public holiday, celebrated in NSW, ACT and SA.
The NSW kill was back 19pc to 28,123 head on the back of the holiday impact, following a combined 10pc rise in processing numbers over the preceding two weeks.
Victoria's kill was down 6pc to 17,572 head. While somewhat surprising due to the current momentum being seen in spring turnoff patterns, commentators put the decline down to the rain influence early in the week. Weather may also have played an influence in the NSW kill decline in some regions.
South Australia's kill was back to 2pc to 7698 head, also influenced by the Labour Day holiday, while Tasmania's tally fell 5pc to 3245, following a big 16pc rise a week earlier.
Major processors yesterday dismissed any suggestion that the higher Queensland kill compared with declines in all southern states was a reflection of significantly greater numbers southern cattle being pulled north for slaughter, lured by higher grid prices.
"I just don't see evidence of it," one reliable contact said. "It's just the holiday/weather factor."
There are encouraging signs of further substantial rainfall influence across much of eastern Australia later this week, with good falls expected from Central Queensland to southern Victoria from Thursday/Friday. If forecasts are accurate, that could further pressure processing volumes in the current week, and next week also.
Commenting on the current complexion of the cattle market yesterday, MLA analyst Tim McRae pointed out that direct consignment cow figure ex Southern Queensland last week was at 317c/kg – up 17pc on this time last year, while steers are typically only up 6-7pc in the same comparison.
"To me, that suggests processors are trying to lure cows onto the market, but they are struggling to find the numbers," he said.
"It reflects the mood towards herd rebuilding, particularly as prospects grow for another solid summer rainfall season. Solid international grinding meat demand is the other side of the equation, as global economies continue to operate defensively – again trading down out of more expensive muscle meats into manufacturing beef and burgers."
"Cow meat is a side of the market that we know has been pretty good for a few years now."
The NLRS Eastern States Young Cattle Indicator closed yesterday at 399ckg, up 1c on Friday and +5c from a week earlier. The heavy steer indicator (197.8c) was +3c on last week, and medium cows were +2c at 152.5c.