CHINA'S increasingly onerous testing of imported chilled and frozen food products for COVID is providing a big disincentive for red meat exporters in Australia and elsewhere, a webinar audience was told this week
Independent analyst Simon Quilty told a group of beef producers that it was likely that there would be a lot more COVID testing right across China, both by individual cities and various government agencies. He listed at least seven Chinese instrumentalities that were currently involved in testing imported food samples for signs of COVID contamination.
"It shows just how difficult it is becoming to ship meat into China," Mr Quilty said.
"If all these testing procedures are overlaid on top of the current political risk, it is becoming a strong disincentive to start shipping meat to China. Export Processors in Australia, and globally, are now starting to look elsewhere to send their meat, because they simply don't want to be caught up in a lot of this testing process."
"As of this week, the World Health Organisation (OIE) still states that the chances of COVID being spread via chilled or frozen meat – either on the packaging, or on the meat itself – is incredibly low."
Mr Quilty said there was no other country in the world doing this type of testing on imported meat. "It's only China. Basically, it's becoming unpalatable to do beef business with China at the moment."
Beef export volumes from Australia to China last month fell 64pc year-on-year, and were down 55pc in August.
In the past week, two more Canadian pork plants, a Danish pork plant and a Brazilian beef plant had been suspended from export by China, for one week only.
"Effectively, we have a situation where there are 53 plants worldwide suspended from supply to China over the past three months (26 pork, 12 beef, 13 poultry and one lamb) , of which 23 have been re-listed," he said.
Sitting at the top of the 'suspended' table was Brazil, with nine total de-listings, followed by Australia with a total of seven (including fiver over labelling/residue issues), Argentina ten, Canada four and the US, two.
"The net effect, after re-listings are added, is that there are 30 meat plants worldwide that cannot ship into China, and the average period that plants are being de-listed for is 45 days."
"The testing procedures within China are getting worse, and this is a real concern for meat processors, not just within Australia, but overseas," Mr Quilty said.
China has added new COVID product testing procedures over the past two months. There were now three layers of COVID testing within China:
The first is random checking at port of discharge (less than 10pc of all product entering the country). Typically this is one test per container, performed by Chinese Customs, with less than 10pc of containers tested.
The second is further processing (100pc of product tested) and random testing at wholesale or wet markets;
Third, commercial areas such as cold stores.
"Chinese cities like Guangzhou and Shenzhen are taking their own a precautionary approach over COVID 19. There are now 738 laboratories across China, nominated by the government, to carry out these tests on imported meat. If a positive is found it needs to be re-exported back to the country of origin," Mr Quilty said.
In the past fortnight, Beijing had introduced a traceability system, and closed-loop management of imported cold food. This requires the outer packaging of products to have labels attached so authorities can trace where the product has been.
China's National Health Commission had just released its latest version of the COVID prevention and control guidelines, which highlights the role of the cold chain in managing COVID risk.
"The point is, we can expect to see a lot more COVID testing right across China, both by cities and various government agencies," Mr Quilty said.
China's economy moves to two speeds
In terms of China market outlook, Mr Quilty quoted from a recent Chinese research report which had found that China was becoming a 'two-speed' economy, in terms of post-COVID recovery.
"The only areas of the country really benefitting are the Beijing/Tianjin area in the north, the Shanghai and surrounding province area, and around Guangdong/Hong Kong region in the south. These are all coast regions, and make up 37pc of the Chinese population.
"Pretty much, that is where all the benefits and growth are occurring in China at the moment," he said.
"Sales revenues in those regions are up 41pc, and that is where a lot of high-end Wagyu and 150-200 day grainfed product from Australia is being sold, at very good levels.
"But at the same time, we see the inland provinces of China away from the coast struggling. Added to recent flooding, these areas are really going backwards, economically. Sales revenues in these regions are the complete opposite, falling 10pc. The means a +50pc disparity in meat sales between wealthier coastal regions and those inland," Mr Quilty said.
As a result, frozen commodity meat prices (whether it be beef, pork or chicken) had fallen dramatically in the remaining 63pc of China. Most inland provinces had seen meat output, domestic orders and sale prices fall in the months of August and September, in the most recent survey, he said.
"The take-home message is that China's growth is very regionalised, very concentrated, and only a third of the population is receiving those benefits," Mr Quilty said.
"As exporters out of Australia, we really need to focus on these three coastal regions only."
Noting the recent downwards trend in Australian slaughter activity, Mr Quilty said he expected overall beef exports in 2020 would be down 19pc on the previous year, but what was interesting to note was that fourth quarter (October-December) exports were expected to fall by a more dramatic 38pc.
Bold predictions for next six months
During the webinar, he made a series of forecasts over currency movements and cattle prices for the next four to six months.
Currency value
Somewhat surprisingly, Mr Quilty has the A$ falling over the next three to four months by 14pc.
"It's a fairly bold call, but I'm expecting that the A$ (sitting at US71c at the time of the briefing) could well be at US62.5c by January next year, and potentially, a further fall to just above US60c by March. Keep in mind that every major bank in Australian is currently calling the A$ by mid-year next year at somewhere between US72.5c and US75c."
"These are bold predictions, but they have a significant impact on how competitive Australian exporters are, globally. Secondly, it would soften the blow of any fall in global beef prices next year, and increasing volume of cattle as the national herd rebuilds. This will ensure that cattle prices still remain in good shape going into the first half of next year."
Cattle prices
Mr Quilty spent some time exploring the topic of, Who keeps the benefit of currency movement – producer or processor?'
He presented this graph converting Australian feeder steer prices into US$, and compared this year's result with the 2016-17 year (see graph).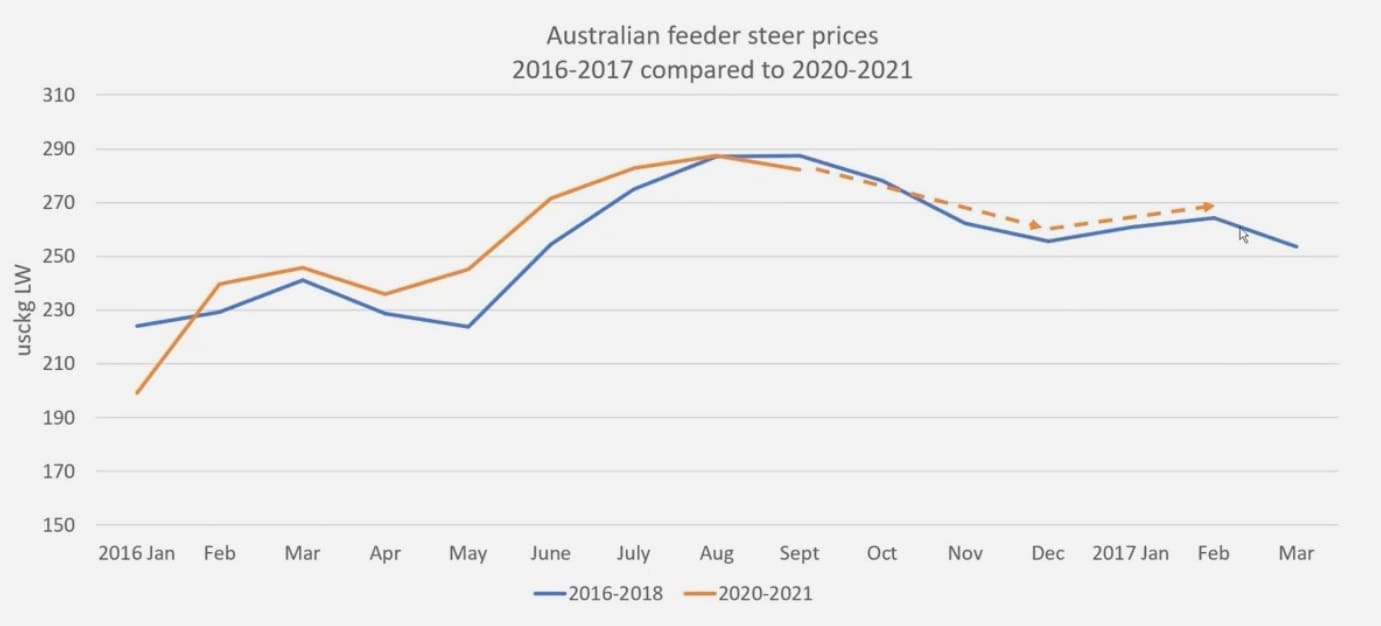 "They marry very, very closely," he said. "The expectation is that we will see a similar trend this year as in 2016-17, whereby we saw prices soften as we head into December/January. The difference is that these are in US$, so that when this is overlaid against the falling currency, it is actually softer than what this graph illustrates."
Mr Quilty said the end result would be a certain period of time where the question would be – is the benefit of that falling A$ going to be passed back, by the processor, to the farmer, or is the processor going to keep it?
"My opinion is that the farmer is going to retain those benefits in October, November and December, keeping the value of feeder steers around 405c/kg. But during January, February and March, as volume of feeder cattle starts to come forward, we're going to see the packer start to keep more of that share."
Theoretically, if the packer did not, and passed all of that currency advantage back, feeder prices could jump to 420c/kg during January-March, Mr Quilty said. But he thinks the realistic number for feeders will be 390c/kg in January and February and 380c on March.
"But this is not a new phenomenon – it's been going on since time began, in terms of who keeps the benefit of currency movement. When cattle are tight, it gets passed on to the farmer, but when supply improves, processors keep those better returns."
Earlier forecasts
In forecasts made a month ago, Mr Quilty anticipated lighter feeder steer (330-400kg) prices to peak at 439c/kg in October.
"Right now, the indicator is at 408c/kg, but it is still only the first week in October. I'm pretty confident we will have a falling currency, but will we get to my dizzying forecast of 439c? I'm not sure, but I think we're going to give it a fair old nudge. Perhaps it will drift into November, instead of October, but after that I'm of the opinion that feeder steers have had their run for a good while – perhaps several years."
In terms of heavy feeder steers (+500kg), his prediction last month was a peak of 382c/kg.
"We're only 10c/kg away from that now, and I'm probably going to end up a month late, but I'm still confident we will reach that level," he said.
He anticipates the average for heavy feeder steers next year will be 342c, down only marginally on this year's 345c. "In other words, it's still going to be a pretty damn good year next year for heavy feeder producers."
This week's national cow indicator price of 281c/kg liveweight sits against his original forecast peak of 344c/kg liveweight, revised downwards two months ago to 300c/kg.
"We're getting close – once again, the timing might be out by a month, but I think with the help of the currency, we're going to give 300c/kg for cows a real nudge in the next four to five weeks."
In annual terms, Mr Quilty anticipates cow prices will be down next year (averaging 248c/kg liveweight, versus 265c/kg this year), but still 27pc higher than the 2019 average of 198c/kg.