Independent analyst Simon Quilty provides this update on the recent African Swine Fever outbreak in China, and its potential to disrupt not only pork trade, but all animal proteins around the world.
AN EMERGENCY meeting convened by the United Nations in Bangkok last week highlighted the seriousness of the outbreak of African Swine Fever in China that started in last month, which now looks like spreading into surrounding Asian countries.
The UN emergency meeting involved health experts from China's surrounding countries considered to be at risk from a spread of the disease, including Cambodia, Japan, Laos, Mongolia, Myanmar, South Korea, Thailand, Vietnam and the Philippines.
The findings of the meeting are significant, taking the seriousness of the problem to another level. Given the recent swiftness of the virus spreading and the difficulties in containing the disease, the concern is now if this epidemic could become a pandemic with ramifications globally if not controlled soon, according to a bio-security expert I spoke to last week.
This, I believe, is the turning-point in the African Swine Fever epidemic for the negative, where it has now gone from a China issue to potentially an Asian epidemic. The Food and Agriculture Organisation (FAO) chief veterinary officer, Juan Lubroth summed it up last Friday after the close of the meeting saying, "What we are seeing so far is the tip of the iceberg."
In terms of the spread of the disease and its ferocity, he said it was no longer 'if' infected pork products would spread to neighbouring countries, but 'when'. He stressed that countries in the region must try to work collaboratively to prevent and minimise the damage.
Pork is of colossal importance to the diets of most Asians, and any production setback from ASF would leave a major meat protein hole to fill (see earlier report).
Invited to the Bangkok meeting were specialists from China and the nine surrounding countries, along with experts outside the region and participants from the private and commercial swine sector. Its purpose was to assess where the disease is at now, and determine a coordinated regional response to the problem. This came on the back of many warnings from the FAO of the pending significant threat the disease poses to all of Asia – in other words, it's now about damage control.
Findings from ASF Emergency Bangkok meeting
The following are the key findings of last week's emergency meeting:
African Swine Fever was 'here to stay' in China, the UN FAO said.
UN FAO suggested that the spread of the virus to China's neighbours was a 'near certainty' and was likely to occur through movements of products containing infected pork.
The Chief Veterinary Officer at FAO, Juan Lubroth said this was the 'tip of the iceberg', and the geographical spread of ASF in such a short period of time pointed to the trans-boundary emergence of the virus due to the movement of infected pork products, and this was likely to continue
Dr Lubroth said the most likely explanation for the large distances the disease had spread in China was due to processed and/or raw pork products, and was less likely to be through the movement of live animals.
FAO said on Friday that controlling the disease was extremely challenging, as the virus can survive for months in meat products, cured or salted pork and when it is used in animal feed and swill.
It was agreed by delegates from neighboring countries that a regional network to collaborate and respond would be established to respond to new outbreaks when they occur in the region. The network will involve teams that will identify and prioritise the actions that are required for countries to take in the short, medium and long-term.
FAO assistant director-general, Kundhavi Kadiresan said regional collaboration was vital as no single country, government ministry or department could handle the problem on its own. "This virus is a threat to livelihood, to economies, to an entire industry and its associated value chains," he said, "so everyone needs to pay attention to this and step-up, in a coordinated way, to take on this challenge, with FAO's assistance."
How this could unfold in coming months?
Set out below, I have outlined where I see the potential impact of ASF going and how events may unfold in coming months. I'm aware of not getting too far ahead of ourselves on this matter, but given the unfolding events of last week and the importance of this disease to global protein markets, it is important to understand how quickly global pork markets could change in the next 2-3 months. This, in turn, could potentially drive global and domestic pork (and other proteins, including beef) prices higher.
Potential pork trade headache as regions become quarantined
To put into context the potential enormity of the problem should ASF spread beyond China's borders, China shares borders with 13 countries, with five additional countries within close proximity either by land or water.
When looking at the total pig population in the region I have estimated an additional 125m head of pigs exists within the 18 countries of concern, which does not include the 433m hogs in China. The combined total is 558m head, which equates to almost 70pc of the world swine population.
I can envisage that as the disease spreads into other countries that quarantining of countries and regions will be inevitable, whereby both processed and live hogs will not be able to move but need to be contained in that region. This will lead to regions of 'oversupply' and 'undersupply' as accessing pork will be difficult in areas that are not large pork producers. Those in production regions may find a glut of pork. This quarantining could be in place for several years as is the experience in other countries in trying to manage the disease.
This regionalised impact could be most evident in China, whereby non-pork producing regions are starved of pork due to transport restrictions and the increased need for imported pork intensifies. The only real solution will be imported pork from 'clean' countries like the US, certain regions of Europe and parts of South America. Signs of this are already occurring. In Southern China pork availability is tight, which has led to a spike in local pork markets due to quarantining of production regions that have infected animals with no transport of pork items out of these regions.
The following map shows the potential reach of the virus based on the large infection area that has already occurred. I have used the Anhui Province as the epi-centre of the potential infection arc, given seven outbreaks have occurred in six weeks since August 30 in this province, and seem to be the most concentrated problem zone. A 3000 km radius was used as this is the greatest distance so far – almost no neighbours to the north, south, and east are potentially untouched with only the west seeming out of reach for the moment should the virus' current rate of spreading continue.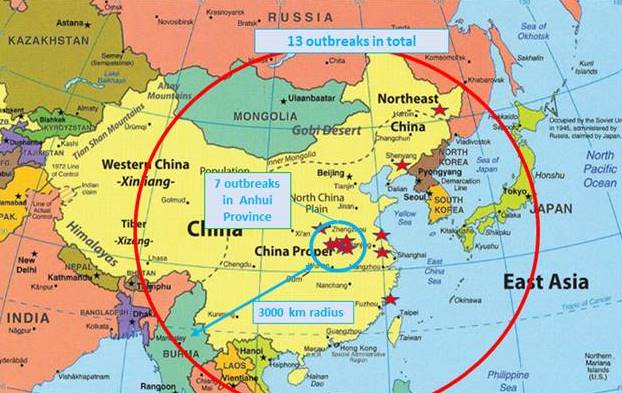 The resilience of African Swine Fever
At right is a summary of survival times for ASF in pork meat in various a processed states, highlighting the difficulty in containing this disease.
What is clear from this list is the highly resilient nature of the disease and its ability to survive in many states. This was highlighted by the UN at last week's Bangkok meeting as the most probable form of contamination and not from animals in the live state, but in any of the processed forms outlined above. Given the strong resilient nature of the virus, it is no surprise how difficult it is to contain the disease.
Pork exports and imports likely to be banned from certain countries
Globally there is an enormous reliance by many countries on both domestic pork production and imports. The UN Bangkok meeting findings may see the banning of pork imports from certain countries start to intensify, which in turn could lead to shortfalls in the global pork market. The Philippines in the last week has announced it will ban pork imports from Latvia, Poland, Romania, Russia, Ukraine, and China. The combined volume of these countries in annual pork exports comes to an estimated 850,000t, or close to 10pc of global pork trade.
The Philippines is not a large importer in its own right, but if other countries quickly follow suit then the global pork market could tighten very quickly in coming weeks. I have highlighted below the vulnerable countries in terms of their own domestic supply being affected should the disease spread through Asia as highlighted by the UN last week. Also included is the European Union, given the presence of ASF in Eastern Europe.
Global Pork Production 2018 estimates (Source: USDA)
The following are the key importing countries that have vulnerable domestic pork supply due to their location near China. If the virus should reach these destinations it could see import volumes increase as each country looks for 'clean' imports – these countries alone make up close to 40pc of global import markets.
Key global pork importing countries 2018 estimates (Source: USDA)

The following table includes the key export countries and once again I have highlighted the export countries which might be vulnerable should the virus spread through Asia and through the EU. It also outlines those countries which at the moment look clean from ASF which amount to 60pc of global exports. It should be noted that it is more likely that regions will be restricted, not so much countries, so these export figures should be seen as a rough guide given individual regions export figures are unavailable.
Key global pork exporting countries 2018 estimates (Source: USDA)

There have been 16 countries so far that has detected African Swine Fever – China, Georgia, Armenia, Azerbaijan, Russia, Ukraine, Belarus, Lithuania, Poland, Estonia, Latvia, Bulgaria, Hungary Moldova, Romania and Czech Republic. It would not be unreasonable to assume that within each of these destinations, regions and/or countries would be quarantined with little or no movement of processed or live hogs out these regions. That's no different to what I believe will happen with China and potentially parts of Asia.
Should export/import pork bans start to be put in place globally, then 10pc of global pork supply could stop abruptly and the additional concern is the stopping of trade in regional areas of Asia to prevent the spread of the disease.
The impact on pig livestock markets could be dramatic in both Asia and in clean supply countries – clean regions/countries could see pig livestock prices increase dramatically as shortages become apparent. These are likely to be the higher-populated regions and production regions that are quarantined could see oversupply and large falls in pig/pork prices as the ability to supply demand areas is prevented.
Surrounding countries take precautions
Last week's Bangkok meeting has highlighted the concerns of China's neighbours and how vulnerable each country is. The following is a brief outline of precautions taken so far.
Japan has now temporarily suspended the imports of heat-treated pork from China – in addition, the quarantine procedures at airports and seaports have been tightened, predominantly for travellers from the cities Shenyang and Dalian, in Northern China.
The Vietnamese Ministry of Agriculture has requested that all localities monitor pig farms and take samples for testing immediately should any pigs fall ill with any clinical signs associated with ASF.
The Philippines has banned the entry of any products from ASF affected countries which includes domestic and wild pigs, pork meat and semen. Within the Philippines, all border crossings will be subjected to strict biosecurity control.
South Korean officials found AFS in dumplings brought back from China by South Koreans on August 3, and as a result, has increased quarantine security at all airports on travellers from China.
Taiwan has also introduced preventative measures. In southern Taiwan where a large number of pig farms exist (1.24 million head) the county government has asked local citizens to take extra precautions and if they have travelled to ASF infected areas to voluntarily impose self-isolation upon their return to Taiwan before recommencing work on pig farms.
I can see restrictions on trade of pork from infected countries and regions increasing from here, as well as the high level of biosecurity that will be put in place on all goods that could be contaminated from China such as pork, feedstuffs and any agricultural related products that could be possible carriers.
Travelers returning from these contaminated regions will also be closely monitored particularly for any pork food products as was recently seen in South Korea – in other words, all border crossings and airports will be on high alert to minimize the spread of the disease.
Disease now spreading to large commercial operations
So far there has been a total of 13 cases of African Swine Fever reported in China with the number of cases doubling within a week – four separate cases were announced on Thursday – the total cull has now exceeded 40,000 head (as outlined by the Chinese Government).
Prior to yesterday's announced outbreaks, the disease had been found mainly in small herds, but yesterday a large commercial operation of 800 pigs was announced which has many pork analysts concerned that the disease is now spreading through large establishments that could see the cull rates increase dramatically in coming weeks.
Key points to note:
The disease has now travelled vast distances from Jiamusi, Heilongjiang, on the border with Russia to Wenzhou, in Zhejiang province, which is 3000 km to the south.
Efforts to control the rapid spread of the disease by banning the transport of live hogs from and through infected areas has left traders idle, farm pens bursting with pigs, and slaughterhouses short of stock.
The outbreaks have pushed up pork prices in the country's south as demand grows ahead of a week-long holiday in October and also raised the prospect of more imports.
Experts say backyard farms are typically more vulnerable to infection as they have lower biosecurity measures in place.
Feedback from within China
Sources within China I have talked to in the last week tell of the doubling of efforts by the China Ministry of Agriculture and Rural Affairs and the uphill battle that they are experiencing in trying to contain the disease.
Industry participants within China have outlined the following concerns: "In recent weeks the spread of the epidemic was gradually established. With the gradual expansion of the epidemic area, the farmers' panic selling will increase again, and the difficulty in transporting pigs across provinces will also be difficult. If the epidemic continues to deteriorate, it will not rule out the possibility of restricting the transportation and distribution of pigs in different places, which will have a negative impact on pig prices."
My source said if the epidemic continued to worsen, consumers would become more worried about pork consumption.- it will have a certain negative impact on demand.
"Therefore, from the current overall situation, the negative factors in the pig market are gradually increasing. It is expected that the pig price may have a downward risk in the short term, and the pig price in some areas may continue to fall slightly," he said.
The impact of quarantining regions is already being felt within China with panic-selling in production regions and shortages of product in demand regions. The concern is that consumer sentiment will be influenced by this at some point, which could see a move away from pork to other proteins such as beef and chicken.
Conclusion
The emergency meeting in Bangkok is an important indicator to me of the next stage the African Swine Fever problem whereby Asia is now under threat. The willingness of China to participate with other countries highlights the seriousness and potentially the 'hopelessness' within China to manage the disease outbreak.
The ramification for global trade is significant, with the immediate response likely to see the banning of pork items from export countries (or regions) both in Asia and Eastern Europe.
The medium-term impact, I believe, is where regions within China and Asia will become quarantined – creating disruptions to supply in a way that is almost unprecedented – transportation out of infected key supply regions is likely to stop. This would effectively land-lock pork supply resulting in oversupply within quarantined regions and falling pork prices. Conversely, undersupply in key demand regions (namely cities) could see shortages and a spike in prices in those places. Imported pork (and potentially, other proteins) is likely to be key in filling the void in the areas where demand is greatest throughout Asia.
The impact of quarantining is starting to be already felt in China with reports of price rises in Southern China where quarantined pork is unable to reach. This same scenario is likely to become the norm throughout Asia as the disease spreads.
I do not waver from my original belief that the global protein balance sheet is likely to change in the next 6-12 months which could see pork from 'clean' supply countries increase in price to fill the demand voids that will start to appear throughout Asia over coming months.
The next stage, I believe, will be consumer sentiment as my source in China has alluded to, when he said the "negative factors in the pig market are increasing."
Asian consumers will start to get concerned about pork consumption, and I expect there will be a move towards other proteins namely, chicken and beef.
Post script: Japan detects first classical swine fever case in 26 years
There has been an outbreak in classical swine fever announced yesterday in Japan. Japan's Agriculture Ministry confirmed is was the first outbreak in 26 years and has suspended exports of pork and wild boar meat.
It is important to note that this a different kind of fever to African Swine Fever that has been discovered in China – Classical swine fever is also known as hog cholera.
Details as we know them:
A farm in central Japan saw 80 pigs die last week after catching the highly-contagious disease.
Early tests showed negative results for classical swine fever, as the illness is officially known.
Follow-up tests came out positive 

on Sunday

 which saw a cull of all 610 pigs on the farm.
Livestock on the farm are being processed and the farm disinfected – sterilisation points have been set up on access roads to the affected farm.
The government has set up a team of specialists to analyse possible infection routes, the agricultural ministry said in a statement.
Tokyo halted pork exports after the outbreak was confirmed. Japan sold approximately $9 million in raw pork meat to foreign markets in 2017.
Japan saw its last case of classic swine fever, which does not affect humans, in 1992.
The disease is present in many parts of Asia, Europe and Latin America.
When discussing the ramifications with an Australian biosecurity expert today he said, "If Japan chooses to eradicate and regain freedom, this may have similar impacts to pork supply in the region" (he was referring to my report earlier today and potential disruptions I outlined due to quarantining).  He envisaged a need for quarantining within Japan and the restriction on transport that would occur.
It is unclear how wide spread the problem is and therefore how much internal disruption to supply there would be with quarantining – either way it could lead to increased demand for imported pork as the same potential consumer sentiment concerns that are in China could be repeated in Japan about the safety and reliability of domestic pork (even though like ASF it is not harmful to humans).