EXPORT beef supply channels into China are showing encouraging signs of freeing-up this week, but the impact of coronavirus is now being seen more broadly in Australia's other export beef customer countries.
The World Health Organisation overnight declared the Covid-19 coronavirus outbreak a global pandemic (meaning it is widespread across multiple continents), with more than 100 countries now reporting infections and deaths.
Chinese port and container congestion caused by the onset of coronavirus is starting to clear as more Chinese citizens return to work, but new beef trade remains 'particularly light', and confined to a handful of key items like shin shank and briskets according to feedback from traders.
A Shanghai customs company this week suggested operations at the Port of Shanghai were now back to 50 percent of normal activity, and road and rail transport in most areas except Hubei was slowly returning to normal.
Chinese beef market analyst Gerrard Liu said the low demand for beef that existed in the Chinese market currently was being caused by the prolonged closure of restaurants, which he said accounted for more than 80 percent of China's total beef consumption.
"Beef demand is likely to return to normal once the virus outbreak is brought under control and companies in logistics and catering resume operation," he said.
Mr Liu said very few new imported beef transactions were yet being completed, and spot prices for beef were 'freefalling', as Chinese citizens started returning to work.
A huge amount of imported beef orders were renegotiated or delayed during Lunar New Year holiday, he said.
He suspected the weak market would be reflected in February's average imported CIF price, when they are released. Many customers were now hunting for spot-market imported beef products whose desperate owners were 'eager for cash.'
"If things continue like this, orders of futures product will remain low in the near future," he said.
People working in the beef industry believed this year's beef price would continue to fluctuate.
"Demand will drop when beef's price is too high; when pork price reaches two thirds of beef's price, demand of beef will rise," he said.
Challenges emerge in other markets
Some of Australia's other key beef markets including South Korea, Japan and North America are also being increasingly impacted by coronavirus, with consumers avoiding eating out and non-essential travel, and economic activity showing signs of slowing.
Buyers are becoming increasingly wary about the prospect of economic slowdown and poor consumer demand in their own countries, in response to the disease's spread. The food service and tourism industries, particularly, are under threat in many regions of the world, and may remain disrupted through the first half of the year. Additionally, as economic activity stagnates, there is likely to be less discretionary spending on dining out, or buying relatively expensive beef.
To date Korea has not experienced port congestion, labour shortages or transportation restrictions affecting movement of imported meat into the market, trade sources say. Developments specifically impacting Korea's food industry included temporary shutdowns of retail locations following visits by confirmed coronavirus patients, and a slowdown in customer traffic at many dine-in foodservice establishments.
Conversely, home delivery orders and sales through e-commerce platforms have increased dramatically in Korea.
Regions like the Indonesian holiday island of Bali are also being hit hard, with the normal flow of 20,000 Chinese mainland visitors per week reduced to zero, according to Ross Taylor from the Indonesia Institute. The dramatic tourism impact was inevitably impacting restaurant beef demand.
"Total Chinese arrivals into Bali for February were 4314 – all recorded in the first week," Mr Taylor said. "For February last year, there were 122,643 arrivals from mainland China. To put this into perspective, Bali is facing a loss of between 5000 and 7000 tourists per day," he said.
"This has very significant implications for the Balinese economy and its people."
US facing possible recession
US imported beef market analyst Steiner Consulting said there was increasing talk that the spread of coronavirus in the US may push the US economy into a recession.
A recent study by Moody's noted that if the disease reached a pandemic stage (realised overnight), then US GDP in the second quarter could contract by as much as 2.9pc, and third-quarter growth could decline by 2pc, Steiner said. This compared to January baseline forecasts that were projecting a 2.2pc and 1.5pc increase, respectively.
"The current models expect the impact of the disease to be similar to what happened in China, with large sectors of the economy shutting down," Steiner warned.
The biggest US impact is expected to be on tourism, trade and more broadly, the services sector.
"Large chain restaurants in China have noted sharp contractions in business, and Italy recently announced that it would quarantine as many as 17 million people in an effort to control the disease in the north of the country. Clearly these are some of the parallels that market participants are fearing for the US," Steiner said.
"There is a lot of uncertainty at this time about the pace of US beef imports for 2020. A strong US dollar and a net reduction in China beef imports due to Coronavirus has the potential to significantly shift the flow of global imports."
Imported beef market activity
The US imported beef market continued to struggle to gain traction last week and prices were mostly lower, Steiner said. Market participants noted the dearth of bids at a time when overseas exporters appeared to have become more active in looking to book product for later in April, May and June.
"New Zealand supplies are reportedly higher, and the failure to catch a bid has thrown the market in turmoil," Steiner said.
While prices for lean beef values had thoroughly collapsed since the November highs, moving fat trim in the US market was especially challenging as well, it said in last week's report.
In mid-January, USDA was quoting US domestic 75CL beef trim value at around $160/cwt while imported was trading at a 25-30c premium. Volume on this product is light and only some buyers look to purchase imported product for their needs. USDA did not quote 75CL market last week, but the last quote was for $125/cwt.
"Given the sharp decline in domestic values, it is simply impossible to make imported offerings work in the US market," Steiner said. "Prices quoted are lower, but we are not so sure that reflects actual traders but rather what importers with some inventory are looking to sell."
What had made imported beef trade especially difficult was the recent sharp jump in Australian cattle prices, squeezing Australian packer margins. As Steiner's graph below shows, feeder steer prices in Australia last week jumped by more than 5pc from the previous week, and at time of writing were 67pc higher than a year ago while the Eastern Young Cattle Indicator is currently 86pc higher than last year.
Cow prices remain especially high as producers have already liquidated very aggressively. Slaughter cattle prices in Australia are currently running about 30-35pc above the average of last March.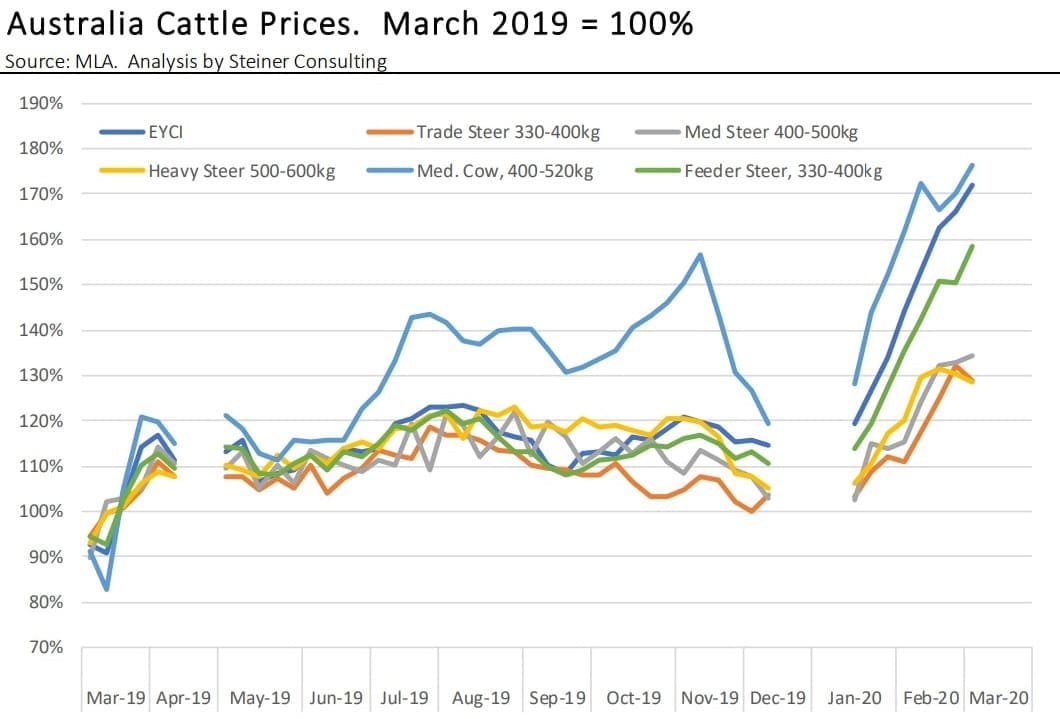 Source: Steiner