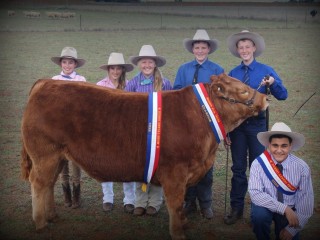 Students studying agriculture and primary industries at St Johns College Dubbo have been working hard on a long term project which will culminate in a charity auction at the Breakfast Creek Hotel, Brisbane in September.
The program involves selecting, feeding, showing, fitting and preparing a steer for auction to raise money for prostate cancer.
St Johns College agriculture coordinator Ben Toll said the school embarked on the fund-raising initiative following an approach to participate in a charity auction by Terry Nolan of Nolan Meats at Gympie in Queensland.
Mr Toll said it was an excellent opportunity to create awareness among students for the need to contribute back to the community.
According to the Prostate Cancer Awareness Foundation of Australia, almost 3300 Australian men die of prostate cancer each year and almost 20,000 new cases are diagnosed yearly.
To date there is no known preventative action, and, while early detection provides the most effective treatment, it does not always lead to a complete cure.
"Hopefully this auction will raise much needed funds to help improve research into, and the treatment of, prostate cancer," Mr Toll said.
Given that last year's steer was auctioned for a record price of $25,000, Mr Toll saw the need to select an outstanding animal to be donated this year, in order to raise as much money for the charity as possible.
"We have found an exceptional pure bred Limousin steer bred by the Kirk Family of Peak Hill who have been one of the leading Led Steer exhibitors for an extended period of time.
"This steer comes from prominent stock, his sire being Wilworril Captain C20 who has also sired the Grand Champion Led Steer Sydney Royal Show, the Grand Champion Led Steer at The National Steer Show and the Grand Champion Led Steer at Casino Beef Week and his DAM is Wilworril Sally.
"At present he weighs in at 675kg but it is expected to weigh in excess of 700Kg, live weight, when auctioned.
"Current fat scans are 11mm on the rump and 9 mm on the rib. We are also very grateful to Agrigrain who have donated grain for the steer which the college has processed to make into the well-known 'Rocket Fuel' ."
Mr Toll described the steer, named Rusty, as an exceptionally well-muscled, soft steer with a good temperament and an average daily weight gain of 1.65kg/day.
"He would certainly be competitive at any major show in Australia. When exhibited at the Canberra Royal Show earlier this year, and despite having just been started on grain, Rusty placed as one the top 2 in the Non Kill Pure bred Class. Rusty was also Grand Champion Led Steer at both the Dubbo and Warren Shows."
Mr Toll said the Queensland EKKA provided an excellent opportunity to promote the Dubbo Region, the work of the students at St Johns College and the quality of livestock bred in our region.
Mr Toll further added that parents and community support towards the livestock exhibition team has been tremendous and a major factor in the ongoing success of the show team.
From an educational perspective, he said the students preparing the charity steer achieve the following skills outcomes:
Ability to work in a team environment as well as individually;
Time management and organisational skills;
Animal husbandry incorporating skills in nutrition, general livestock management, animal welfare, animal health and livestock exhibition;
Networking, communication and research skills, and
The ability to adhere to work health and safety regulations.
"The opportunity to attend agricultural shows, and also contribute to such a worthy charitable cause, as part of their Agriculture and Primary Industries studies, provides students with invaluable practical life skills which they would not normally attain through classroom studies alone.
"Further, the participation in Agricultural shows including cattle showing, junior judging and led steer competitions, by students at St Johns College and other schools, has heightened student awareness of the Beef Cattle Industry.
"Often this has led to greater employment opportunities in many tiers of the agriculture sector including, but not limited to, such fields as veterinary sciences, animal nutrition, stock and station agent positions, feedlot management, agribusinesses, and farmhand and abattoir employment.
"Even more impressive, a significant number of students have proceeded to establish their own agribusinesses in the form of small mixed breed cattle herds, leading to promising long term economic entities, which in time, may develop into successful breeding studs."