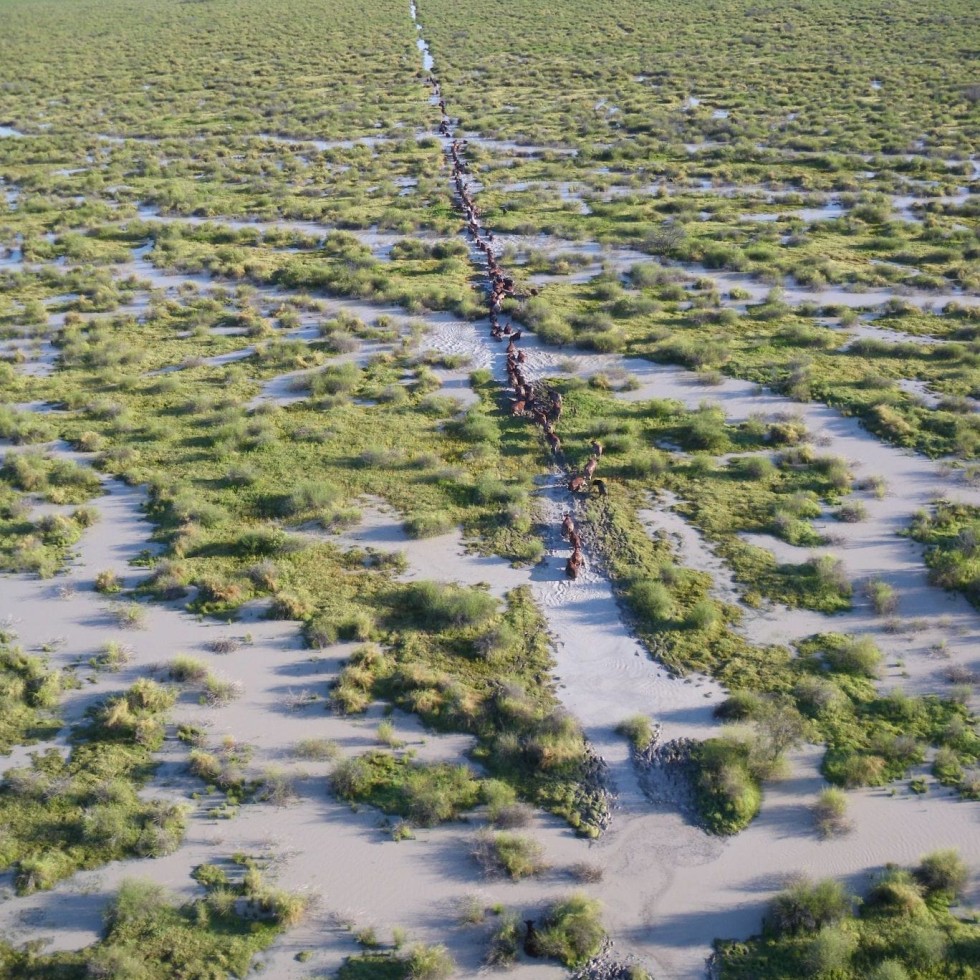 Beef producers in the Channel Country will be watching the current monsoonal low influence sweeping across western Queensland with intense interest, given the region's current state of play, season-wise.
After back-to-back years when the Channel Country region has produced enormous bodies of feed and some of the best grassfed bullock weights in recent memory, the 2012 year prospects are delicately poised.
While there is still at least another two months where a monsoonal influence could deliver the much-needed channel overflows that deliver the region's abundance of feed, that has not yet happened on a region-wide scale this year.
In a good year, Far Western Queensland's Channel Country is regarded as one of the world's truly great cattle-fattening resources, along with the Argentine Pampas and Brazil's Mato Grosso.
Speaking on Friday before the current tropical low started to develop, Landmark Quilpie branch manager Philip Manns said conditions were starting to dry off in the far west now, and the region needed general rain and a decent flood through the Channels to guarantee another strong year.
There has only been 'channel runs' so far in the Cooper and Diamantina this year (where the water flow does not break the channel banks to disperse across the surrounding country, which delivers far greater feed response). A good flood in the Wilson River was also providing some benefit to properties on the lower Cooper.
"There's a reasonably good body of feed at the moment, but it's drying off pretty well," Mr Manns said. The Channel Country had scored some reasonable rain in November and early December, but little since.
"We may have to wait until April to know more precisely what sort of season the area is facing, unless the current tropical low produces some big rain events in the right area," he said.
Last year the region produced phenomenal weights in grassfed slaughter cattle (see Beef Central's article published in May last year, "Channel Country scale busters").
Mr Manns said the early start to summer rainfall had encouraged some local landholders to buy cattle in anticipation of the prospect of another good year, many of which had come out of the NT and northwest Queensland.
"This time last year was already an exceptional season in place, and there was some big uploads of bought cattle to utilise all the available fed. But there been nothing like that, on a similar scale so far in 2012," he said.
Expansion in breeder numbers on Channel holdings and elsewhere after two big years might put a cap on the need for pastoral companies to buy extra grower cattle to utilise any excess feed in the Channel Country this year. Calving rates were very strong again last year, so breeder numbers could easily be 10-15pc better than where they were back in 2009, Mr Manns said.
Feedback from AA Co, NAPCo, Kidman
Feedback from the larger pastoral companies who have a strong footprint in the Channels region suggests some have already made grower cattle purchases for the 2012 season, but not yet close to the numbers seen a year ago.
Australian Agricultural Company's chief operating officer Troy Setter said his company had already bought some cattle for its Channel properties and would be buying more, with holdings like South Galway and Brighton already experiencing some flooding this season.
"There has been some good earlier rain on some sites, but not massive falls," he said.
"But there is some great grass volume about. The early start to the wet, then the light wet so far has given cattle great early weightgains. The grass has not gone rank like it did last year due to long periods of wet weather, and cattle have not had to put up with sustained wet conditions."
"If the area can get rain in the next month or so, there will be some really good weight and condition on cattle again," Mr Setter said.
S. Kidman & Co managing director Greg Campbell said his company had secured several thousand trader steers for its southern Channel Country properties in September/October last year.
Further purchases had been placed on hold, however, due to the October/November impact of fires in the region. Kidman holdings were hit hard by fires with a big body of dry feed present, with Innamincka losing 10pc of grazing country, Nappa Merrie 30pc, Naryilco 25pc, Durham Downs 20pc and Morney Plains 10pc.
"We received some handy storms prior to Christmas, producing a green response in many areas and developing flows in the main channels. At this stage, a safe season is on hand for 2012, but more rain is needed to produce significant flooding and to turn a safe situation into a good season," Mr Campbell said on Friday.
"A good supply of dry feed remains on many floodplain areas and across much of the back country and so even without further rain, cattle will continue to gain weight, albeit at slower rates than last year."
The hot weather during January had dried country out and more fires started from a front passing through last weekend, with a big fire still burning on the Omicron/Naryilco boundary.
Mr Campbell said it was still too early to be forecasting the timing of the Channel Country's 2012 bullock turnoff, since there was still two months with good prospects for rainfall ahead.
"But at this stage a more average turnoff pattern would be envisaged for 2012, where last year numbers and weights were way above average and turnoff was later to maximise weightgain," he said.
North Australian Pastoral Co's general manager for growing and marketing, Geoff Kingston, said the season on the company's northern Channel properties (Glenormiston, Marion Downs, Coorabulka on the Georgina and Monkira on the Diamantina) had been light so far this year.
"But hopefully that will change from this week's weather influence," he said.
"The flood in the lower Diamantina and Georgina Rivers has only been very moderate, so our position is probably a little behind AA Co's, judging by recent reports."
While cattle further south were currently doing well, attention would now focus on the No. 2 weaners and their growth path over the next 12 months.
"At this stage, we expect our weights to be slightly down in 2012, as 2010 was an exceptional year with rain throughout the year (Birdsville Races were cancelled). That provided the basis for last year's excellent turnoff," he said.
In 2011 NAPCo only purchased half the number of steers it did in 2010, and it took the company twice as long to do so.
"We were only in the market for a lesser number last year, as we continue to breed our own numbers up," Mr Kingston said. "That fits in with our long-term strategy whereby the meat customers we supply have a preference for company-bred cattle."
The cattle NAPCo did purchase last year were mostly from above and below the rail-line between Cloncurry and Richmond, secured for around 175c/kg liveweight.
"The numbers of 350kg and heavier cattle did not seem to be about in the same volume last year, as the Indonesian limit seems to have pulled all the numbers forward," Mr Kingston said.
Go to Beef Central's Markets section for a comprehensive listing of NLRS saleyard reports, uploaded within hours of completion of each sale.
To receive Beef Central's free daily news headlines by email every morning, register your email address by clicking here