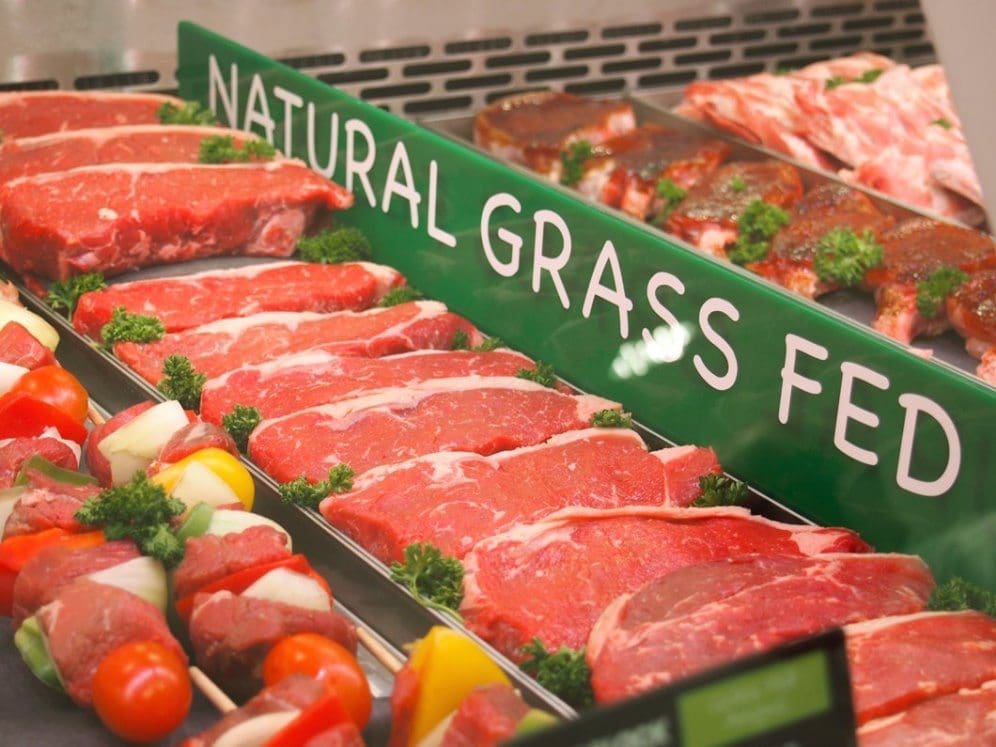 WHILE all beef producers across eastern Australia have been hard-hit by drought over the past 12 months, the segments arguably impacted most have been the certified grassfed and certified organic programs, which typically attract big price premiums in the market.
The primary reason is the constraints placed on third-party certified grassfed and Organic programs on supplements, roughages and feedstuffs used to keep hungry stock alive during drought. Placing cattle on agistment is equally problematic, as cattle managed under such programs can only be depastured on similarly-certified properties.
The problem echoes-on during the next recovery phase, where replacements and restocker cattle must be drawn from similarly registered properties, to avoid defaulting from the programs.
Several grassfed/organic supply chains spoken to for this report said some of their cattle partners had been forced to take cattle outside their 'never-ever' programs this year, in order to simply keep cattle alive.
And it appears there has been a dramatic impact on the production of certified grassfed and Organic cattle this past 12 months – both in terms of carcase weights and numbers of eligible cattle produced – as a result of the drought impact.
One large eastern states beef processing facility servicing third-party certified grassfed cattle for a company brand program said its numbers were down 50 percent this year on normal production, while a large Certified Organic program is down 25 percent in volume.
Kill rates support trend
Beef Central has dug into recent Meat Standards Australia slaughter data to look for more evidence of declines in certified grassfed/organic slaughter.
In collecting information on feed history in graded slaughter cattle, MSA divides animals into two groups – those coming through grainfed programs out of NFAS-accredited feedlots, and everything else.
The 'everything else' category is not specific to cattle coming out of certified grassfed or Organic  MSA programs, however, but also includes grain-supplemented and cattle of unknown feed origin.
While this is not perfect, it does provide some useful insight into broader trends.
As the graph requested by Beef Central published below shows, there has been a quite dramatic rise in grainfed proportions of MSA slaughter cattle over the past eight months, in percentage terms.
We asked a number of supply chain stakeholders how this should be interpreted. The common view was that the percentage trend did not necessarily reflect a large spike in grainfed numbers on feed (grainfed numbers have remained fairly consistently high for the past four quarters due to drought pressure), but perhaps more clearly showed that grassfed and grain-assisted cattle numbers have fallen away, due to drought pressure.
Historically, there have been long periods where more MSA cattle have come through the 'other' category than 'grainfed.' Note in the graph than in the 2017-18 year, grainfed never once exceeded 50pc.
The past eight months has seen that trend change substantially, where by February this year, grainfed numbers climbed to 65pc of all MSA kill – easily the highest figure in three years. Conversely, it means that just 35pc of MSA kill in February was grassfed/organic/grain-assist.
Several supply chains spoken to for this report said they had cattle supply partners who had had to take cattle outside the certified grassfed/organic production streams as 'last resort' measures due to dire seasonal conditions. These included having to agist cattle elsewhere on non-certified properties, or having to feed supplements like cottonseed not approved under certified grassfed/organic provisions.
In both cases, while those particular cattle were now lost to certified grass/organic programs, future production would not be compromised, they stressed.
Victorian and Tasmanian grassfed supply chain manager Peter Greenham said he thought all certified grassfed supply chains across eastern Australia were struggling for numbers at the moment, despite the big premiums available. He said his business could buy 'any amount' of grainfed cattle in the market at present, because that was the only channel through which cattle could be finished under current conditions.
"It's meant that the price of grainfed is actually lower than certified grassfed cattle at present," he said. "It's a supply and demand thing. Grainfed HGP-free cattle are still expensive, given the feeding costs involved, but certified grassfed in our supply area are probably 10-20c/kg above that, for the same MSA animal," he said.
Greenhams has pulled-back on certified grassfed production this year in response to the drought impact, but fortunately its own grassfed supply catchment area across the Southern Gippsland, Tasmanian and South Australian areas was still relatively well off for grass, compared with cattle areas further north.
JBS Australia manages the biggest certified grassfed supply chain in the country through its Great Southern program, supplied through the company's Scone (NSW), Brooklyn (VIC) and Longford (TAS) plants.
While MSA compliance/ungrade rates have remained surprisingly good through the drought – with the exception of the recent January heatwave episode in Victoria – volume of grassfed cattle being processed had been impacted at some sites, especially Scone.
However the next six months could be difficult for certified grassfed supply, the company said.
JBS supported Peter Greenham's view that certified grassfed MSA steer prices were probably 10-20c/kg above equivalent MSA grainfed price at present, and in places higher.
"I think it reflects the strength of the farm-assured MSA certified grassfed program," JBS Southern livestock manager Steve Chapman said.
"The emphasis in our grassfed programs is on eating quality, not days on feed, like most grainfed programs," he said. "JBS Little Joe, Pinnacle and Great Southern brands are in the top 1pc, 5pc and 10pc of all MSA beef produced in Australia, including grainfed, for eating quality – and consumers are recognising that."
"I suspect the traction being seen in grassfed programs is putting some grainfed programs under a little more pressure, guaranteeing not only the days on feed, but also the eating quality around it."
Cattle entering the JBS Great Southern program were recently being offered 560c/kg carcase weight top cell, in the company grids. An equivalent grainfed YG MSA steer (no HGP) in Victoria was worth around 530c/kg at the same time.
This month, (reflecting the annual season trend, as well as this year's particular weather challenge) the Great Southern grid rises another 10c/kg, to 570c/kg. Prices out to June/July are as high as 600c/kg.
"We know winter production – particularly this year – is going to cost a lot, so people committed to our program have looked at bolstering their silage, pellets and other nutrition support programs, to maintain supply," Mr Chapman said. "We have to put plenty of incentive out there for the 2500 registered suppliers to Great Southern to maintain supply."
JBS's ability to shift Great Southern supply around its three southern plants in Victoria, Tasmania and NSW, had allowed it to minimise the supply impact from further north where the drought impact has been more acute.
High demand for eligible grass supplements
Also reflective of the drought, there's been a boom in the production of supplement pellets eligible for certified grassfed brand programs out of a manufacturing plant in western Victoria, despite the fact that the pellets add considerably to production costs, Beef Central was told.
While the pellets were originally developed, through a collaboration with JBS, to fill seasonal shortfalls in feed that occur every year, the current drought has pushed demand for grass-eligible pellets 'enormously.'
Typically the pellets are being used in the last 40-60 days of production, to make sure steers and heifers are inside MSA compliance boundaries. There was also a lot of grass silage cut last year in Victoria, which was also provided a grassfed eligible feed 'lifeline' this year.
Certified Organic beef supply chain manager Alister Ferguson, from Arcadian Organic and Natural said the organic segment was no different than any other grassfed program in terms of challenges during times of drought.
If anything, the eligibility issues put another level of difficulty on organic producers, in sourcing eligible feeds.
"Our livestock suppliers know they do not have access to those supplementary feeding streams like cottonseed, so they tend to stock conservatively, as a result," Mr Ferguson said.
Nevertheless, organic production had been challenged during the drought, both in terms of numbers, but also quality. New participants joining Organic supply chains had helped moderate the loss of numbers, to some extent, as had certified cattle being 'brought forward' for slaughter earlier than normal at lighter weights, to lighten off stocking rates.
"Our carcase weights have definitely dropped as a result of the drought, and we are grading a lot more meat out of the system, from slaughter cattle that are not properly finished due to the conditions," he said. That's being downgraded into trim, which comes at a considerable economic cost."
"We've also certainly lost Organic certified cattle from the system that have had to go to feedlots this year, because of the conditions – but those suppliers have had little choice," Mr Ferguson said.
"Conditions this past year have been unprecedented, and unfortunately the circumstances have made it impossible to maintain normal Organic production on some cattle."
MSA milestone
While analysing MSA statistics for this report, it also came to light that January was the first month in history where MSA accounted for more than 50 percent of all adult cattle slaughtered in Australia. A total of 308,000 MSA cattle were processed in January, representing 52pc of the total adult kill. One of the influences in the trend was perhaps the traditional holiday closure period after New year that many large export processing plants schedule, especially in Queensland. That may have pushed MSA numbers higher, as a proportion of the overall slaughter for the month, with fewer cows and non-MSA cattle being processed.