PROFESSOR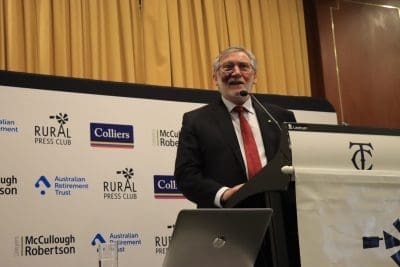 Paul Wood AO is an independent expert with decades of public and private sector experience in the biopharmaceutical and tissue engineering technologies now being adapted by startups in a multi-billion dollar global investment race to create commercial "meat" products cultivated from animal cells.
Addressing the Rural Press Club of Queensland in Brisbane yesterday, Professor Wood had a simple response to claims the technology is set to 'kill off' the traditional livestock production sector: "Don't sell the farm".
Billions of dollars are being poured by investors into an estimated 150 cultivated meat startups around the world, betting they will soon be able to produce lab-grown protein alternatives at a commercially viable scale while also attracting customers in large numbers.
But as someone who knows a lot about the technology involved, Professor Wood doesn't see that happening.
He told yesterday's lunch that, based on his in-depth understanding of the processes involved, he was surprised when he began seeing  headlines a few years ago predicting that cell-based "meat" would bankrupt conventional beef and dairy cattle farming by 2030.
His immediate thought was "this just can't be true".
Or rather, he admitted, another 'more Australian' technical-term came to mind: "That sounds like bullsh*t".
He emphasises that he is not opposed to alternative proteins and supports science that can improve future food security. He chairs an insect protein start-up and has previously sat on the board of Cellular Agriculture Australia.
Stretching the truth
But in his view many startups are stretching the truth about what the technology is capable of, in order to attract the investment support they need to keep trying to produce a commercially viable product.
He offered several examples of why he believes the hype around cell-based meat does match its reality:
Unscientific claims:
Some cell-based meat startups have publicly announced they have commissioned fermentation vessels up to 250,000 litres in size.
"Now that is just unfeasible," Professor Wood said. "The biggest we have ever done in cell culture is about 10,000 to 20,000 litres.
"Even some of the other manufacturers are calling that out".
The claims were more about virtue signalling to investors than good science or manufacturing practice, he said.
For perspective, to understood how large a 250,000 litre tank would be, a 20,000 litre tank stands around three stories high.
Sterile environment:
Maintaining a continuous sterile environment requires a major capital investment for 'a decent sized facility' of around $US 600 million. Cell based startups then require high ongoing costs to source culture media with high quality growth factors.
When talking about the price of the end -product, these costs and the depreciation on capital were typically not being factored in.
"It is one of the really interesting things, if you have ever been in manufacture, you know people don't give you capital for free.
"It actually costs money, and you have to build depreciation in, and in this business it is a big chunk of the cost."
Energy intensive:
Fermenters have run at 37 degrees, which requires a lot of energy and generates a lot of heat. The room then needs to be cooled down, which requires an additional enormous amount of energy.
"There is a lot of energy going into running one of these facilities. One big facility said they are going to have 130 10,000 litre fermenters running at 37 degrees. That is a lot of heat, a lot of energy."
Environmental impact: 
The energy intense nature of the process means that unless these facilities are able to use totally renewable energy, meat from this source could not be considered as sustainable as meat produced from livestock.
A fastidious process:
Mammalian cells are fastidious and not easy to grow. Extraneous agents such as bacteria or fungi can quickly overgrow and destroy the culture if allowed to entire the sterile environment.
High cost of manufacture:
The cost of manufacture still has to come down an estimated 1000 fold from current levels in order to be able to compete with the price of real meat.
The product being produced is not a steak but a cell-based slurry, which will sit in the commodity end of the meat market.
"The idea of using high cost technology to compete in a commodity market to me is a business 101 failure. If you have got a high tech product, you really want a premium product and price."
Moore's Law doesn't apply:
Moore's Law states that the power of computing per unit of cost doubles about every two years on average, as technological know-how advances.
Some say Moore's Law means the cost of cell-based meat will inevitably come down in the same way.
But Professor Wood points out that while Moore's Law might apply to engineering, it has never applied to biological processes (see the point about how fastidious cells are to grow above).
Taste and texture:
It is well documented that taste is "the fundamental thing people are looking for in food", Dr Wood said. Manipulating the taste and texture of animal-based protein is no simple or easy task, as the plant based protein sector has already demonstrated.
Nutritional profile:
"Does it have the nutritional profile? They often forget about things like bioavailability and quality of protein which we actually know a lot about now."
Is it more sustainable?:
"You can't just make a claim," Dr Wood said. "We all know whatever we're doing has to be more sustainable than it was. We're already seeing the first prosecutions around the world, if you make a claim on sustainability, you really need to be able to demonstrate that.
We're also seeing the emergence of sustainable animal-based products."
Marketing over expertise:
Many promoting startups do not have direct knowledge of or experience in the science involved, he has found.
"One of the problems I see in this debate is sometimes the people I am debating actually haven't really touched the technology."
Consumer acceptance:
"We don't know that yet or how consumers will react to it.
"People have actually gone out and done surveys, and this is really interesting because the product doesn't exist, so the survey is based on what you told people."
Scale?
The world's largest cell-based meat company, Upside (formerly Memphis Meat) is valued at just over $1 billion. It does not sell anything yet, but has a pilot production facility in place that can produce about 50,000 pounds of cell based meat a year.
That equates to about the same amount of "meat" as could be produced by two head of cattle per week, or about 100 head across a year.
By comparison AA Co is also valued at around $1 billion (on market capitalisation) and runs upwards of 400,000 cattle.
"So this is scale for them," Professor Wood said. "We could probably walk down the road and find a butcher who is turning over more than two carcases a day. It puts the scale issue in context."
One of the best business models
As an example of a cell-based company that appeared to be on the right track, Professor Wood pointed to Australian startup Vow, which has raised about $55 million, and is producing a high value product similar to quail using a 2000 litre fermenter.
Professor Wood said Vow is not worried about trying to call its product meat, and are instead calling it a 'new food experience' under the name "Morsel".
"I think that is really smart marketing," he said.  "You don't need to get into an argument (by using terms like meat)."
Will cell-based product actually solve food security problems?
Cell-based meat proponents often point to the growing need to feed 10 billion people that will soon exist across the world as a key justification for investment in the space.
But in Professor Wood's view – as someone who is actively involved in working to improve food security in places such as Africa – this technology is not likely to solve that problem.
The vast majority of the world's projected population growth is set to occur in Africa, not in cities like New York or London or Sydney.
"Is this the tech that is going to solve the situation in Africa?
"Because that is actually the food security problem."
We've been here before
Only a few years ago similar hype was driving headlines claiming plant-based proteins would soon replace real meat.
Despite billions of dollars of product development and marketing by some 1300 startups in the space, plant-based product today still accounts for less than 1.5 percent of the total US meat market.
Key players in the alternative protein sector such as Beyond Meat and Oatly have collectively lost $20 billion in shareholder value between them.
Oatly this week announced a $330 million loss.
Inexplicably, he said, its share price has continued to rise.