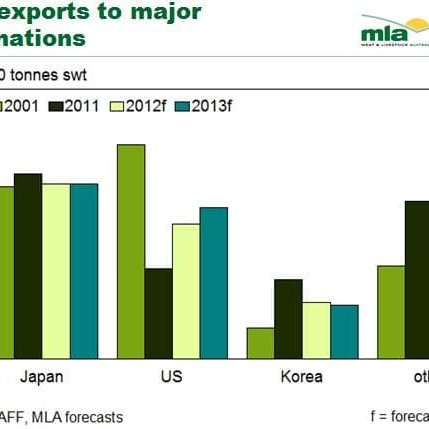 The prolonged cautious mood among consumers within Australia and overseas continues to apply a significant handbrake on the outlook for beef demand in the short to medium term.
Meat and Livestock Australia's chief economist, Tim McRae told yesterday's half-year industry projections update that demand-side conditions had been tough since the original full year briefing in February, and were likely to remain so for some time.
His over-riding message was that the beef industry needed to see consumers everywhere regaining some confidence, buying more beef and starting to trade-up again in their preferences, before the outlook would really start to improve.
"There's not much good news out there in consumer-land: unemployment is high, share and real estate prices are low, energy prices are rising. Many consumers are just putting their money under their mattress, and waiting to be told it's alright to come out," he told yesterday's briefing.
As a supplier of higher quality and relatively higher priced product around the world, that was working against Australian beef at the moment.
"When you look at the price points for beef against other proteins, it's easy to see why consumers are seeking cheaper alternatives, both within the beef spectrum, and in other proteins," Mr McRae said.
He suggested that the likely international demand over the next few months might not be sufficient to handle bigger numbers of Australian cattle forecast to be sent to meatworks over the period from now to Christmas, compensating for the relatively low kills in January-June.
"But we saw a similar situation last year: given the feed and water reserves that producers have at their disposal, if they don't like what the market is doing, they just hold onto stock, pushing the problem back and delaying it for another day, in the hope that demand, and subsequently price, will improve," he said.
"There is still perhaps another 12 months for that to occur, if necessary."
Mr McRae said the big changes in the market dynamic this year had been on the demand side, with downwards revisions forecast for exports to Japan, Korea, Russia and Indonesia – Australia's first, third, fourth and fifth largest markets.
"The US is taking some additional volume, making it one of the bright spots, but consumer demand is the big concern in all these other markets, as well domestically in Australia. And of course, the A$, and its impact on competition, is making things much more difficult in all export markets.
In January, MLA forecast total Australian beef exports this year to be up 1pc on 2011 at 975,000t. By yesterday's mid-year update, however, that had been reduced to 960,000t, which was partly linked to lower slaughter for the first half of the year, but also to more subdued export demand, and consequent returns.
"Australia will always have a certain amount of product that needs to go offshore – we need to clear that 65pc of production we cannot utilise on the domestic market, but the challenges are the high A$ – now considered almost just a cost of doing business overseas – and in most markets, the price-conscious attitude of consumers."
"They have been trading down for the last few years, and after a while, they may also start trading into other proteins, not just cheaper forms of beef."
Export competition from the US in North Asia really started to be felt last year, Mr McRae told the briefing.
"looking at the volumes the US is sending to Japan and Korea this year, they are not up significantly, but they are still much higher than where they were through previous years. In Korea, there has also been greatly expanded competition from imported pork, and to a lesser extent chicken and increased domestic beef production."
In terms of major destinations, Japan is forecast to reach 325,000t this year, down 5pc on 2011, and will remain much the same in 2013. Competition continues from the US, the A$ remains a big hurdle, and a big question mark in Japan remains any change in the age protocols of US beef.
While the market is back at a level seen pre-BSE in the early 2000s, the total size of the Japanese beef market has declined. The Japanese are now favouring cheaper products, with a record amount of frozen beef being consigned from Australia last year, with higher-priced, harder to handle and less convenient chilled product continuing to decline.
Overall beef imports this year in Japan are down about 4000t, balanced by a 12,000t decline out of Australia, and an 8000t increase from the US.
Korea has taken a big step backwards, now forecast to be down 28pc this year to about 105,000t, down from 146,000t last year, driven by competition from the US, and the huge kick in pork imports and higher domestic cattle slaughter, up 35pc so far this year. Korean consumer demand has also softened.
On the upside, Australia has certainly experienced growth in US exports, and that's helping offset some softness in other markets. That strengthening demand and price trend in the US has been reflected in pulling some of that manufacturing beef away from Japan, Korea and Russia.
The US market for Australian beef has rebounded in 2012, with exports up 46pc for the first half of 2012, to 118,120t. Total shipments for the year are forecast to reach 250,000t.
Mr McRae said the US industry's annual beef production had dropped by 800,000t over the past two years – equivalent to four months' worth of Australian beef production.
"Certainly the US is now producing less beef, and with further herd liquidation, any sign of recovery and rebuilding is still a long way down the track," he said.
Mr McRae said while prices in many markets were down year-on-year due to the A$ effect, from an Australian viewpoint, our typical 90CL beef going into the US, at current prices around 385c/kg, were still relatively favourable, in historic terms. That price may ease, however, due to higher US cow slaughter this year due to the drought, and normal seasonal cycles.
The US cattle price, always a good indicator of where the US beef market was going, is at all-time highs, due to the nation's dramatic reduction in herd size, driven most recently by drought. The market is trying to pass on those higher costs to consumers, but that was proving difficult, given the price-conscious mood of consumers everywhere. Those between the consumer and the cattle producer are probably getting caught, Mr McRae said.
Turning to other markets, he said Indonesia was forecast to decline on earlier projections, to 29,000t this year, with Taiwan, Malaysia, Singapore, Hong Kong and China all consolidating growth seen in recent years, or growing a little.
Economic problems in developed markets currently outweighed the benefits to be had from increased demand from emerging markets and the tight global supply of beef.
"Increasing demand from the growing middle class in developing economies across the globe remains a positive for Australian beef. This is currently being offset, however, by continued tough economic conditions and weak consumer sentiment in our developed markets – Japan and Korea."
While exports to the EU are up 32 percent for the first six months of 2012, this has all been grainfed, representing 25000-3000t/month, but there had been no growth in the grassfed component of the EU trade.
Manufacturing beef strong
Mr McRae also highlighted how manufacturing beef had continued to be the strong suit in Australian exports in the current cost-conscious consumer market.
While Australia's overall beef exports year-on-year are pretty steady with last year, manufacturing beef exports are up 9pc, while muscle cuts are back 5pc.
"Given the price signals that are out there for manufacturing beef, driven by demand for lower-priced product, we're seeing those muscle cuts that can be added to manufacturing beef packs going that way, because that's where the processors and exporters see the return," he said.
The total impact of the swing to manufacturing beef meant the overall value of Australian exports this year would be down.
"If we consider the Japanese market, as part of that, it's a market that has declined $1 billion in value for Australia over the past five years, as a result of the shift out of chilled into frozen; grainfed into grass; and cuts into manufacturing. In recent times, Japan has gone last the US as Australia's biggest market for frozen beef."
In the Australian domestic market, MLA has stuck to its January prediction of about 740,000t utilisation for 2012, before rising to 767,000t next year. The big point to note is that retail price has dropped away, influenced somewhat by the supermarket chains engaging in price discounting.
"But as elsewhere, the retail sector for all consumer goods is very soft across Australia, which was having a big influence on consumer sentiment, and beef demand," he said.