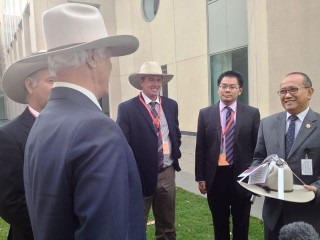 North West Queensland cattlemen have described two days of meetings with Federal politicians and Indonesian diplomats in Canberra as constructive and an important step towards highlighting the welfare issues currently facing both cattle and people in drought-ravaged northern Australia.
On Wednesday and Thursday graziers Barry Hughes, Russell Lethbridge and Rob Atkinson, who helped to organise the recent beef crisis summit at Richmond, met with numerous federal MPs including federal treasurer Wayne Swan, agriculture minister Joe Ludwig, opposition leader Tony Abbott and deputy opposition leader Julie Bishop.
In meetings arranged by north west Queensland MP Bob Katter, they also on met on Thursday with Indonesia's ambassador to Australia, Nadjib Riphat Kesoema.
In their talks the cattle producers spoke about the importance of the Indonesian cattle trade to the northern Australian cattle industry, and said the ambassador discussed the impact that short supplies of beef were having on beef prices and consumer affordability in his country.
The producers are asking federal politicians to consider using part of the $500 million in federal aid currently spent in Indonesia on buying 100,000 cattle to donate to the country.
The proposed goodwill gesture is seen as a measure that could both relieve grazing pressure on northern paddocks and relieve the beef shortage that is forcing beef prices to record heights in Indonesia.
Hughenden cattleman Rob Atkinson said the ambassador appeared receptive to the idea and had asked for talks to continue.
"It was a very good discussion all round," Mr Atkinson said.
"We believe the trade has a lot of potential to get back to where it was prior to the ban and even more.
"We explained that Australia is a perfect partner for Indonesia as a protein source and we would like to see that trade reactivated to its fullest possible degree.
"If we can continue to build this relationship, the initial indications we've had today are very positive."
After their meeting Mr Kesoema was presented with an Akubra Arena by Mr Katter, in recognition of the ambassador's "kindness and understanding towards the crisis facing the Australian cattle industry".
"We hope you treasure our small identification, which is a symbol of your association with an industry of great mutual benefit," Mr Katter said as he presented the gift to Mr Kesoema.
"We supply the raw material and you supply the finishing and production of what is a marvellous adjunct for the people of Indonesia.
"At the end of the day, we all make a small contribution to our fellow man, and you most certainly have done that, and we take great pleasure in giving you what is called the Australian Akubra Arena.
"You are now one of us".
Rob Atkinson said the group stressed to the politicians they met that an immediate need exists for short, medium and long term assistance to help struggling northern producers.
"It is a welfare issue for livestock and for people up there, things are really tough," Mr Atkinson said.
He said practical short-term assistance that would help would include direct financial assistance, the refloating of the interest subsidy for exceptional circumstances and rent and rates relief for drought declared properties and shires.
"There was also a focus also on medium to long term things such as the reconstruction bank concept that Bob Katter has done a lot of work on," Mr Atkinson said.
"We would obviously like to see the dollar come down a lot more, and we have raised with all parties the need for an abattoir in NW Queensland as well."
Mr Atkinson said the group had received a good hearing in Canberra. Joe Ludwig, Wayne Swan, Tony Abbott and Julie Bishop had "listened to every word", he said, while Bob Katter had "done a power of work" to broker their meetings in Canberra.
He said northern producers were also grateful for the work being done by ministers at state and territory level.
"(Qld ag mnister) John McVeigh and (NT primary industries minister) Willem Westra Van Holthe going to Indonesia the other day has all helped to get us back onto a good footing and a better relationship with Indonesia."