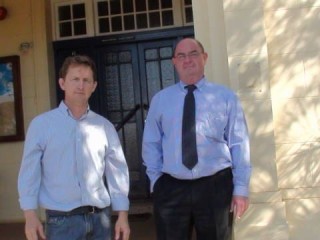 A western Queensland landholder who undertook woody weed control work to return areas of degraded, turkey-bush infested country to predominantly native grassland has been fined $110,000.
Trenton Hindman pleaded guilty in the Charleville Magistrates Court last week to clearing 1314 hectares of "not of concern" vegetation without a permit.
The work involved using a stick rake and disc plough pulled behind a light tractor to control areas of the native woody-weed turkey bush on his Wyandra district property in 2007 and 2009.
Mr Hindman said the work had produced a positive environmental outcome by returning the country from a degraded state to a condition much closer to its pre-European settlement condition, a proposition supported by recent CSIRO research.
However, after hearing evidence from DERM botanist Andrew Franks, Magistrate Michael Hogan said the clearing had resulted in adverse environmental impacts.
Magistrate Hogan said the issue came down to two questions: whether Mr Hindman removed only turkey bush without clearing any trees, and whether he honestly believed that he did not need a permit to conduct the clearing.
Property development
The court heard that Mr Hindman, 41, held a degree in applied science and was a qualified agronomist who had been on the land all his life.
Mr Hindman told the court he bought a badly degraded property near Charleville in 2006 with the aim of returning it to native grassland.
He undertook a range of improvement measures in consultation with a 2002 publication produced by the then DNRM titled "Best Practice Native Shrub Management Manual for South West Queensland".
He said the landscape was dominated by native grasses before European settlement, however, when he purchased the property it was badly infested with turkey bush, an invasive native woody shrub not eaten by cattle or other animals. Historical overgrazing and the exclusion of fire from the landscape for over a hundred years had enabled woody shrubs to dominate the landscape at the exclusion of native grasses.
Mr Hindman explained that there was a substantial seedbank of native grasses in the ground, and his aim in removing the turkey bush was to encourage the native grasses to return.
The land was stick raked using a light tractor, leaving the mature trees untouched. Cleared material was raked into piles and burnt. The cleared land was then disc-ploughed and planted to a crop of oats to prevent the turkey bush from returning, as suggested in the Best Practice Manual. The oats were not for harvest and died by October or November. With rain, native grasses grew on the cleared land.
Mr Hindman told the court that he believed he did not need a permit to restore native pastures, adding "I didn't clear trees".
He explained to the court that the work had taken the land from a degraded condition to the condition it was in prior to European settlement by bringing back native grasses, which had also made the land more suitable for grazing of cattle.
Cross examination
In cross examination he agreed that he did plant some buffel grass, which was not a native grass, but it did not persist. He agreed that the Best Practice Manual contained advice that 'before treating thickening native species it is best to contact DNRM to determine if a vegetation management permit is required'.
He also agreed in cross examination that he had received "fodder permits" in 2006 and in December 2007 to clear trees to feed cattle. The permits would have enabled Mr Hindman to clear land with bulldozers and chain, but he did not act on those permits.
Andrew Franks, a DERM botanist, gave evidence that from his own inspection of the property and from satellite images and photographs taken by DERM officers, he believed smaller trees and shrubs had also been cleared along with turkey bush, though not larger trees.
While DERM submitted its view that Mr Hindman had caused environmental damage to the land, it also emerged during the case that DEEDI had expressed an interest in using the same land as a demonstration site to show how to rehabilitate degraded land.
In response to that point Mr Franks told the court that DERM was about protecting the environment whilst DEEDI was about production. He also told the Court that the land was better off being left in a woody shrub dominated and degraded state as the reintroduction of native grasses would encourage grazing, which caused soil erosion.
The court was also presented with a research paper recently published by CSIRO that assessed the effect of similar treatment undertaken by landholders in similarly degraded vegetation communities in far western NSW over a 20 year period. That research paper found that the same methods Mr Hindman undertook at Wyandra consistently resulted in an increase in native grasses in the landscape and promoted ecological restoration.
In reaching his decision the Magistrate said he accepted Mr Frank's evidence that smaller trees had been cleared in addition to turkey bush.
Magistrate Hogan said he did not accept Mr Hindman's testimony that he honestly believed he did not need a permit to clear his land. The Magistrate based this conclusion on the evidence that smaller trees had also been removed. In addition, the Magistrate said, Mr Hindman was "an experienced man of the land who had sought and been granted permits on previous occasions". He added that the Best Practice Manual that Mr Hindman had referred to also contained advice to check if permits are required.
The Magistrate said the clearing in question was not broadscale clearing, but "park land clearing", because mature trees were left intact. The Magistrate accepted the evidence from Mr Franks that clearing of native vegetation even while leaving mature trees untouched still resulted in "landscape fragmentation, habitat loss, weed invasion, loss of nutrient cycling, increased greenhouse gases and a range of other effects".
The Magistrate held that the clearing had an adverse ecological impact on the land, and the planting of buffel grass, an introduced species, indicated that the development work did not consist exclusively of regenerating native grasses.
Another issue raised during the trial was the fact that Mr Hindman received a permit from DERM to clear about 700 hectares of native vegetation on the same property on November 16. This was submitted as evidence by the defendant that the previously completed without a permit would have been approved by the Government had a permit application been submitted.
However the Magistrate disagreed with this view, stating that the November 16 permit carried a number of conditions requiring various immature trees to be retained in the area cleared. "That did not occur in 2009 when Mr Hindman cleared the land," he said.
Fine
In arriving at the $110,000 fine, Magistrate Hogan said the maximum penalty for the first charge of clearing in 2007 was $127,875 and the maximum charge for the clearing conducted in 2009 was $166,500.
The prosecution contended that the property had increased in value by $30,000 as a result of the clearing, but the Magistrate did not think that this was a significant factor in the case. The prosecution submitted that the fine for both offences should be at least $150,000.
Magistrate Hogan said Mr Hindman was a person of good character with no previous convictions.
He imposed a fine of $110,000, and ordered Mr Hindman to pay investigation costs of $10,000 and legal costs of $3770. No convictions were recorded.
It is understood Mr Hindman intends to appeal the sentence.
DERM issued a media release after Friday's hearing to announce the significant fine.
"Queensland's vegetation management laws are designed to protect vital regrowth and remnant vegetation and its high biodiversity values, while allowing landholders to manage their properties responsibly," DERM assistant director-general Dean Ellwood said.
"Landholders considering clearing vegetation should consult with DERM before clearing, as well as their relevant local Government and Federal Government departments, and follow their advice."
Property Rights Australia spokesman Lee McNicholl said the substantial fine showed why Queensland's Vegetation Management Act had to be revisited.
In this case PRA believed a landholder had produced a positive environmental outcome by rejuvenating badly-degraded land to a productive state much closer to its natural condition, and was now faced with a $123,770 fine.
"It is a bad law, and Magistrates have been placed in the invidious position of having to administer a bad law," Mr McNicholl said.
"The whole vegetation management act should be revisited so desirable environmental outcomes can be assured, rather than some legal finepoint."