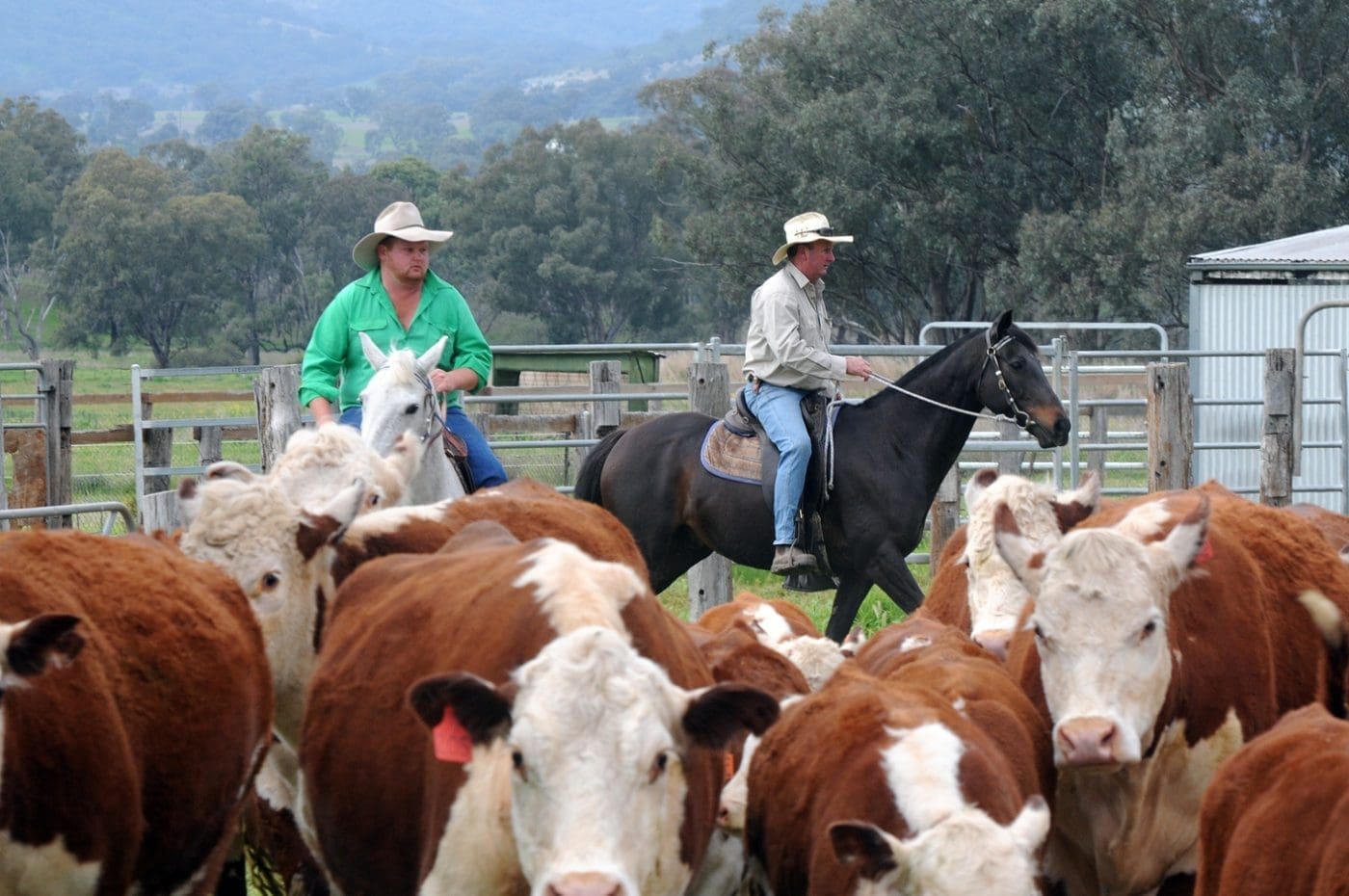 Beef cattle production is one of five Australian industries "set to fly" in the next 12 months according to business analysis firm IBIS World.
At the start of each financial year the market research company makes predictions about the five industries it believes will fly in the next 12 months, and the five industries that are set to fall.
In its latest report released this week, IBIS World identified beef cattle farming as one of the five industries it believes will flourish in the next 12 months.
This was based on strong foreign demand for Australian beef and strong saleyard beef cattle prices, which are forecast to drive revenue growth of 11.0% for the beef cattle farming industry in 2015-16, continuing its strong momentum.
The growth was despite a forecast decline in live cattle exports for the year as Indonesia, Australia's biggest live cattle export market, imposes stricter import quotas.
"In the current year, revenue growth will be driven by greater demand for cattle from Australian meat processors, as they attempt to meet strong demand for Australian beef in export markets," said IBISWorld senior industry analyst Ryan Lin.
"Rising incomes across the Asia-Pacific region are expected to fuel stronger demand for high-quality Australian beef.
"Demand for beef cattle will continue to increase as meat processors ramp up production of beef bound for foreign markets."
Commenting on the overall business climate, the firm says it is expects the new financial year to be characterised by the transforming resources boom, continued technological advancement and changing levels of government support for some sectors.
"While the resources boom has provided a foundation for the strong growth anticipated in oil and gas extraction, large falls in investment have the potential to damage industries that service the construction of mining projects."
Oil and gas extraction tops list – but royalty flows will disappoint, warns BSA
The report also predicts that oil and gas extraction will have a big year in Australia as several major projects reach production phase.
The report said Australia's liquefied natural gas (LNG) producers are well positioned to supply growing demand from Asian markets, particularly Japan, where many energy supplies converted to gas-fired plants following the Fukushima Daiichi nuclear disaster in March 2011.
Production is increasing in natural gas projects off the coast of Western Australia, including the Gorgon, Wheatstone and Prelude projects. The Gladstone LNG project on Queensland's Curtis Island which converts coal seam gas into LNG began exporting in early 2015.
"There has been unprecedented capital investment in oil and gas extraction over the past decade, the benefits of which are anticipated in 2015-16," Mr Lin said.
"Strong demand from Japan for natural gas will be met by increasing LNG production across Australia. Investment in export facilities will also make the Japanese market more accessible to Australian producers," said Mr Lin. "In conjunction with growing production, selling LNG at global prices, rather than the cheaper domestic prices, will provide an additional boost to industry."
However, IBIS World's optimism for oil and gas exports is not shared by all.
Queensland based landholder representative group the Basin Sustainabillity Alliance predicts that current "disastrously low" export spot prices for CSG exported as LNG could see Queensland's much anticipated CSG royalty 'bonanza' evaporate.
Asking if "the pain of CSG is worth the gain", the group believes recent price collapses could result in anticipated royalties for the Queensland Government falling to a dismal fraction of what was initially predicted by the Government (see BSA's full press release below.
Industries to fly
| | | | |
| --- | --- | --- | --- |
| Industries to fly | Revenue 2014-15($ million) | Revenue 2015-16($ million) | Growth(%) |
| Oil and gas extraction | 40,271.5 | 45,409.7 | 12.8 |
| Child care services | 9,445.3 | 10,600.0 | 12.2 |
| Beef cattle farming | 5,547.3 | 6,159.0 | 11.0 |
| Funds management services | 6,509.5 | 7,196.7 | 10.6 |
| Data centres | 603.5 | 663.1 | 9.9 |
Industries to fall
| | | | |
| --- | --- | --- | --- |
| Industries to fall | Revenue 2014-15($ million) | Revenue 2015-16($ million) | Growth(%) |
| Ceramic product manufacturing | 441.4 | 390.0 | -11.6 |
| Credit unions | 2,251.0 | 2,075.4 | -7.8 |
| National and regional commercial banks | 150,850.6 | 140,492.0 | -6.9 |
| Site preparation services | 27,215.6 | 25,350.0 | -6.9 |
| Machinery and scaffolding rental | 6,531.4 | 6,100.0 | -6.6 |
Source: www.ibisworld.com.au
Basin Sustainability Alliance statement:
CSG more pain than gain?
Queensland's much anticipated Coal Seam Gas (CSG) royalty "bonanza" could evaporate, if current disastrously low export spot prices persist for CSG exported as liquefied natural gas (LNG). This price collapse could trigger renegotiation clauses in existing contract prices, significantly lowering prices.
Such a price reduction would ensure that Queenslanders will experience generations of environmental pain for little if any economic gain, according to stakeholder group, Basin Sustainability Alliance (BSA).
Drawing on information sourced from a British Gas report and an Oxford University paper entitled "The Future of Australian LNG exports", BSA has calculated that the royalty payments being made to the Queensland Government from the profits of coal seam gas activities could be a dismal fraction of what was initially predicted by the Government.
BSA Chair Lyn Nicholson said BSA was concerned that landholders and regional communities have had to suffer degradation of their land and water, for a result that may bring little net benefit to Queensland.
"Royalties to be paid to the Queensland Government are calculated at 10% of the Well Head Value (WHV). WHV is the net amount after post well head production costs are deducted from the sale price. Currently the spot price delivered North Asia is approximately US $7.50/Gigajoule.
The BSA calls upon the Qld Government to disclose what royalties are generated at current prices so that Queenslanders can assess if the long term environmental, social and agricultural costs are worth the questionable short term economic benefits of a 25 year CSG industry" Ms Nicholson said.
Ms Nicholson said the Government has expected agricultural businesses to play second fiddle to CSG, promising that the industry will be for the greater good of the State, but this has not become a reality.
"When the promises of jobs and economic windfalls from this industry are not being realised, we can't help but feel like our rural landscapes, water security and way of life have been destroyed for no good reason" Ms Nicholson said.
Ms Nicholson also stated that as CSG prices and royalties fall, the Government and the proponents have a seriously reduced financial capacity to meet their environmental and rehabilitation responsibilities. Landholders are already seeing this in CSG companies increasing reluctance to guarantee their water resources through "water tight" make good agreements.
The Government and the industry had been touting figures like 18,000 jobs to be created. And yet, in a Social and Economic Project by CSIRO's GISERA has shown that there had only been a net increase of 1,392 jobs in the Surat Basin between 2006 and 2011 mostly in mining, accommodation and construction services. The project used data from the ABS Census and counted the total number of employed residents (after excluding non-resident workforces) at a time when around 5,000 CSG wells had been drilled in Queensland. Whilst industry and Government have projected that there will be 18,000 jobs created for 40,000 CSG wells, it appears that they have failed to communicate that the majority of those jobs will be temporary fly in, fly out and of no benefit to the Surat Basin region where all of the long term impacts from the wells and associated infrastructure will occur.