WHILE beef producer profits have risen to record highs over the past year, production costs have also risen to unprecedented levels, Resource Consulting Services has revealed in its latest Profit Probe benchmark report.
The results, for fiscal year 2015-16 ended June 30, are based on financial data aggregated from hundreds of RCS cattle producer clients participating in the Rockhampton-based advisor's Profit Probe program.
"The best widespread rainfall seen in years, high cattle prices and low interest rates – the stars have aligned for the three big 'uncontrollable' factors for beef producers," RCS general manager David McLean says in the report.
The 2015-16 Profit Probe Benchmarking results show a healthy return on assets (ROA) across the board compared with previous years (see graph below), however there were some 'red flags' to consider as future decisions are made, Mr McLean warned.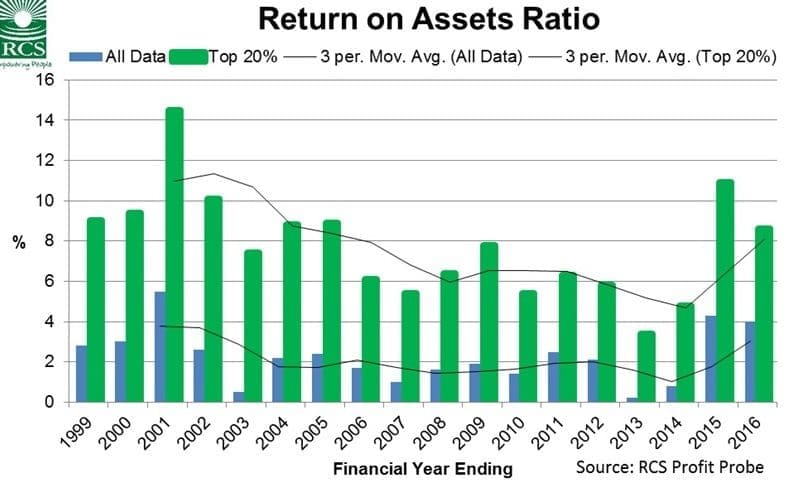 Summary of the 2015-16 FY results
ROA was down slightly to average 4.0pc on all data, from 4.3pc the previous year. For the Top 20pc of producers, there was a bigger drop to a still respectable 8.6pc (from 10.9pc a year earlier)
Beef price received at farm-gate jumped a massive 34pc to average $2.77/kg liveweight.
Cost of production increased to an all-time high of $1.80/kg beef produced.
When compared to historical results, the return on assets seen over the past two financial years were the best for 15 years, Mr McLean said.
"This increase across the board has been driven by higher prices.  Average price received at the farm-gate has increased 34pc in the 2015-16 financial year to $2.77/kg liveweight – that's $1.11/kg or a 67pc increase from two years ago," he said.
Alarmingly, the cost of production has increased at similar rates.
"Cost of production is a great key performance indicator (KPI) to use, at it reflects our production efficiency and is irrespective of what the market is doing," Mr McLean said.
A big KPI 'red flag' was the $1.80/kg cost of production for the average producer for the 2015-16 year.  This was calculated using total direct and overhead costs, divided by gross kg produced.  Gross kg takes into account the change in total herd weight as well as kg sales-purchases. The cost basis is excluding interest, tax, debt reduction and capital expenditure.
"That is a lot of costs to have for every kilogram of beef produced, before even paying interest," Mr McLean said.
The total debt per animal unit has been over $860/LSU for the past three years, so while many producers have been able to reduce debt a little recently, there was still "a lot out there", he said.
The interest cost per kg produced for the same period was an additional $0.50c.
"That means our base survival cost is closer to $2.30/kg (1.80+0.50)," Mr McLean said.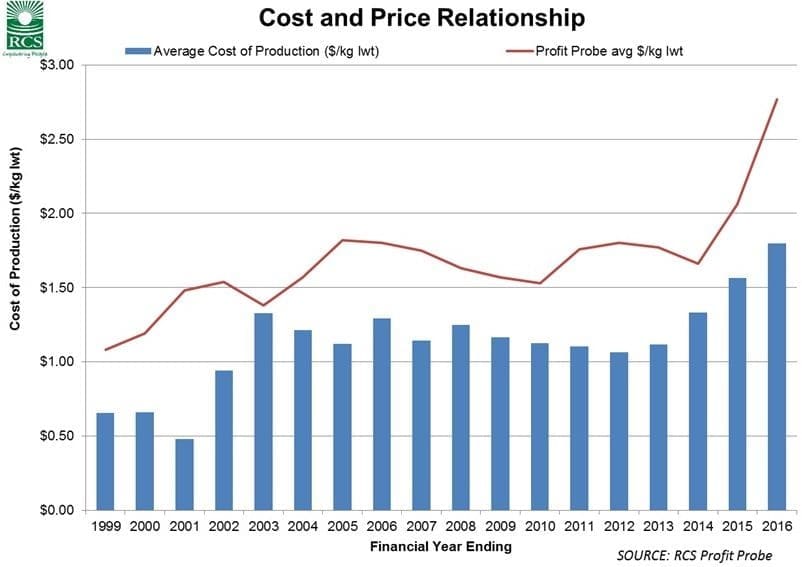 What was driving this? To answer this it was necessary to look at the two parts of the KPI – production and costs.
Production per hectare was lower relative to the 2014-15 year, however it remained right on the 15-year average, and was thus a good reference point to historical data.
"Costs are the ones on the rise – particularly overhead costs," Mr McLean said.
"Most of the increase in previous years can be attributed to an increase in costs. As with last year, I believe this will be a combination of a few factors: genuine repairs and maintenance catch-up after some very tight years; higher cost of inputs; and more relaxed spending."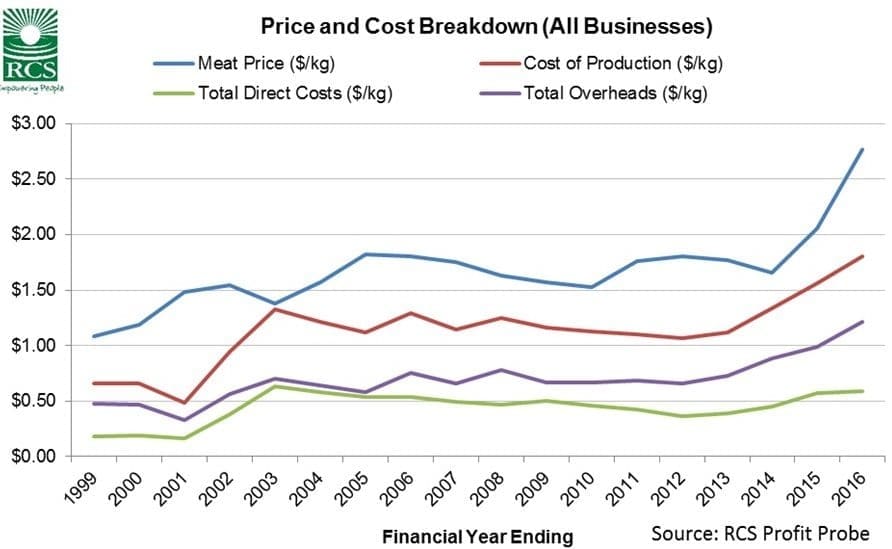 "What to do? The first step in any enterprise is to know and manage the cost of production – without it, any producer is flying blind," Mr McLean said.
"I'm a big fan of scenario planning – so second step would be to run a scenario where prices drop 50pc and develop options to remain profitable. The US beef market has seen considerable price reductions in recent times, so this 'scenario' just might come true," Mr McLean said.
"The good thing is that if it does eventuate, you've got a plan to manage it. If it doesn't eventuate, you've still got plans to increase operating margins," he said.
"Enjoy the prices, seasons and interest rates while they are good – however take note of this big red flag, and put some thought into what it could mean in your business," Mr McLean warned.
RCS offers a range of workshops to help guide producers through better understanding and managing their business. Click here to access the RCS website.