Australian beef prices are predicted to settle in the high 400c/kg range for the next couple of years, well above long term averages.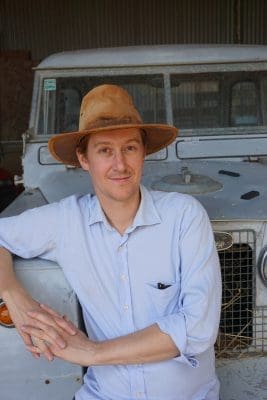 The latest In Focus: Beef report, released by NAB Agribusiness to coincide with Beef Australia 2018 in Rockhampton, has the Eastern Young Cattle Indicator (EYCI) forecast to fall as low as 475c/kg in 2018, but back up to the 500c range in 2019.
NAB Agribusiness Economist Phin Ziebell (left) says the situation has to be seen in context, because only a few years ago cattle producers would have been very happy with forecasts at that level.
"The EYCI has recently fallen below 500c/kg for the first time in three years, which feels tough after the record prices of the past few years," Mr Ziebell said.
"However, between 2004 and 2014, the EYCI averaged 346c/kg and it reached a maximum price of 428c/kg in that period.
"The 2015-17 boom has put many beef producers in a strong position, and they have over $800 million in Farm Management Deposits.
"Furthermore, the Australian dollar has fallen more than five US cents since the end of January, boosting local returns."
Mr Ziebell believes rainfall will largely dictate short term movements in the EYCI, but over the longer term global fundamentals will have an impact on the domestic market.
"It has been exceptionally dry across most of Australia so far this year, and prices are likely to increase if an autumn break comes to pass.
"However, if the drier than average conditions experienced in April in Queensland, New South Wales, Victoria and South Australia persist, there is likely to be increased selling, due to grain and hay being expensive and in short supply."
These conditions have caused herd rebuilding to slow, and March data shows female slaughter up to 48.5%, and bull and steer slaughter down. Slaughter is expected to gradually rise to just under 8 million head this year.
Against a challenging domestic picture, Mr Ziebell said global trends are providing mixed signals.
"Export prices to the US and Japan have been reasonably resilient and the industry received a good run in 2014-15 due to a rally in US cattle indicators, reflecting the hangover from the 2011 US drought dampening domestic production.
"However, the US herd has rebuilt rapidly, and US Department of Agriculture forecasts point to a 5.7% rise in domestic beef production in 2018 while imports are expected to grow only 1.5%, a far cry from the 31% growth in 2014.
"Australian beef in the US has remained resilient. However, there will likely be some pressure in the US and this will be compounded across our key export markets by higher exports from low cost producers in South America."
Source: NAB Agribusiness – To read the full Beef in Focus report click here