Meat & Livestock Australia has released its annual herd and flock maps based on recently released Australian Bureau of Statistics data for the 2021 financial year.
It suggests there were 24.4 million cattle (dairy and beef) in Australia in 2021, based on ABS data. There are more sheep in NSW than there are cattle in the whole of Australia.
MLA has transformed the information into the visual map, including rankings (click on image below to see enlarged version).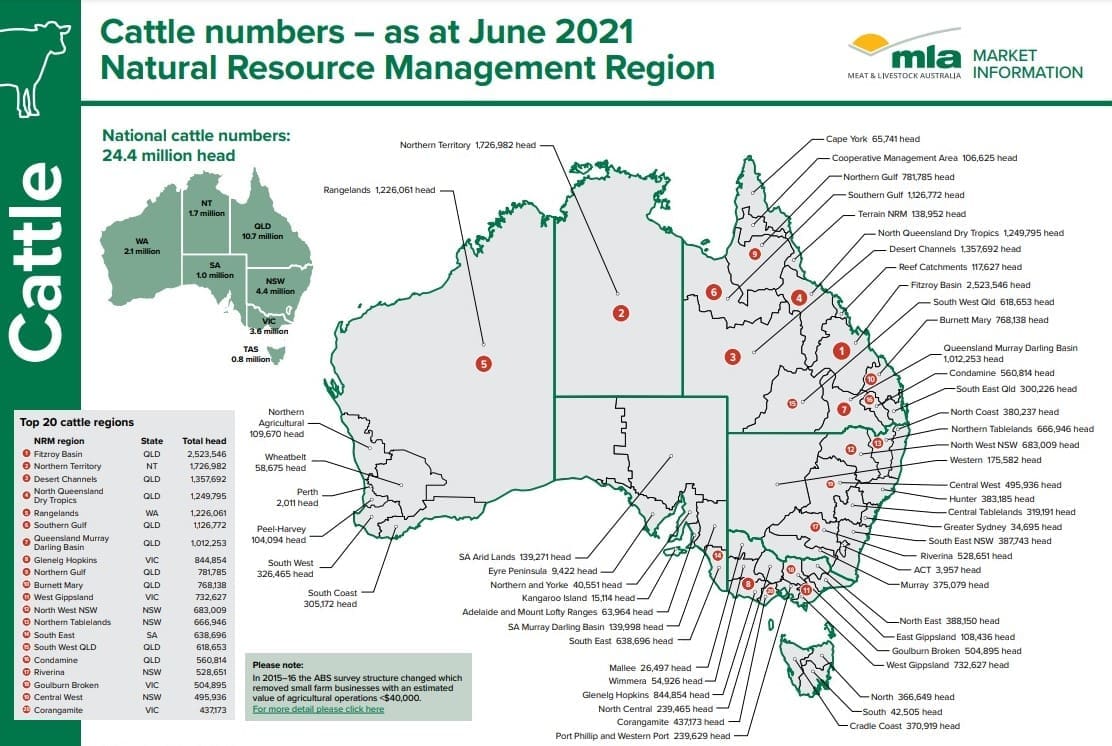 The breakdown of cattle numbers by state is:
Queensland: 10.7 million head (44pc)
NSW: 4.4 million head (18pc)
Victoria: 3.6 million head (15pc)
SA: 1 million head (4pc)
WA: 2.1 million head (9pc)
NT: 1.7 million head (7pc)
Tasmania: 800,000 head (3pc).
On a region basis, Queensland's Fitzroy Basin was easily the Natural Resource Management area with the most cattle in Australia, totalling 2.523 million head – more than all other states except NSW and Victoria.
The second, third, fourth, fifth and sixth biggest NRM cattle regions were:
The Northern Territory NT (1.726 million head)
QLD Desert Channels (1.357m)
North QLD Dry Tropics (1.249m head)
WA rangelands (1.226m head).
QLD Southern Gulf (1.126m head).